Dr. Marcello Tonelli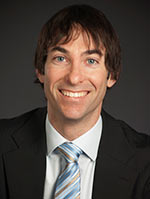 Affiliation
Senior Associate Dean (Health Research), Cumming School of Medicine
Associate Vice President (Health Research), University of Calgary
Committee membership
Governing Council

Biography
Dr. Tonelli's research focuses on improving the care of people with chronic kidney disease and other noncommunicable diseases. He completed a volunteership at the World Health Organization in 2013-2014, focusing on treatment of noncommunicable diseases following natural disasters and civil conflict. During this time he also completed an MSc in Health Policy from Imperial College London.
Dr. Tonelli is chair emeritus of the Canadian Task Force on Preventive Health Care, a past President of the Canadian Society of Nephrology, and the former lead of the International Society of Nephrology's global research portfolio. He was the recipient of the 2013 United States National Kidney Foundation Medal for Distinguished Service and the Kidney Foundation of Canada's 2013 Medal for Research Excellence for changing nephrology practice in Canada and beyond. He is the Director of the World Health Organization's Collaborating Centre for the Prevention and Control of Chronic Kidney Disease.
Dr. Tonelli was elected a fellow of the Canadian Academy of Health Sciences in 2012 and has been named a "Highly Cited" researcher each year since 2015 by Thomson-Reuters Web of Science, corresponding to a rank in the top 0.1% by citations of all researchers worldwide. Since 2005, Dr. Tonelli has been the co-leader of a joint initiative with the Hospital Civil de Guadalajara, aimed at prevention of kidney failure in poor communities of Jalisco, Mexico. He co-founded and still participates as a faculty member in the International Society of Nephrology's Scientific Writing Course for junior scientists in low- and middle-income countries.
Dr. Tonelli is a past member of the Executive Committee of the CIHR Governing Council and the past chair of the CIHR's Standing Committee on Ethics.
Dr. Tonelli lives in Calgary with his wife Shannon.
Date modified: