Re-introducing Inuit children and youth to the health benefits of traditional dietary and lifestyle practices
A secure food supply is a right not a privilege: CIHR is funding research to ensure Canada's Inuit and northern residents have access to nutritious, affordable food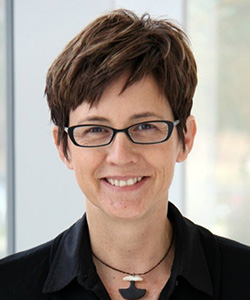 Dr. Tracey Galloway is an Assistant Professor of Anthropology at the University of Toronto Mississauga.
CIHR is funding research aimed at ensuring northern residents of all ages can access nutritious, affordable food. 
Good nutrition is an essential element of health across the lifespan. This is especially the case for Inuit, whose culture attaches great importance to traditional ways of harvesting, preparing and sharing food. A shift away from a more traditional way of life to a more Western lifestyle has accelerated with successive generations. As Inuit become more and more reliant on store-bought food, a trend increased by the effects of climate change, people are increasingly vulnerable to high food prices in northern grocery stores.
Monitoring and identifying changes in growth and dietary patterns helps gather the evidence needed to inform effective health promotion programs, tailored to the unique needs of the Inuit population.
Dr. Tracey Galloway, a CIHR-funded researcher, has observed that younger Inuit are eating fewer foods like fish and seal, formerly key elements of a traditional diet. If this trend continues, Inuit will be increasingly vulnerable to the health risks associated with processed food in the diet: weight gain, high blood pressure, and greater risk of diabetes, heart disease and stroke.
One of the goals of Dr. Galloway's research is to ensure that programs and policies designed to support healthy eating in the north, like the Nutrition North Canada subsidy program, are responsive to community needs. New programs are being designed to support Inuit families as they pursue healthy lifestyles that include engaging in culturally strengthening activities.
Dr. Galloway has observed that culturally-sensitive programs aimed at Inuit children are producing positive effects that go beyond merely increasing physical activity. By encouraging their participation in culturally-derived activities, Inuit children's confidence and self-esteem increase as does their ability to become ambassadors of positive health messages within their families. 
Date modified: