Dr. Charlotte Loppie
CIHR Gold Leaf Prize for Transformation: Patient Engagement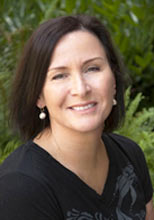 Dr. Charlotte Loppie is a Professor in the School of Public Health and Social Policy at the University of Victoria, and the Director of the university's Centre for Indigenous Research and Community-Led Engagement. The Centre provides a supportive environment for students, researchers and communities to engage respectfully in research activities aimed at addressing the health disparities experienced by First Nations, Inuit and Métis Peoples in Canada.
Dr. Loppie's guiding principle is to be of service to the Indigenous communities who will benefit from her research. To that end, she has made it her life's work to bring Indigenous Peoples into research projects that touch their lives. Her goal is to empower communities, build research capacity and tackle the health disparities faced by Indigenous Peoples.
She partners with First Nation communities, regional and national Indigenous organizations, health charities and government bodies on a range of projects.
Her research interests include Indigenous health inequities, Indigenous HIV/AIDS, barriers to accessing the social determinants of health, racism and cultural safety, cancer among Indigenous Peoples, research capacity-building and the sexual and reproductive health of Indigenous women, among others.
Learn more: Dr. Charlotte Loppie, Professor, School of Public Health and Social Policy.
This prize is awarded for transformative leadership in patient engagement. CIHR believes strongly in the importance of making patient engagement part of the research process. This prize is awarded to an individual or team that collaborates with patients, advances patient engagement as a priority and focuses on outcomes that are important to patients.
Date modified: