The MUSE Team: Building on scientific evidence to respond to 21st century urban health and equity challenges
Dr. Lise Gauvin & the MUSE Team
A Full Professor and Vice-Dean for Research at the School of Public Health of the University of Montreal, Dr. Lise Gauvin is also Associate Scientific Director for Population Health of the research center at the Centre Hospitalier de l'Université de Montréal (CRCHUM).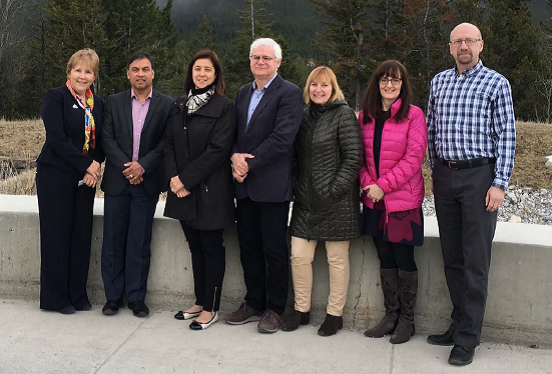 In the Victorian Era, poor sanitation, overcrowding, and large rodent populations caused massive epidemics in cities. Typhus, cholera, and tuberculosis were rampant, decimating populations. Public health officers and municipal officials collaborated to reduce the spread of disease by improving housing conditions and sanitation in urban areas and notably replacing primitive communal wells and open sewers by water and sewage treatment facilities and enacting laws limiting the number of inhabitants per dwelling and reducing overcrowding. As a result, disease transmission was curbed thus adding years to the average lifespan.
In today's modern cities, populations face threats of a different nature.  Cardiovascular diseases, obesity, diabetes, cancer, and mental distress have become the epidemics of our time afflicting large segments of the population but particularly those living in poverty and those with limited education. Once again, public health officials are working hard to find solutions.  Like their counterparts in Victorian times, their work focuses on building effective partnerships to create healthy urban neighbourhoods. 
Led by Dr. Lise Gauvin and co-principal investigators Dr. Marie-France Raynault (Léa-Roback Research Center on Social Inequalities in Health, CLR), and Dr. Nazeem Muhajarine (Saskatchewan Population Health and Evaluation Research Unit, SPHERU), a team of 18 researchers, 15 knowledge users, and 23 collaborators is studying how building effective partnerships can transform built environments to improve access to affordable food and housing, outlets for physical activity, and the availability of walkable and cyclable neighbourhoods. Understanding the extent to which populations view built environment transformations as acceptable is also being studied.  Known as "Multisectoral Urban Systems for health and Equity in Canadian cities" (MUSE), the programme of research will focus on intersectoral partnerships aimed at transforming built environments in four large Canadian cities: Montreal, Saskatoon, Toronto, and Vancouver. As principal knowledge-users, the Chief Medical Officers of Health of these cities (Drs. Massé, Neudorf, De Villa, and Daly) will contribute to identifying the most relevant research questions and disseminating findings.
The MUSE Team will work as a collaboratory. The word collaboratory comes from the combination of the words collaboration and laboratory and refers to a virtual space where researchers and knowledge user scan share and experiment with ideas, evidence, and data. The MUSE collaboratory includes traditional and non-traditional partners aiming to create a broad base of new knowledge and possibilities for sharing expertise among health practitioners, municipalities, representatives from civil society, and academics across the country who are joining forces to improve urban built environments. Supported by the research of the MUSE Team, public health leaders strengthen the implementation of evidence-based, Made-in-Canada urban reforms that are adding not only years to life, but also life to years.
Date modified: