Environments and Health
The initiative at a glance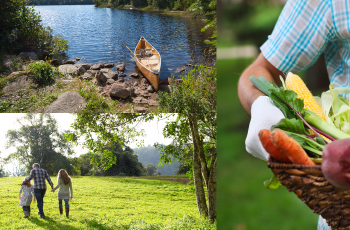 Intersectoral Prevention Research
The physical, social, cultural and built environments in which we live, work, and play are critical to our health, development and wellbeing over the course of our lives. These environmental factors intersect and contribute both positively and negatively to our health.
The Environments and Health Signature Initiative will build upon Canadian research strengths and expertise and strengthen Canada's position as an international leader in interdisciplinary environments and health research.  
The initiative will support research focused on etiology, data platform enhancement and intersectoral prevention. There are three nexus priority areas: agri-food, resource development and urban form. CIHR's four research themes are included in this initiative from biomedical to the social, cultural and environmental influences on population health.
The initiative is co-led by the CIHR Institutes of Population and Public Health and Infection and Immunity in partnership with the Institutes of Circulatory and Respiratory Health; Human Development, Child and Youth Health; Nutrition, Metabolism and Diabetes. Collaborating institutes include the Institutes of Gender and Health; Aging; and Indigenous Peoples Health.
Recent Activities
EHSI Mid-Term meeting
The EHSI Mid-Term meeting took place on November 29 and 30, 2018 in Toronto. This meeting was an opportunity to take stock of the progress of the various EHSI funded teams. In particular, this meeting allowed to share the teams' successes and challenges; develop strategies for translating research evidence into, impactful policies, programs, and practices; and identify opportunities for future research collaborations and partnerships – both among research teams and with external partners. This meeting report will soon be published.
Global Governance Research on Infectious Disease (GGRID)
CIHR's Institute of Population & Public Health (CIHR-IPPH) and Institute of Infection and Immunity (CIHR-III) have been leading efforts to build an international network for social science research on infectious diseases that will be supported by a central coordinating hub funded by the European Commission (EC) through its Horizon 2020 Work Programme 2018-2020. The intention of the international network is for participating funders to establish support centres, initiatives, or networks within their own jurisdictions, which will then be networked internationally through the EC-funded central coordinating hub. This international network of networks will facilitate bigger and more robust social scientific inquiries that respond to the needs of global policymakers. The international network is intended to facilitate policy-relevant opportunities, networking, cross-country learning, bigger science, and knowledge translation opportunities. The CIHR Network for Global Governance Research on Infectious Diseases grant represents the Canadian contribution to the broader international network for social science research on infectious diseases.
Date modified: