RISING SUN Arctic Council Workshop
Reducing the Incidence of Suicide in Indigenous Groups – Strengths United Through Networks
March 1-2, 2017
Iqaluit, Nunavut
Summary Report
Executive summary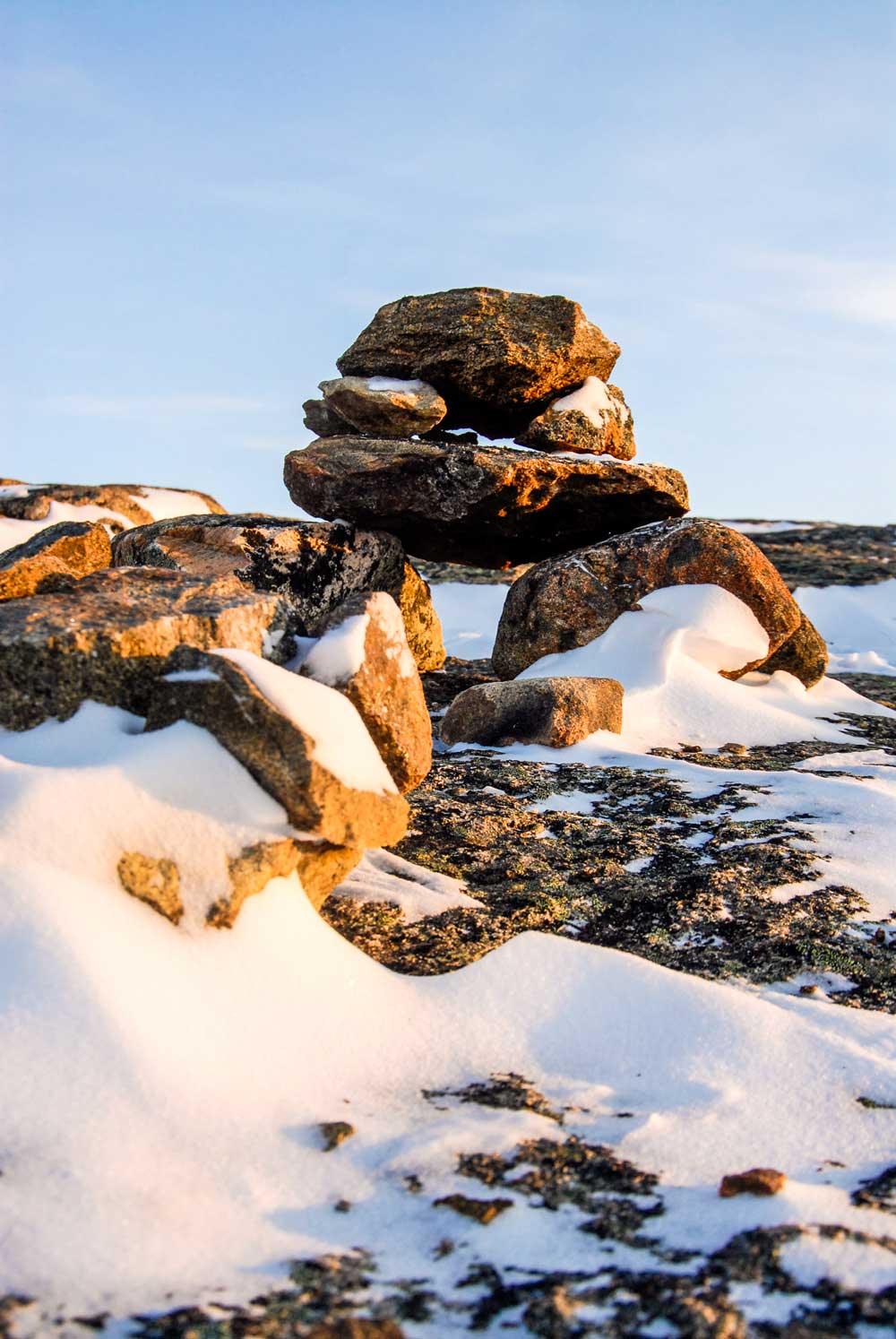 On March 1 and 2nd 2017, The Inuit Circumpolar Council (ICC), Inuit Tapiriit Kanatami (ITK) and the Canadian Institutes of Health Research (CIHR), with support from the Indigenous and Northern Affairs Canada (INAC),  hosted the third of a series of collaborative workshops held under the auspices of the 2015-2017 United States (US) Chairmanship of the Arctic Council's Sustainable Development Working Group, focusing on ways to effectively prevent suicide among Indigenous Peoples in the circumpolar region. The workshop brought together over 80 stakeholders from across the Arctic States, including researchers, policymakers, Permanent Participants, youth and community leaders.
One objective was to provide an opportunity for delegates to review both the Canadian and international communities' collective understanding of suicide determinants in the Arctic; and to reflect on the previous five years of evidence gathering and strategies for suicide prevention across the Arctic. Key themes that emerged included:
the need to acknowledge the impact of colonization and the rapid changes that have taken place in the past two decades and their impact on mental wellness and suicide;
the great variation of suicide rates across communities, even within a single jurisdiction, and the importance of understanding the roots of this variation in resilience;
successful prevention strategies must be community-based (northern solutions to northern problems) and should integrate Indigenous ways of knowing;
the importance in involving  youth in developing solutions, tightening their relation to the land, and creating strong linkages with Elders and culture;
there is a need to move from intention to action, and from action to impact.
A second objective was to provide an update and receive feedback on the Reducing the Incidence of Suicide in Indigenous Groups – Strengths United through Networks (RISING SUN) initiative, developed under the US Chairmanship. The objective of RISING SUN was to develop a set of common, community-based, and consensus-driven outcomes to help healthcare workers in different systems better serve their communities, while helping policymakers measure progress, monitor the implementation of suicide prevention interventions, and identify local challenges to implementation. Delegates examined how the RISING SUN complements key strategies such as ITK's National Inuit Suicide Prevention Strategy. The workshop was also used as a platform for delegates to identify possible follow-on activities to conduct during the Finnish Chairmanship of the Arctic Council from 2017 to 2019. 
Workshop objectives
The Workshop had two specific objectives. The first was to review both the Canadian and international communities' collective understanding of suicide determinants in the Arctic and also allow delegates to assess activities of the past five years of evidence gathering and strategies.
The second objective was to jointly determine a format and dissemination strategy that will maximize opportunities for cooperative implementation of the RISING SUN toolkit, taking into account current activities underway in the Arctic Council countries that are related to building resilience and preventing suicide. This would also lead to the development of a path forward for future activities under the Arctic Council leadership of Finland's Chairmanship (2017-2019).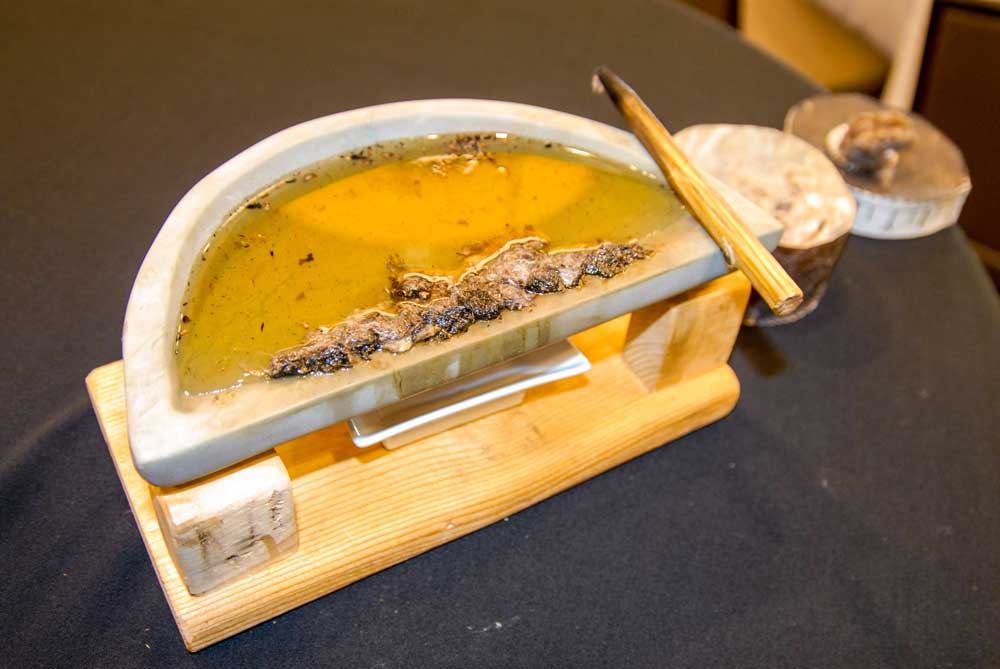 Opening and Keynote remarks
Okalik Eegeesiak, Inuit Circumpolar Council (ICC); The Honourable George Hickes, Nunavut's Minister of Health; Alison LeClaire, Senior Arctic Official of Canada; Pamela Collins, National Institutes of Health; Keynote speaker: Natan Obed, Inuit Tapiriit Kanatami (ITK)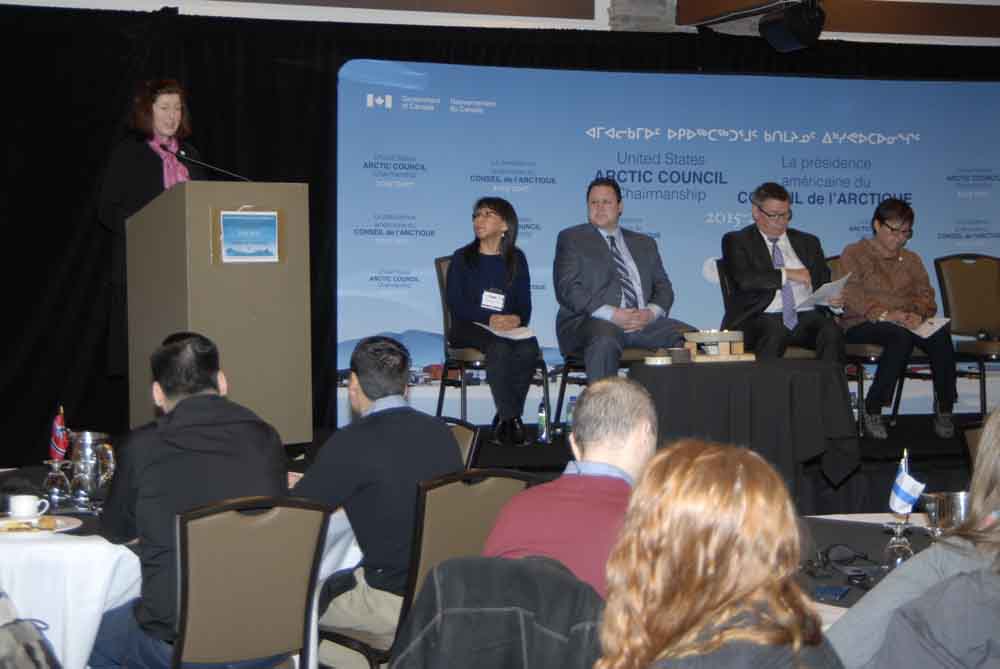 "It's time to get on board, and dress warm."
Opening remarks provided by key delegates acknowledged the important issues of mental wellness and suicide prevention, noting not only the troubling statistics, but the heartbreak behind them. Acknowledgement was given to the impact of colonialism and the rapid changes taking place across the Arctic region. Although not an easy conversation to have, the speakers noted that the challenges of improving mental health and preventing suicide must be brought forward and discussed to find collaborative solutions.
They recognized that progress was being made, including the dedication of resources and staff, the development of prevention strategies, and the willingness to work towards a coordinated approach both domestically and internationally. Emphasis was placed on the need for a life course approach and the need for multi-level interventions, given the complex nature and the varying levels of suicide risk factors. There is a need for Indigenous-led programs and research, built on strong Indigenous evidence, including oral histories. Despite being optimistic, the speakers noted that it was critical that progress needed to be made and impact demonstrated.
The keynote address by Natan Obed, President of ITK, continued the dialogue and began by acknowledging the importance of community and cultural continuity. A video that highlighted the National Inuit Suicide Prevention Strategy identified suicide as a "preventable public health crisis that demands a national response."Footnote 1 The origins of health inequities in the north stem from colonization of Inuit and other Indigenous communities and have led to physical and mental health challenges, as well as the inability for services to provide solutions beyond those realities. For change to happen, true political will is needed, noting that "sympathy alone doesn't help at this level." There is a demand for accountability on elected leaders with regards to this important issue.
Review of evidence and progress in the past five years – what we've learned
Christina Larsen, University of Southern Denmark; Alain Beaudet, CIHR; Natan Obed, ITK; Jon Petter Stoor, Saami Norwegian National Advisory Board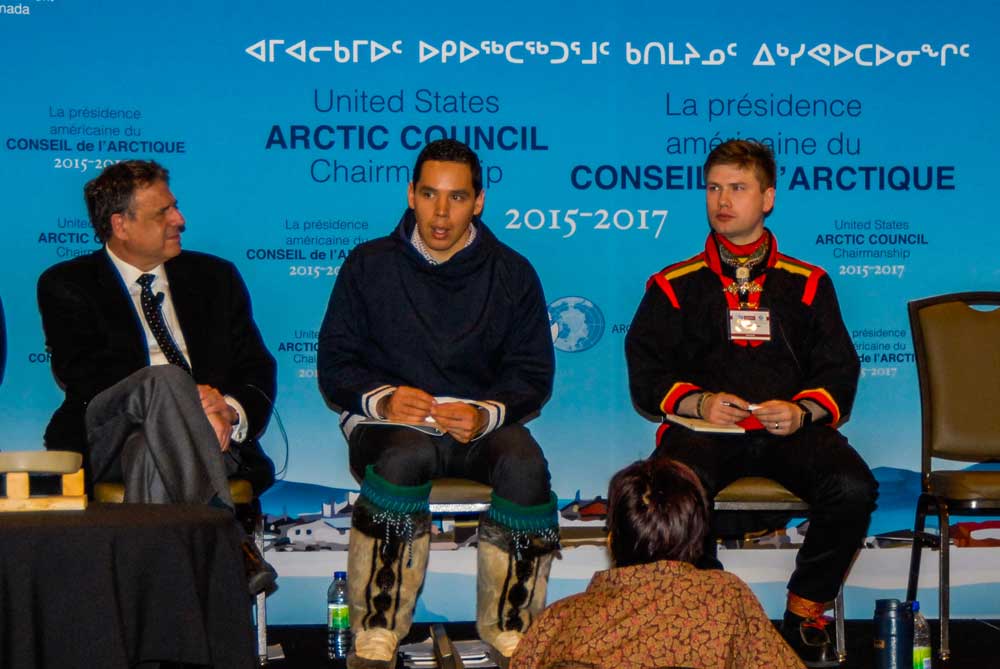 The panelists discussed progress that has been made since the 2009 Nuuk conference, including the development of suicide prevention strategies for Greenland,Footnote 2 for the Canadian Inuit populationFootnote 3 and for the Saami population of Sweden and Norway. Speakers summarized the key elements of the strategies and the efforts that led to their development.
Although unique to their settings and peoples, the various strategies had several commonalities between them, which re-enforced the need for the circumpolar regions to tackle this problem together. All of the strategies noted the challenges of translating high level ambitions into local implementation. A top priority was effective and clear-cut coordination and communication between authorities. All of the strategies acknowledged the impact of colonization and the rapid changes that have taken place over the past two decades as major risk factors.
Speakers also noted the great discrepancies in suicide rates across communities, even within a single jurisdiction, and stressed the importance of understanding the roots of this variation in resilience. While some of these differences are likely due to socio-economic factors, there are other environmental and contextual factors at play as well. Successful prevention strategies must be community-based (northern solutions to northern problems), Indigenous-specific, and should integrate Indigenous ways of knowing. Each of the speakers acknowledged that there was no "one size fits all" approach to the challenges. The strategies were presented as common approaches that can unify efforts across communities while allowing for local variation. Speakers were cautiously optimistic about what could be done together moving forward.
Research perspectives - what works and what are the gaps
Brian Mishara, Université du Québec à Montréal; Allison Crawford, University of Toronto; Stacy Rasmus, University of Alaska Fairbanks; Gwen Healey,Qaujigiartiit Health Research Centre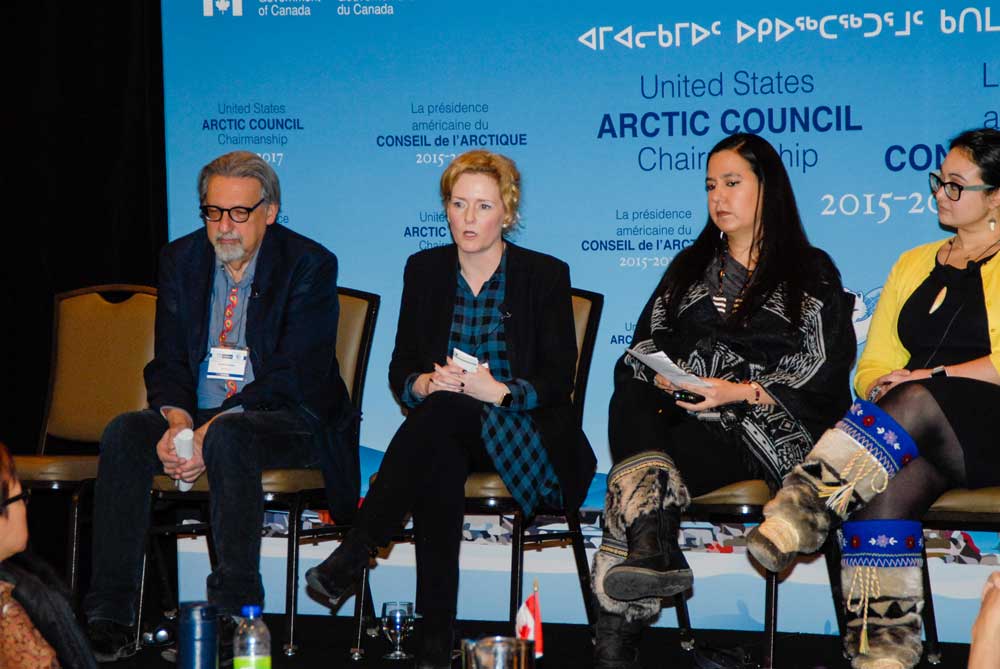 The speakers and other delegates recognized that there are examples of existing and inspiring programs based on community knowledge and strengths that are supported by locally-initiated research. There is a growing evidence base to support community-led interventions. There was also acknowledgement of non-Indigenous solutions that could be adapted to Indigenous needs, based on community culture, language and context. However, the panel noted challenges as well. For example, in research, it is often difficult to be innovative, as success is based on what has already been done.
There were challenges noted about the investment of time needed to develop methodologies that may evolve; and that one may not always know the full methodology at the outset, noting the need to develop iterative processes for adjudication. Self-determination in research takes time, and few measures exist to test the impacts of strengths-based and Indigenous theory-driven interventions. There are also challenges with the sustainability of community-based efforts which limits our understanding of the impacts of interventions over time. Other identified barriers included shifting priorities at different political levels, limited socio-cultural awareness among service providers and researchers, and gatekeepers - individuals who have the power to make something happen or prevent it from happening.
Acknowledging these challenges, the panelists also highlighted positive trends. A paradigm shift among the research community was recognized, with an increasing number of researchers appreciating community perspectives and Indigenous ways of knowing. Attention was also paid to the concept of resilience, which goes above and beyond identifying potential risk factors or protective factors. They highlighted the importance of finding a common language. Although there may be gatekeepers, there are also champions for mental wellness (including youth champions), community strengths and knowledge which provide the foundation for community driven solutions and self-determination in research.
Youth and community testimonials
Becky Kilabuk, Youth representative; Joanasie Akumalik, Community leader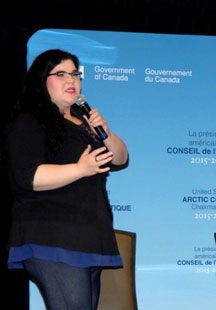 The end of the first day and beginning of the second day were bridged by important youth and community testimonials. The challenge of youth struggling with their identity and feeling disconnected from their culture was an important theme. At an early age, Inuit will learn, as an analogy for mental health, that when you are cold, you either need to seek shelter or to build shelter. Do youth who are suffering know where they can go to seek shelter, or do they have their own capacity to build shelter? There is a myth that youth are apathetic or don't care. But young people don't always understand how valuable and powerful traditional knowledges are.
Language barriers, and a changing world that Elders may feel disconnected from, were identified as challenges. Some struggling youth have the perspective that they "cannot tear out the pages of the dark parts of our life – but they can throw out the whole book." Ms. Kilabuk noted that it can be lonely for youth, not being able to connect with the older generation, and who may find it hard to come forward with their struggles. However, the community must try to facilitate ways in which youth can understand how valuable traditional Inuit knowledge is and how amazing it is to be Inuk. The youth will then be looking for opportunities to create those linkages.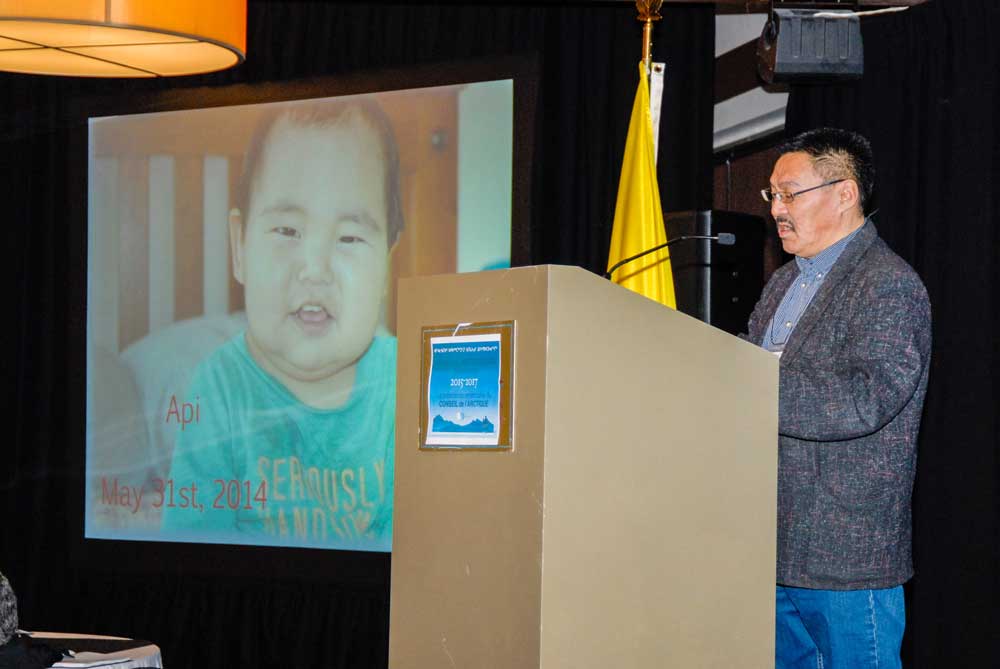 Too often youth and community members speak about the amazingness of Inuit in past tense – the importance of culture within their current identity needs to be stressed. Sharing his personal experience of his own son's suicide, Joanasie urged that, although strategies exist, action need to be taken: "we have to change in order to move forward – we must make that change even if it is awkward."
Arctic Council's Permanent Participant's perspective
Wayne Walsh, Indigenous and Northern Affairs Canada – Moderator; Minnie Grey, ICC; Ethel Blake, Gwich'in Council International (GCI); Per Jonas Partapuoli, Saami Council; Patricia Modeste – Arctic Athabaskan Association; Cody Chipp, Aleut International Association (via video)
Representatives from the Arctic Council's Permanent Participants provided their local contexts but also identified important common themes. Statistics on suicide are difficult to track in many communities due to small populations. It was reiterated that the issue of suicide emerged in recent decades as people began to deal with inter-generational trauma resulting from colonization. But there is a need to speak up, to look at what is happening in the community and educate the youth and Elders that it is okay and necessary to talk about the issues.
Another key challenge is the political situation in some countries and lack of self-determination over land and water. To get to the core of mental illness, community members have to be engaged in issues related to land and water or else they won't have the ability to maintain control over their own life. This includes all aspects – education, culture, and language.
Human rights need to be ensured for mental wellness, otherwise toolkits and strategies will have little effect. Communities have been working to develop healthy communities, but it is going to take time. Small amounts of money cannot be thrown at the issue of suicide with the expectation that it is going to cure the problem. Long-term funding and dedicated resources are needed, and should focus on youth and parenting, as well as strengthening cultural identity.
Additional challenges identified included the stigma of receiving mental health care (particularly in small communities), staff recruitment and retention, climate change – ecological and subsistence changes (e.g., fish stocks) - and demographic changes including the younger generation leaving to urban centers for jobs and education. However, opportunities included programs with an emphasis on education and training coupled with cultural revitalization, engaging communities toward prevention (e.g., domestic violence, substance abuse, and suicide), and cultural camps. Communities are best able to prevent suicide and promote wellness, and Indigenous input and leadership must be at the centre.
Progress update on the RISING SUN
Pamela Collins, NIH; Jon Petter Stoor, Saami Norwegian National Advisory Board; Stacy Rasmus, University of Alaska Fairbanks; Charlene Apok, Southcentral Foundation; Roberto Delgado, National Institute of Mental Health; Kimberly Fairman, Institute for Circumpolar Health Research
RISING SUN, is compiling a common, science-based set of outcomes to be used in evaluating the key correlates associated with suicide prevention interventions across the Arctic States. Common outcomes and their measures, developed through an iterative engagement with Permanent Participants, community leaders, and mental health experts, will facilitate data sharing and pooling, evaluation, and interpretation of the effects of interventions across service systems.
These consensus-driven and prioritized outcomes will aid health workers to better serve the needs of their communities while helping policy makers measure progress, evaluate the scale up of interventions, and identify cultural and regional impediments to implementation. Arriving at common outcomes and reporting systems is especially important in the Arctic, where the vast geography, number of remote communities, and breadth of cultural diversity, pose challenges for systematic approaches to suicide prevention. The project will result in a toolkit of common outcomes and measures for suicide prevention efforts, applicable across the Arctic, which could expand Arctic States' capacity to evaluate the effectiveness of evidence-based interventions to combat suicide. Once completed, the toolkit will be an online resource.
In addition to developing the toolkit, complementary activities have taken place including focus groups in Northwest Territories involving youth, Elders, healers, and service providers, where a number of participants shared their experiences through stories and lived experiences. Highlights included having a common understanding and language, the importance of culture, challenges facing today's youth and lack of connection with Elders. The focus group was itself seen as a mechanism for discussion and healing. Viewpoints shared validated previous research and key points of previous Arctic Council workshops, and will inform the RISING SUN initiative.
Additional outreach - involving youth, Elders and other community representatives - was conducted in Alaska at the Annual Convention of the Alaskan Federation of Natives where participants were asked to identify relevant RISING SUN outcomes. Increased early interventions for depression, anxiety, drug use and violence came out as the highest ranked. A component analysis was also conducted to see what kinds of items could be grouped together, resulting in three dimensions: 1) - clinical items clustered with community items (cultural continuity of care); 2) – connections between relationships (increasing youth belonging); and 3) – social connections and supports.
This work was further complemented by interviews with Elders, youth, and tribal leaders, around what is being done to foster healthy youth. Key themes that emerged included relationships: to land and water through place-based values; intergenerational relationships; to history and the past; to ways of knowing; and of self in community as well as intergenerational relationships. The stories that emerged came with a lot of tears and bravery and needed to be treated properly. It is a large responsibility to take care of the knowledge that is shared by community.
In terms of next steps, it was noted that the US's National Institute of Health (NIH) will continue to work toward securing a web-based platform where the RISING SUN materials can be hosted and used by a broad audience.
The NIH representatives in attendance also noted that once the proposed toolkit is complete, it will be shared with the communities involved in the project including delegates of the final workshop.
Break-out sessions focused on the RISING SUN prioritized outcomes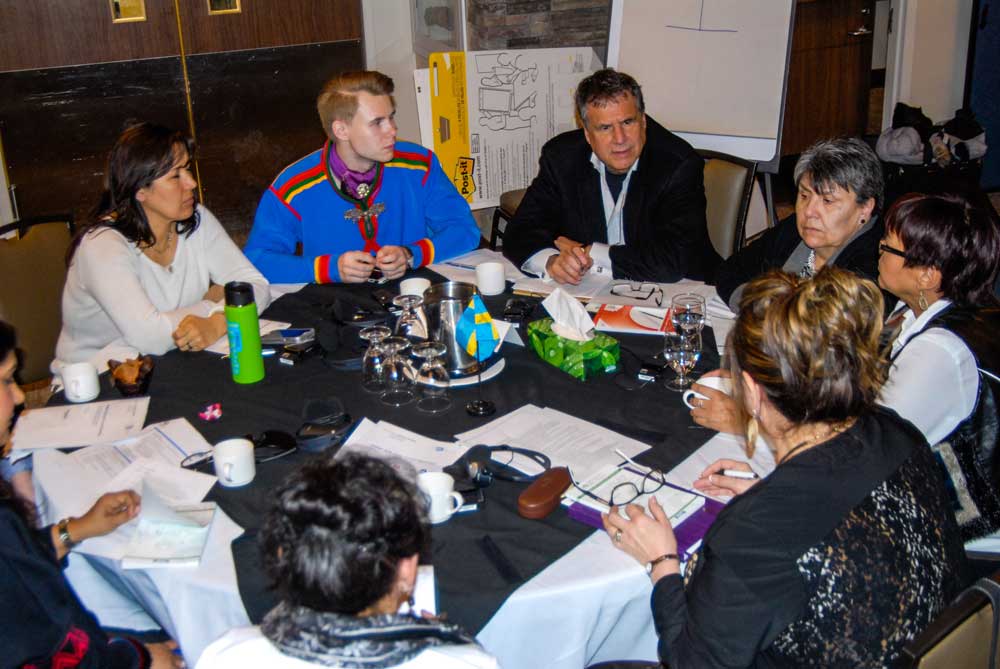 Delegates were arranged into groups with mixed backgrounds and geography in order to create rich discussions. Each group was asked to reflect on specific RISING SUN outcomes and identify key measurable and actionable priorities at various levels (i.e., community, national/regional and circumpolar). Guiding questions were shared with delegates to help frame their responses:
What are the key opportunities that can contribute to effective application of RISING SUN outcomes to evaluate existing activities in your region?
What are the most significant challenges in applying the RISING SUN outcomes to evaluate existing activities in your region?
What additional knowledge is needed to effectively apply RISING SUN outcomes to evaluate existing activities in your region?
What other solutions are needed to overcome barriers to effective implementation of RISING SUN outcomes for existing activities in your region?
After discussions, groups were asked to report conclusions of their discussions:
Group 1 – The group noted that Indigenous organizations were created but little tangible progress has been seen. Communities expressed a need for positive cultural identity, more promotion of Inuit and other Indigenous knowledge and for language programming. Projects must be sustainable and financially supported in the long-term and not seen as temporary. Unfortunately, communities and programs currently have to compete for available funding. Moreover, programs need to be based on successful initiatives proven to be effective that could be scaled up as opposed to global numbers and statistics. Finally, more research needs to be done on revitalization and decolonization.
Group 2 – Group discussions focused on self-care and frontline workers. There is a need for support for communities to respect themselves and to create places where the employer is respectful of what they are trying to address. More human and financial resources are needed to continue to create and sustain successful cultural programs. Youth have to be supported and jobs need to be created. Volunteer impact is limited without adequate support.
Group 3 – The group reported that the most important step in the immediate future is to acknowledge and apply Indigenous knowledge systems. The group discussed existing knowledge frameworks that are being underutilized, or implemented/applied. Community level priorities are to advocate for what works and doesn't work as they know best, unleash capacity and strengths and assets, honouring the value of namesakes and putting that into practice. At the national and regional level, knowledge systems shared across communities need to be applied to these communities as well as self-governing Indigenous institutions. Sustainable long term funding was identified as critical. Having transparent dissemination as well as having a day that celebrates the sea goddess have also been identified as priorities.
Group 4 – Discussions in this group concluded that the most important community-level priority was advocating for community resources for sustainability of successful programs. The most important regional priorities identified were the need for system change, better hiring practices, continued implementation of the National Inuit Suicide Prevention Strategy and having unified voices around the different states. Moreover, a critical element is to ensure access to resources based on need rather than institutional priorities.
Group 5 – The group came to the conclusion that the continuation of progress should not rely only on mental health services, but include other actors who can provide loving and caring. A question that remains unanswered is who exactly should receive help and support. Indeed, the people around the person who is suicidal also need help. At the regional and circumpolar level, systematic interventions and programs can be coordinated to avoid reinventing the wheel.
Group 6 & 8 (merged group) – At the community level, the group concluded that there is an important need to encourage self-determination in ways that are targeted and relevant to specific communities. Moreover, breaking silence on suicide and increasing awareness on mental wellness are key to overcoming these issues. Other critical elements identified include long term funding and the collaborative networking of research projects and efforts.
Group 7 – The group identified the need to strengthen networks as a priority to better share information and give access to existing knowledge, especially for youth. Indeed, promotion and exposure to networks and tools such as Facebook are extremely efficient in some communities and are key elements that need to be leveraged. Moreover, mentorship, guidance, and employment are complex elements that require an ongoing long-term and holistic approach.
Group 9 – At the community level, the group concluded that the priorities should be to focus on men's health, increase community participation in social networks and programs including around child rearing. At the regional level, cultural competency was identified as a key to reduce social disparities and systemic discrimination. At the circumpolar level, the group highlighted the need for strengthening and recognizing Indigenous groups and their rights. Communication strategies also need to be improved and political will needs to be transformed into action.
Group 10 – The group came to the conclusion that programs need to focus on Inuit culture. The elders need to be empowered for them to share their important knowledge to the youth. Trained people should help them develop competencies to share knowledge. Evaluation tools need to be accessible online to facilitate sharing and standardization of information. Sustainable funding has also been identified as critical to the success of suicide prevention initiatives.
The Way Forward
Natan Obed, ITK; Okalik Eegeesiak, ICC; Heidi Anita Ericksen, Utsjoki Health Care Centre; Alison LeClaire, Senior Arctic Official of Canada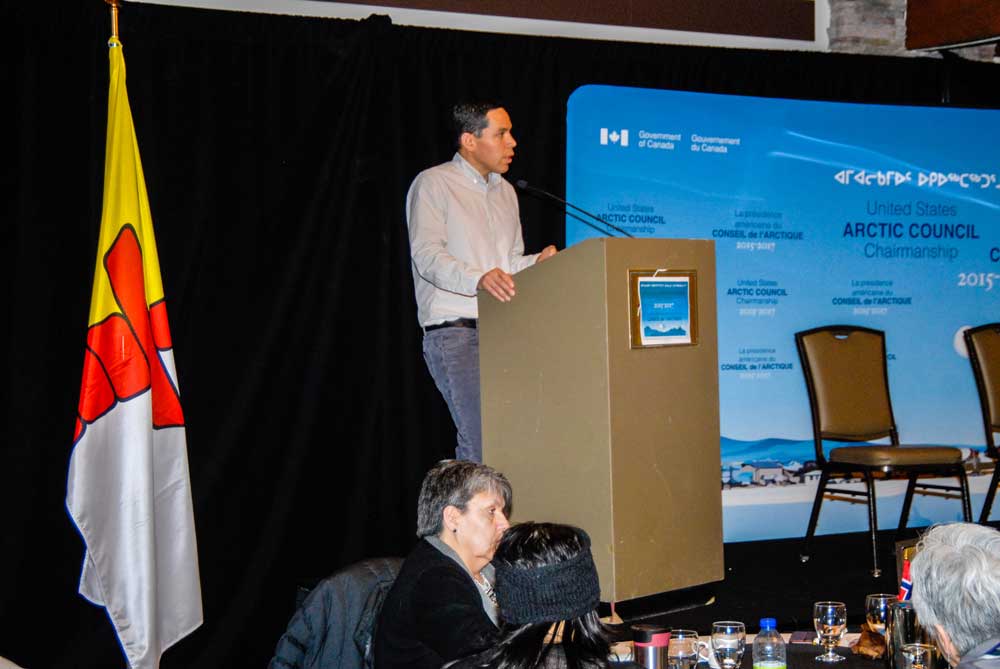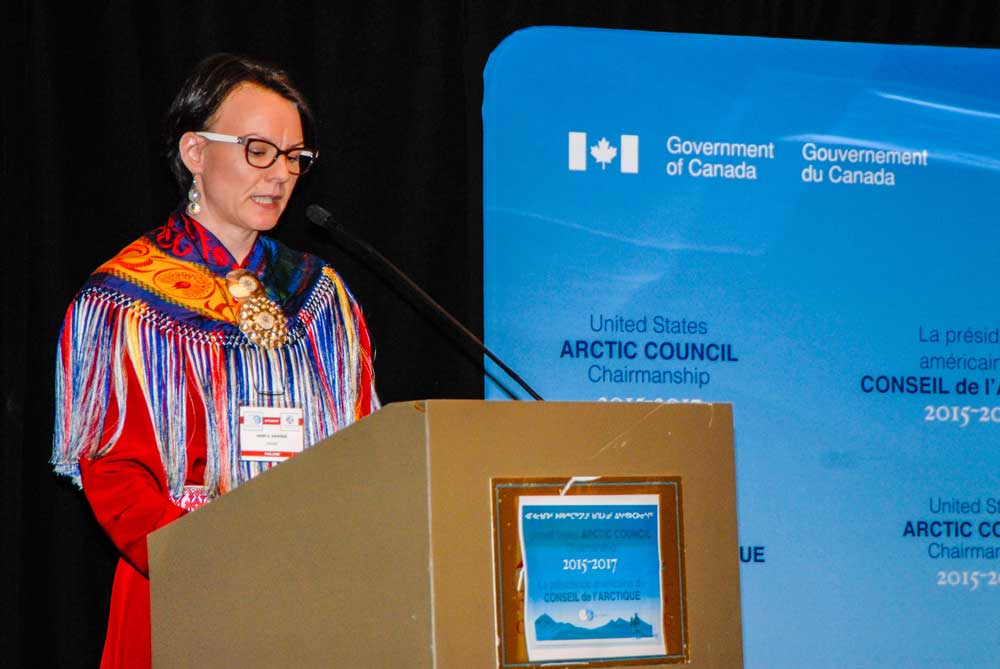 During the closing remarks, the speakers noted that, despite collective empathy and mutual understanding, there is a need to be practical. Suicide is a difficult issue to talk about because it affects everyone on a personal level, even high ranking officials. This makes it difficult for suicide to be thought of from a policy and research perspective. There are also gaps in the mental health care system and public governments who have been slow to respond. To see impactful change, there is a need to get beyond systemic barriers in having this conversation and all stakeholders need to understand that there is a larger picture beyond the scope of their individual responsibilities.
Prevention was identified as "knowing the youth before they know themselves." A paradigm shift is needed that values consensus. Consensus can be a tool for inclusion, but can also stall meaningful progress if care is not taken. As such, Indigenous communities must strive for more than just ensuring consensus on the root and understanding of the challenge - it is time to rebuild, repower, and release capacity with sustainable funding.
Speaking to the upcoming Finland Chairmanship, Heidi A. Ericksen committed to continue the work of the previous chairmanships on mental wellness and suicide prevention, which hold out hope. A conference is being planned at the end of 2018 to discuss the implementation of promising practices.  
"We can imagine an Arctic where our youth realize their full potential. The way forward isn't simple, but most important things aren't."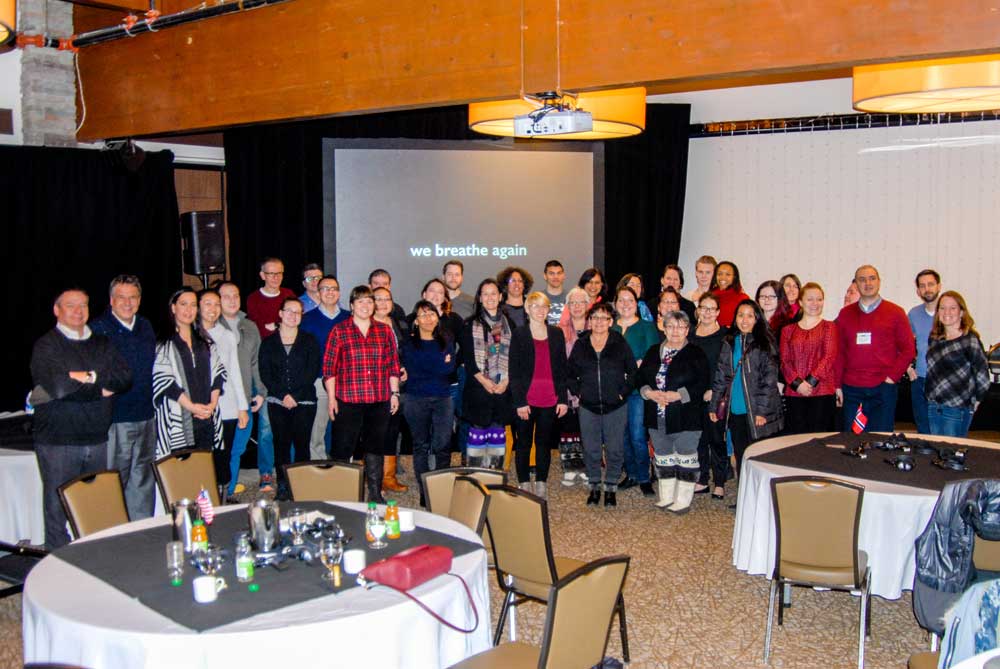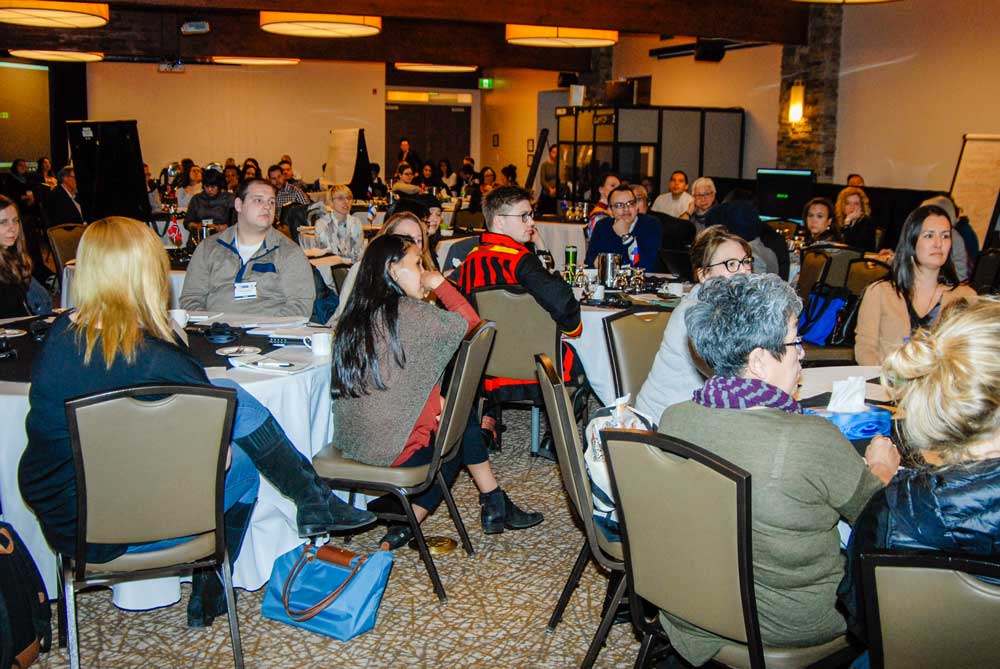 Acknowledgements
The RISING SUN Arctic Council workshop, an initiative of the Arctic Council Sustainable Development Working Group, is hosted by the Government of Nunavut, the Government of Canada and the Inuit Circumpolar Council in partnership with co-leads Arctic Council states on the overall initiative: Norway, the Kingdom of Denmark, the United States and Canada. The Canadian Institutes of Health Research (CIHR) wishes to thank the following organizations for their partnership and support for this United States Arctic Council Chairmanship event:
Hosts

Partners

Date modified: