Sex, Gender and Knowledge Translation
Knowledge Translation at CIHR
CIHR defines Knowledge Translation (KT) as "a dynamic and iterative process that includes synthesis, dissemination, exchange and ethically-sound application of knowledge to improve the health of Canadians, provide more effective health services and products and strengthen the health care system." Part of IGH's mission is to strengthen the capacity of gender, sex and health researchers to undertake KT and facilitate the application of research findings to address pressing health challenges facing men, women, girls, boys and gender-diverse people.
Sometimes, when developing a research project, KT strategy or implementation plan, we might think the best and fairest approach is a gender-neutral or gender-blind approach. These approaches ignore gender norms, roles and relations, in an attempt to treat everyone the same. However, this approach is misguided because it ignores significant sex and gender differences that can affect health outcomes—an omission that could in fact widen health disparities.
Considering sex and gender, as well as how they intersect with a range of other personal characteristics, in the translation of research findings acknowledges and responds to the social determinants of health, many of which are gendered.
According to the Knowledge to Action model, some of the key first steps in developing and implementing a KT strategy include:
adapting knowledge to local context,
assessing barriers to knowledge use and
selecting, tailoring and implementing interventions.
Consider: how might considering the gender of knowledge users help inform your approach to the factors listed above when developing and implementing your KT strategy?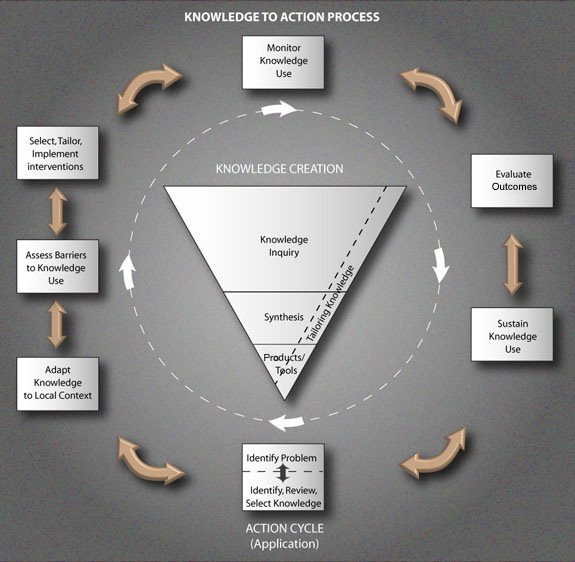 Integrating sex and gender into knowledge translation plans means creating strategies that maximize uptake by men, women, boys, girls and gender-diverse people, as appropriate.
Consider the following examples of how to consider sex and gender at various stages of the k2a cycle:
Identify problem: Consider the makeup of your audience. Might the problem differ depending on their gender? Might the way that they see the problem differ depending on their gender?
Adapt knowledge to local context: Does the way that your knowledge users experience and interact with their environment differ depending on their gender? This includes gender roles, gender identity, gender relations and institutionalized gender.
Assess barriers to knowledge use: Given that men and women tend to have different roles in society, the barriers preventing knowledge use could differ by gender. Consider what barriers may be experienced by different genders.
Select, tailor, implement interventions: Review the evidence that exists regarding sex and gender differences in the relevant field, considering what works for whom and in what context. Have you considered sex and gender in determining which interventions to use and how to tailor them?
Monitor knowledge: Review research on sex and gender differences in monitoring mechanisms. Might different genders respond differently to the same method? How might you integrate methods that work well for all people?
Evaluate outcomes: Different people have different ideas of what success looks like. Have you considered how sex and gender might influence the definition of success?
Sustain knowledge use: Different genders may be motivated differently. Have you considered how sex and gender may influence the sustainability of knowledge use?
CIHR Knowledge Translation Resources
Date modified: