Understanding the role of blood cells platelets in rheumatoid arthritis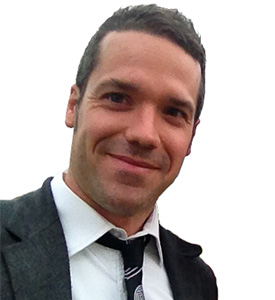 Rheumatoid arthritis affects about 1% of Canadians.
CIHR Foundation Grant Recipient
Dr. Éric Boilard
Department of Microbiology-Infectious Diseases and Immunity
Faculty of Medicine
Université Laval and Centre de Recherche du CHU de Québec
Québec
Dr. Boilard's Research
Dr. Éric Boilard's research has dramatically shifted our understanding of how blood elements known as platelets affect our health. Platelets are best known for their role in triggering blood clots to repair damaged blood vessels. But, more recently researchers have discovered that platelets also play a role in the body's immune system. Dr. Boilard's lab is taking a closer look at how platelets contribute to an immune response, and he has made groundbreaking findings about their role in the autoimmune disorder rheumatoid arthritis (RA).
In a 2010 study, Dr. Boilard's lab showed that tiny particles shed by platelets are found at high levels in the joint fluid of people with RA, and that these particles amplify the inflammation that is the hallmark of the disease. His research team also discovered that the platelet particles are able to enter arthritic joints through microscopic gaps, which the platelets themselves play a role in creating. Now, with a CIHR Foundation grant, Dr. Boilard will continue to study how platelets contribute to RA, and explore new treatments for RA and other immune disorders.
Supporting Advances in Rheumatoid Arthritis Research
Inflammation plays a role in a wide variety of diseases, from RA to asthma to cardiovascular disease. While there are many labs exploring how traditional immune cells, such as white blood cells, contribute to inflammation, Dr. Boilard's team is one of the only research groups looking at the role of platelets in inflammation. Their findings could be hugely beneficial in terms of developing new treatments for inflammatory conditions, as well as new strategies for preventing adverse reactions to platelet transfusions. Most existing treatments work by targeting cells of the immune system, but in doing so, they suppress the patient's immunity. New therapies that target platelets could offer relief to patients without making them more vulnerable to infection. In addition, by increasing our understanding of how platelets contribute to inflammation, Dr. Boilard's research could lead to better ways of tracking the progression of inflammatory illnesses, and identifying the patients that are most at risk of developing serious forms of inflammatory disease.
"'The essential is invisible to the eye' – that is the message of the tale Le Petit Prince by Saint-Exupéry. In line with this reasoning, my Foundation grant research will explore the role of platelets and their minuscule particles in disease. In doing so, I will shed light on new targets for the development of new treatments for diseases such as rheumatoid arthritis, with little or no impact on the patient's immune system." – Dr. Éric Boilard
About Dr. Boilard
Dr. Boilard earned his PhD in Microbiology and Immunology at Université Laval, and he completed postdoctoral fellowships at Université Nice Sophia Antipolis and Harvard Medical School. In 2010, he became a CIHR New Investigator. He has received recognition for his research leadership, including acknowledgements from the Quebec Parliament, and had his work declared the Medical Finding of the Year by several media outlets in 2011 and 2014.
Date modified: