Applied Public Health Chair – Valéry Ridde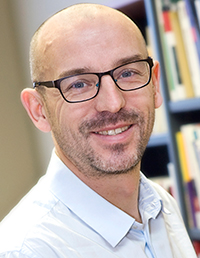 Valéry Ridde, MSc, PhD, is an associate professor in the Department of Social and Preventive Medicine at the University of Montreal and a researcher with the University of Montreal's public health research institute (IRSPUM). He holds an MSc in community health from Laval University, a DESS (master's degree) in public management from the University of Dijon (France), and a doctorate in community health from Laval University. His doctoral thesis was a study of health policy and health equity in Burkina Faso. He received a CIHR New Investigator Salary Award for the years 2010 to 2015.
Dr. Ridde's research interests include program evaluation, health promotion, community health approaches, health equity, health policy implementation and organization and funding of health systems. He is heavily involved in knowledge-transfer activities and partnerships with international organizations and governments. As the holder of a CIHR/PHAC Applied Public Health Chair, he is applying his multidisciplinary experience to carry out a project on implementation of community health interventions around the world, to make them more effective and equitable.
The principal decision-making partner of Dr. Ridde's Applied Public Health Chair is Dr. Corneille Traoré, Director of Health, Social Protection and Mutual Assistance for the Commission of the West African Economic and Monetary Union (UEMOA).
Dr. Ridde's Chair
It is not enough just to know whether a public health intervention is effective. We also need to understand why it works, how, for whom, and in what contexts. Public health implementation research is emerging (or re-emerging) as a science in some parts of the world, but it is still practically non-existent in Africa, and is rarely organized at the global health level. Dr Ridde's research efforts are aimed at overcoming this knowledge gap.
Research objectives and interests
As the holder of a CIHR/PHAC Applied Public Health Chair, Dr. Ridde is striving to overcome the significant knowledge deficit in implementation science, with the goal of improving the implementation of community health interventions so as to increase their equity and effectiveness. He is therefore focusing his research on community actions, which are defined as interventions that take place in the community and are carried out by community members; community actions include policies, projects, and actions, and may be either organized officially or unofficially. The underlying goal of all the Chair's efforts is to fight against the injustice of an avoidable, unequal distribution of resources that can contribute to population health equity.
The Chair's specific objectives are as follows:
to increase interdisciplinary knowledge on the implementation of community interventions that promote equity in global health;
to develop a scientific, conceptual, and methodological approach to implementation science as applied to complex global health interventions;
to propose interactive strategies for knowledge translation;
to train the next generation in global health, intervention research, and interactive strategies for knowledge translation.
The value added by this project is that it will ensure conceptual consistency with past research, contribute to the development of the emerging science of global health implementation, and enable Dr. Ridde's work to have an impact beyond the local setting and West Africa.
To find out more
For more information on Dr. Ridde's research and projects, please visit:
Date modified: