Applied Public Health Chair – Jonathan McGavock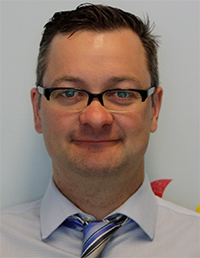 This Chair is supported through the CIHR Pathways to Health Equity for Aboriginal Peoples Signature Initiative in collaboration with the Public Health Agency of Canada.
Jonathan McGavock, BPE, MA, PhD, is an Associate Professor in the Department of Pediatrics - Faculty of Medicine at the University of Manitoba. Dr. McGavock is a past CIHR New Investigator (2010-2014) and a Canadian Diabetes Association Scholar (2008-2010). Dr. McGavock obtained his Bachelor of Physical Education (BPE) in the Faculty of Kinesiology and Recreation Management at the University of Manitoba (1993), MA from the Faculty of Kinesiology at McGill University (1999), and PhD from the Faculty of Physical Education at the University of Alberta (2003). He also completed a CIHR-Heart and Stroke Foundation postdoctoral fellowship at the University of Texas Southwestern Medical centre from 2004-2006. Dr. McGavock's research program is focused on the prevention and management of type 2 diabetes in youth, with a specific focus on physical activity. His laboratory has led CIHR-funded population intervention research related to the grade 11 and 12 physical education policy in Manitoba and school-based peer mentoring programs for diabetes prevention among First Nations youth since 2008. Dr. McGavock brings this multi-disciplinary expertise to his CIHR/PHAC Applied Public Health Chair evaluating school-based interventions in supporting healthy weight status in First Nations children living on reserves.
The decision-making collaborators on Dr. McGavock's Chair in Applied Public Health are Dr. Rob Santos, the Associate Secretary to Healthy Child Committee of Cabinet and Executive Director, Science and Policy, Healthy Child Manitoba Office and Mr. Brian Torrance, the Director of Ever Active Schools. The latter is a cross-sectoral provincial organization that enables knowledge exchange, communication and collaborative partnerships among the health, active living and education sectors.
Dr. McGavock's Chair
Dr. McGavock's research endeavours to capitalize on the school-setting to deliver an intervention aimed at minimizing inequities in childhood obesity.
Chair Objective
The primary objective of Dr. McGavock's Applied Public Health Chair is to determine if resilience-centered interventions, delivered in schools, are an effective population health approach to support healthy weights in First Nations children living on reserve.
This objective will be targeted through three studies. The first study is a CIHR-funded quasi-experimental peer-mentoring intervention to prevent weight gain in First Nations children living on reserves (Aboriginal Youth Mentor Program). The second study is a natural experiment embedded within a population based cohort which explores school-level factors that protect against poverty-driven obesity in Ireland. The third is a study of the determinants of effectiveness, implementation and uptake of the Aboriginal Youth Mentor Program during the dissemination of the program to Indigenous students attending schools in Alberta, Saskatchewan, Manitoba, Ontario and Quebec.
This Chair's research is intended to inform school-based population health interventions for achieving healthy weights in Indigenous children across Canada.
Dr. McGavock will also bring population health intervention research for youth to pediatric residents, as he is currently co-director of the pediatric resident research program in the Department of Pediatrics and is helping to create a national network of pediatric resident research programs in Canada.
More recently (2015), Dr. McGavock and his team secured a $3.7M team grant from The Lawson Foundation and Research Manitoba to create the DEVOTION network. The network consists of 26 scientists across CIHR's four research pillars, along with patient and stakeholder advisory groups dedicated to reducing the burden of chronic diseases in children.
In 2016, Dr. McGavock and his team were awarded a $1M Pathways to Health Equity team grant from CIHR, the Canadian Diabetes Association (CDA) and Alberta Center for Child Family and Community Research (ACCFCR) to study the role of peer mentoring for the prevention of type 2 diabetes and obesity among Indigenous children in Canada. The team consists of 13 Indigenous school-communities and five universities across four provinces dedicated to Indigenous approaches to disease prevention.
Want to learn more?
To learn more about Dr. McGavock's research and projects, please visit:
Dr. McGavock can also be followed on Twitter @jonmcgavock or on his webpage.
Publications
Santos, R. G., Durksen, A., Rabbani, R., Chanoine, J. P., Miln, A. L., Mayer, T., & McGavock, J. M. (2014). Effectiveness of peer-based healthy living lesson plans on anthropometric measures and physical activity in elementary school students: a cluster randomized trial. JAMA pediatrics, 168(4), 330-337.
Eskicioglu, P., Halas, J., Sénéchal, M., Wood, L., McKay, E., Villeneuve, S. & McGavock, J. M. (2014). Peer mentoring for type 2 diabetes prevention in First Nations children. Pediatrics, 133(6), e1624-e1631.
Date modified: