Applied Public Health Chair – James Ford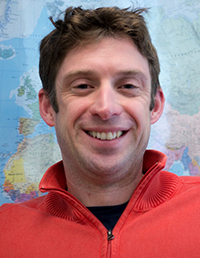 James Ford, BA, MSc, PhD, is an Associate Professor in the Department of Geography at McGill University. Dr. Ford obtained his BA in Geography at the University of Oxford, UK, MSc in Environmental Change and Management at the University of Oxford, UK, and PhD in Geography at the University of Guelph. Dr. Ford brings his multidisciplinary experience in the field of geography and environmental sciences into his role as CIHR/PHAC Applied Public Health Chair for his project on the evaluation of health adaptation in response to climate change within Indigenous populations globally.
The decision-making collaborator on Dr. Ford's Chair in Applied Public Health is Didacus Namanya at the Ministry of Health in Uganda.
Dr. Ford's Chair
Climate change has been identified as one of the greatest threats to public health, especially for Indigenous populations who have been identified as 'highly sensitive' to potential impacts. Adaptation, as a response to climate change, allows for Indigenous Peoples to have a proactive role in managing climate change risks, where they can act as agents in planning and responding at household, community, and regional levels. However, there is currently a minimal research base on adaptation options and processes in the health context, particularly for Indigenous populations.
Chair Objective
Dr. Ford, as an Applied Public Health Chair, aims to develop an evidentiary base for health adaptation for Indigenous populations globally, through the Evaluating Health Adaptation to Climate Change (EvHACC) project. EvHACC will link and expand upon two large programs he is involved in, IHACC and IK-ADAPT:
IHACC (Indigenous Health Adaption to Climate Change) is a multinational research project aimed at developing an understanding of the vulnerability and resilience of remote Indigenous health systems to climate change, as well as a basis for implementing pilot interventions and adaptation planning.
IK-ADAPT (Inuit Traditional Knowledge for Adapting to the Health Effects of Climate Change) is a community based initiative that combines scientific research and Inuit knowledge to develop an evidence base to inform policy and programs to assist Inuit communities adapt to the health effects of climate change.
This research program will focus on the Canadian Inuit, Shipibo in the Peruvian Amazon, and Batwa Pygmies in Uganda.
Dr. Ford has four goals:
to establish a cross-cultural interdisciplinary research team;
to develop an adaptation evaluation framework that conceptualizes important elements by which health interventions can be strategically evaluated as adaptations to climate change;
to evaluate specific interventions in the specified regions that target key health determinants to climate change vulnerability; and
to investigate the potential for scale-up and support opportunities at the intervention level.
Training and mentorship opportunities are key elements of this research program. There are multiple opportunities for students to gain hands-on experience in cross-cultural research, engage with communities in a research setting, as well as how to work with both traditional and scientific knowledge, data analysis, dissemination methods, and cultural sensitivities.
The first year of the EvHACC program has had a strong focus on working with communities and knowledge users to examine how the research program can inform efforts to build resilience to the health effects of climate change. Workshops were held in Uganda, Peru, and the Arctic, and team members attended the Paris climate change conference to present the project and discuss opportunities for linking the work to the emerging international climate policy regime. Emanating from these activities, the engagement of Indigenous issues in international climate change assessments and policy processes was examined, with the results published in Nature Climate Change.
Want to learn more?
To learn more about Dr. Ford's research and projects, please visit:
He can be followed on Twitter @ccadapt.
Publications
Ford, J., Cameron, L., Rubis, J., Nakashima, D., Cunsolo Willox, A., Pearce, T. Including Indigenous Knowledge and Experience in IPCC Assessment Reports. (2016). Nature Climate Change (6).
Ford, J., McDowell, G., Pearce, T. (2015). The adaptation challenge in the Arctic. Nature Climate Change, 5, 1046-1053.
Date modified: