Applied Public Health Chair – Guy Faulkner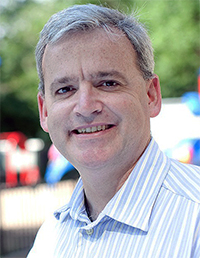 Guy Faulkner, BEd, MSc, PhD, is a Professor in the Faculty of Kinesiology and Physical Education at the University of Toronto. Dr. Faulkner earned his BEd in Human Movement at the University of Sydney, Australia, MSc in Exercise and Sport Psychology at the University of Exeter, UK, and PhD in Exercise Psychology at Loughborough University, UK. Dr. Faulkner brings his expertise in exercise psychology and promotion of physical activity into his role as CIHR/PHAC Applied Public Health Chair for his research program evaluating physical activity interventions at a population level in Canada.
The decision-making collaborator on Dr. Faulkner's Chair in Applied Public Health is Mr. Elio Antunes, President and CEO of ParticipACTION, which is the Canadian voice of physical activity and sport participation.
Dr. Faulkner's Chair
Ninety three percent of children and youth, as well as 85% of adults currently do not meet the Canadian Physical Activity Guidelines. This deficit contributes to physical inactivity being the most prevalent population health behavioural risk in Canada. Canada's attempts to increase physical activity have been fragmented, and lacked the strategic planning to target a population-wide issue. Therefore, in response to this gap, a national strategy was created entitled A National Strategy for Canada: Active Canada 20/20 (AC 20/20).This strategy is designed to increase physical activity as well as engage decision makers and unite stakeholders to improve population health.
Chair Objective
Dr. Faulkner, as an Applied Public Health Chair, aims to develop and implement a program of population health intervention research for the continual monitoring and evaluation of AC 20/20. In addition, he will be evaluating other local, provincial/territorial and national population health strategies to increase physical activity.
The first year of the Chair award has been focused on the development and evaluation of large-scale physical activity initiatives and these are Public Health Agency of Canada (PHAC) Multi-sectoral Partnerships to Promote Healthy Living and Prevent Chronic Disease. These include the evaluation of the Air Miles/YMCA Physical Activity Project where individuals are awarded Air Miles for attendance at participating YMCAs, the evaluation of the UPnGO with ParticipACTION workplace physical activity intervention, and the Canadian Cancer Society/Running Room partnership delivering the Run to Quit program.
Several key knowledge translation opportunities are embedded within this Chair. Specifically this project contributes to the evidence base related to the role of population level approaches to promoting physical activity, as well as how such approaches can be successfully implemented. Dr. Faulkner's research will provide foundational information for ongoing and future evaluations of physical activity initiatives which have the potential to inform future public and population health planning.
Want to learn more?
To learn more about Dr. Faulkner's research and projects, please visit:
He can also be followed on Twitter @GuyFaulkner or on his web page.
Publications
Spence JC, Faulkner G, Costas Bradstreet C, Duggan M, Tremblay MS. Active Canada 20/20: A physical activity plan for Canada. Can J Public Health. 2016 Mar 16;106(8):e470-3. doi: 10.17269/cjph.106.5041.
Faulkner G, White L, Riazi N, Latimer-Cheung AE, Tremblay MS. Canadian 24-Hour Movement Guidelines for Children and Youth: Exploring the perceptions of stakeholders regarding their acceptability, barriers to uptake, and dissemination. Appl Physiol Nutr Metab. 2016 Jun;41(6 Suppl 3):S303-10. doi: 10.1139/apnm-2016-0100.
Date modified: