Applied Public Health Chair – David Buckeridge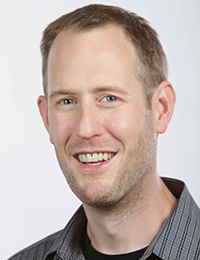 David Buckeridge is an Associate Professor of Epidemiology and Biostatistics at McGill University in Montreal. He is also a Medical Consultant to the Montreal Public Health Department, the Quebec Public Health Institute, and the Quebec Institute for Excellence in Health and Social Services. Dr Buckeridge has consulted on surveillance to organizations such as the Public Health Agency of Canada, the US Institute of Medicine, the US and Chinese Centers for Disease Control, the European Centers for Disease Control, and the World Health Organization. He holds a M.D. from Queen's University, a M.Sc. in Epidemiology from the University of Toronto, a Ph.D. in Biomedical informatics from Stanford University and is a Fellow of the Royal College of Physicians and Surgeons of Canada with specialty training in Public Health and Preventive Medicine. Dr. Buckeridge brings his multidisciplinary experience in health and informatics to his role as CIHR/PHAC Applied Public Health Chair for his program of research on e-Health Interventions in Public Health.
The decision-making collaborator for Dr. Buckeridge's Chair in Applied Public Health is Dr. Denis A Roy, MD, MPH, MSc, FRCPC, Vice President of  Science & Clinical Governance at Institut national d'excellence en santé et en services sociaux (INESSS)in Quebec.
Dr. Buckeridge's Chair
We all use information to make decisions. In our daily life, we have seen remarkable gains in the ease with which we can access information. Unfortunately, similar advances have not occurred in public health practice, where it is often difficult to access the necessary information. There is a huge potential benefit to society if we can develop and evaluate software to help people make better decisions about preventing chronic diseases, detecting infectious disease outbreaks, and planning the delivery of public health services. This research program will develop and evaluate innovative strategies that use modern computing to improve decisions about important public health problems.
Chair Objective
As an Applied Public Health Chair, Dr. David Buckeridge aims to evaluate the effect of the PopHR system on decision-making processes and outcomes related to core public health functions. The projects will focus on supporting three themes of evidence-based public health: chronic disease prevention, health threat detection, and public health planning.
Moving forward, Dr. Buckeridge plans to:
Implement a series of projects to evaluate the effect of PopHR on decision-making, planning and service delivery within community, regional, and provincial health contexts.
Develop and evaluate innovative strategies that use modern computing to improve decisions about important public health problems.
Identify crucial elements in public health settings that may influence the success of this e-Health intervention.
Synthesize the results generated from this project with similar e-health interventions in various settings to create a robust knowledge base on the role of e-Health interventions in public health.
Knowledge translation is foundational to this project and with that in mind, Dr. Buckeridge will:
Disseminate the information regarding which e-health interventions work in which settings, as well as how to successfully implement the interventions.
Transfer the technology from his chair by making the software and design principles available to public health partners.
In the past year we have designed an evaluation plan for the PopHR and modified the software based on feedback received from interactions with stakeholders. We also received three years of funding from PHAC to continue the development and evaluation of the system to integrate into the system indicators derived from data on food purchasing in grocery stores. In addition a prototype of our SDIDS software has been created and our team is working on developing a data warehouse with the McGill University Health Center (MUHC).
Want to learn more?
To learn more about Dr. Buckeridge's research and projects, please visit:
Publications
Moore S, Buckeridge DL, Dube L. Cohort profile: The Montreal neighbourhood networks and healthy aging (MoNNET-HA) study. International Journal of Epidemiology 2016. doi: 10.1093/ije/dyu137
Buckeridge DL, Charland KM, Labban A, Ma Y. A method for population-based surveillance of food consumption. Annals of the New York Academy of Sciences 2014;1331(1):270-277. DOI: 10.1111/nyas.12332
Date modified: