Personalized Medicine overview
Introduction
The goal of this initiative is to engage biomedical, clinical, population health, health economics, ethics and policy researchers, as well as provincial health authorities, in an undertaking to identify health care burdens in disease that are suitable for a personalized medicine approach. This initiative will ultimately support translational research for the effective prevention, diagnosis, and treatment of disease.
Scope of personalized medicine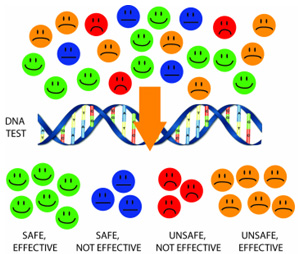 Personalized medicine promises to transform the delivery of healthcare to patients. Healthcare will evolve from a reactive "one-size-fits-all" system towards a system of predictive, preventive, and precision care. Personalized medicine will not only focus on the identification of biomarkers and genetic signatures for prevention and prediction of therapeutic response, but will also enhance awareness about lifestyle and preventive lifestyle changes. Areas in which personalized approaches are particularly promising include oncology, cardiovascular diseases, neurodegenerative diseases, psychiatric disorders, diabetes and obesity, arthritis, pain, and Alzheimer's disease. In all of these fields, and others, a personalized molecular medicine approach is expected to lead to better health outcomes, improved treatments, and reduction in toxicity due to variable or adverse drug responses.
Objectives
The specific objectives of the Personalized Medicine Initiative are:
To develop an evidence base on how to assess and, where appropriate, integrate innovative diagnostics (including laboratory diagnostics and medical imaging) into health policy and practice.
To stimulate the discovery, validation, and translation of biomarkers, targets and genomic signatures for risk prevention and for diseases, which have the potential to improve the outcomes of therapeutic interventions by selecting tailoring of treatment choices to individual patient characteristics.
To foster the development and validation of diagnostics based on such biomarkers, targets and genomic signatures, and of innovative devices for the application to patient practice.
Developing a national research agenda
We are working in close collaboration with all stakeholders to develop a coordinated approach. A series of consultations and workshops initiated in 2011 engaged federal and provincial health authorities, multiple funding parties, clinicians and researchers and industry to develop a personalized medicine pipeline to enable effective policy leading to preventative interventions as well as molecular, evidence-based medicine to the health care system. The CIHR Personalized Medicine Signature Initiative was launched in January 2012 with the announcement of the joint Genome Canada/CIHR Genomics and Personalized Health competition in support of large-scale research projects made by the Honourable Leona Aglukkaq, Minister of Health, and the Honourable Gary Goodyear, Minister of State for Science and Technology. We are continuing to consult with the community. Key consultations in 2012 include the Health Canada/CIHR workshop (January 2012) and the CIHR/Industry Workshop in Personalized Medicine (May 2012). More information on our efforts to develop a national agenda, including key accomplishments and developing personalized medicine initiatives, is available on the CIHR website.
Partnerships
The CIHR strategic initiative in Personalized Medicine is co-led by the Institute of Cancer Research, Institute of Genetics, and Institute of Health Services and Policy Research, in partnership with several CIHR institutes, and in close consultation with provincial and federal funders. The Personalized Medicine initiative will interface with CIHR's Strategy on Patient-Oriented Research, as well as with other existing and developing CIHR initiatives. We recognize the tremendous support of our partners that will help to make the initiative a success. Going forward, we also hope to engage other potential partners and seek their expertise to develop new collaborations and further enhance this initiative.
Date modified: