Youth who use drugs don't have the voice they should. Meet the B.C. researchers looking to change that.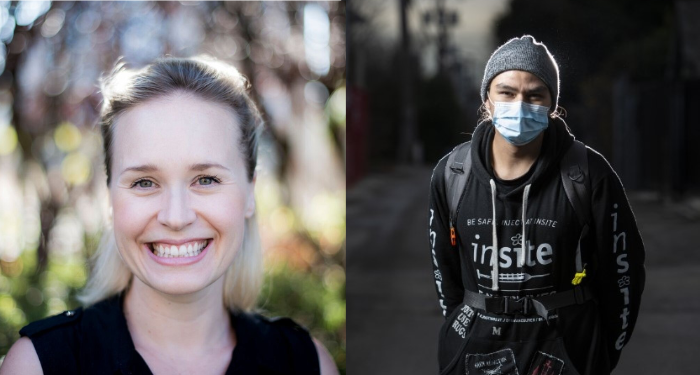 The realities of many street-involved young people who use drugs (YPWUD) aren't being heard. For the best chance at a healthy future, they need a voice, and a Vancouver-based research team is stepping up to help amplify their voices and perspectives.
"Society has a weird way of trying to hide the fact that youth use drugs: they do, and they're dying from it," said Vancouver's Kali-olt Sedgemore.
"The voices of youth that use drugs deserve to be heard. They're the ones that make the choices, they're the ones that can make sure that things are done properly for them."
Sedgemore works with street-involved young people as a community support and outreach worker at safe injection sites throughout Vancouver. They're also the president of drug user group Coalition of Peers Dismantling the Drug War.
"I focus on making sure they feel comfortable in spaces that are usually adult-oriented," they explained.
"And making sure they understand 'You're allowed to come here, and you're allowed to be safe here.'"
Sedgemore is a collaborator on the project Mobilizing Knowledge with Young People Who Use Drugs, Caregivers, and Providers: Informing Improved Youth Mental Health and Substance Use Services, one of 25 projects supported by the Canadian Institutes of Health Research (CIHR) through the Catalyst Grant: Towards Pan-Canadian Standards for Children and Youth Mental Health Services. The project is led by Dr. Danya Fast, a research scientist at the BC Centre on Substance Use and an assistant professor in the Department of Medicine at the University of British Columbia.
"We're looking to solidify our national statement on harm reduction as a cornerstone of pan-Canadian substance use standards for youth," said the researcher.
"It's a tough, heavy subject and area of research with this unprecedented and absolutely tragic overdose crisis, but I absolutely love the young people who I work with and who are a part of my research."
Generating critical evidence to keep B.C. youth safe
Dr. Fast and Sedgemore are part of a team conducting the ongoing Care Pathways Study, an initiative tracing the mental health and substance use trajectories and outcomes of over 100 street-involved YPWUD in metro Vancouver, Prince George and Kelowna. The study has yielded a variety of recommendations for harm reduction, summarized through the report 'Youth Voices on Treatment in the Shadow of the Overdose Crisis' [ PDF (2.2 MB) - external link ].
While there are notable differences in the level of substance use services available across different regions of British Columbia, the pair have also noted striking similarities.
"In downtown Vancouver, there's a lot of services available in comparison to Prince George or Kelowna," Dr. Fast noted.
"However, we've heard across all settings, 'I don't want to just have treatment pushed on me, I am not ready to go to treatment' or 'Treatment doesn't make sense to me before I get my housing, my relationship and my job figured out.' We've heard that from young people across the province."
"We've also heard 'don't push pills on me, don't push medications on me. I don't like going into places where that's the primary focus of care.' So that was remarkably similar: We've heard that from young people in Prince George, from people in Kelowna, we've heard it hundreds of times from young people in Vancouver."
"That was really fascinating: There was more similarity than difference, to be honest, in terms of young people really wanting a sense of self-determination in relation to their care."
Canada-wide perspectives for a global audience
With their latest CIHR-funded project, Dr. Fast and Sedgemore are looking to take what they've heard from YPWUD across B.C., expand the scope nationwide, and package it so that service providers, policy makers and individuals hear more of these critical and often unheard youth voices.
In addition to participation in conferences, a key mechanism for expression will be an episode of the Vancouver-based Crackdown podcast. Self-described as 'The drug war, covered by drug users', the podcast offers a unique (and critically unheard) perspective on a range of issues related to substance use in Canada.
With over 10,000 listeners globally, Dr. Fast sees the podcast as an opportunity to reach an audience that might not engage with an academic paper.
"We are going to write a commentary and we're going to outline harm reduction as a pan-Canadian standard, and that may reach governments across the country, but to reach a large international audience is exciting because it's a bringing together of movements on a scale that I think is so incredibly rare," she explained.
"It's such an honor to work with a podcast for and by people who use drugs, rather than it being academics and others leading projects and sort of 'folding in' the voices of people who use drugs."
Sedgemore agrees.
"With Crackdown, we're hearing from people on the front lines and on the ground, and from people who use drugs about what's really going on. The media really treats things differently, and so I think it's really important to hear these voices."
A mindful approach to youth engagement
Their upcoming episode will center on the experiences of street-involved YPWUD, including their engagement in harm reduction practices and programs. Youth across Canada will be interviewed, some guided remotely on how to effectively record their voices, and sometimes connecting in-person. The most important consideration, however, is ensuring these youth feel comfortable in sharing their experiences.
"Priority number one is that they feel safe, that they're supported, that it's a positive experience," Dr. Fast explained.
"Then, we have to go back to folks and say, 'Hey, are you comfortable with this? Is it okay?' And that's very different than conventional journalism. We don't interview young people and then do whatever we want with the recordings."
Added Sedgemore, "With this crisis in B.C. we're losing so many people and sometimes people are grieving. We need to understand that some youth may not want to engage right now because they just lost someone."
"A lot of us are grieving all the time, but a lot of youth are still trying to find ways to navigate it themselves."
The pair aim to release their podcast episode in late 2023, before turning their attention to amplifying the voices of YPWUD at substance use and harm reduction conferences like Stimulus.
"I feel so lucky that I get to do this work increasingly in partnership with young people as opposed to doing research on them or with them but in more tokenistic ways," said Dr. Fast.
"We're very excited through the podcast to hear about what young people are doing to lead and engage in substance use care in different settings across Canada."
Date modified: