2022 Robyn Tamblyn Health Services and Policy Research Innovator Award
Recognizing excellence in research and innovation among Canadian Mid-Career Investigators working within Health Services and Policy Research
The CIHR Institute of Health Services and Policy Research (CIHR-IHSPR) is pleased to announce that Dr. Shehzad Ali is the recipient of the 2022 Robyn Tamblyn Health Services and Policy Research Innovator Award.
This award is intended to honor the outstanding work and trailblazing innovations of Dr. Robyn Tamblyn, former Scientific Director of CIHR-IHSPR.
The Robyn Tamblyn Innovator Award recognizes research excellence and innovation in health services and policy research among Canadian Mid-Career Investigators and awarded to the highest ranking Mid-Career Investigator in CIHR's Project Grant competition working within the mandate of IHSPR. This prize entails a $25,000 supplemental grant to support research and/or knowledge mobilization for the duration of 1 year.
In recognizing and supporting research excellence, IHSPR Career Awards are a key strategy to help advance IHSPR's 2021-26 Strategic Plan: Accelerate Health Care System Transformation through Research to Achieve the Quadruple Aim and Health Equity for All and CIHR's 2021-31 Strategic Plan: A Vision for a Healthier Future.
About the Recipient
Dr. Shehzad Ali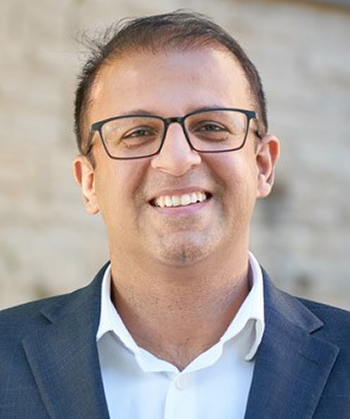 Dr. Shehzad Ali holds a Canada Research Chair in Public Health Economics. He is an Associate Professor and Associate Chair of the Epidemiology and Biostatistics Department at the Schulich School of Medicine, Western University. Dr. Ali holds adjunct positions at University of York (United Kingdom), Centre for Addictions and Mental Health (CAMH) and the WHO Collaborating Centre for Knowledge Translation and Health Technology Assessment in Health Equity. He has also held the position of Health Economics Lead at the Canadian Agency for Drugs and Technologies in Health (CADTH).
With grants funded by CIHR, NIH, NIHR and NHMRC, Dr. Ali leads a program of research at the intersection of health equity, health economics and health service delivery. His research focuses on: (1) Economic evaluation of public policies and health technologies, using decision models, observational studies and randomized trials; (2) Health system performance evaluation in terms of efficiency and equity of access, utilization and outcomes using health administrative data and population surveys; (3) Elicitation of public values using equity-efficiency trade-off experiments to inform resource allocation decisions; and (4) Developing statistical algorithms to predict health outcomes in clinical practice.
Dr. Ali has a strong track record of scholar-practitioner partnerships, with frequent collaborations with national and international organizations. Examples of policy-relevant contributions include the development of health equity performance indicators, adopted by the NHS; algorithms to support one of the largest evidence-based case management information systems (PCMIS) in England; and more recently, contributing to the Canadian House of Commons debate on global vaccine equity.
Dr. Ali's CIHR-awarded research will lead an international team, based in Canada, the United States and the United Kingdom, to develop empirical methods that will re-engineer health policy decision-making for equitable allocation of resources. The team will work with provincial and national decision-makers in Canada to develop case studies and guidelines to conduct equity-informative economic evaluations.
Date modified: