Pediatric research in Canada is ready to pop!
Researchers, clinicians, and patient and family partners come together to form a new pan-Canadian pediatric research platform. While created in response to COVID-19, the network will provide the infrastructure to answer important research questions in child health well beyond the pandemic.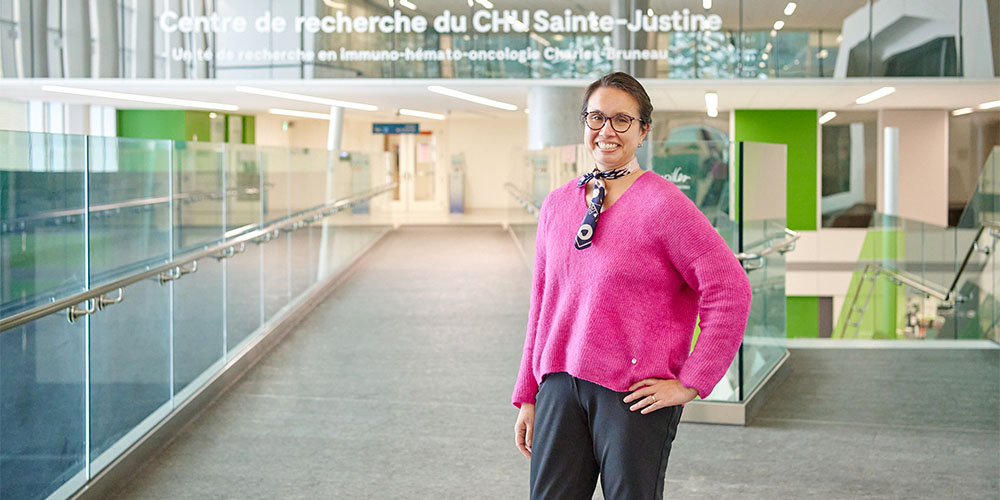 Issue
The COVID-19 pandemic and related public health measures have made life challenging for children in Canada. It has affected their physical and mental health and disrupted the lives of their families.
Research
The Pediatric Outcome Improvement through Coordination of Research Networks – or POPCORN – is a new pan-Canadian research platform that brings together researchers, clinicians, patient and family partners, existing pediatric research networks, and 16 pediatric hospitals across Canada.
POPCORN will allow researchers to study the acute and long-term effects of COVID-19, including rare complications, and better understand COVID-19 vaccinations in children. The study will also allow researchers to learn more about the unintended consequences of public health measures introduced to control the pandemic and bring it to an end.
Impact
The work of the POPCORN team will help improve the care of children with COVID-19 and understand the potential long-term outcomes for patients and their families. The platform will also provide the infrastructure to study important research questions in child health well beyond COVID-19.
Valérie Roy lives in Rivière-du-Loup, Quebec. Her 19-year-old son Kory lives with a serious inflammatory syndrome, which first developed when he was a child. When the COVID-19 pandemic began in early 2020, Valérie was worried about the risk it posed to Kory because of his weakened immune system.
For support, she turned to Dr. Caroline Quach and her colleagues at CHU Sainte-Justine in Montreal where Kory has been a patient for many years. While Valérie, Kory and their family members took precautions and followed public health guidelines, Kory was infected with the COVID-19 virus in early 2022.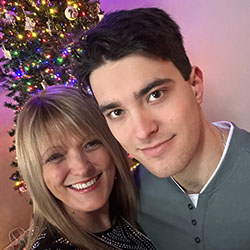 Thanks to the intervention of Dr. Quach and Kory's family physician, Dr. Josée Bouchard, Kory was given access to the anti-viral drug Paxlovid and recovered without serious consequences. Then Kory caught COVID-19 for a second time in November 2022. Fortunately, he was able to be treated with Paxlovid again. However, since his experience with COVID-19, Kory has had difficulty with his breathing, and Valérie worries about the long-term consequences on his health.
"Living with a rare disease already makes life difficult," said Valérie. "When you add COVID-19, it's like having the sword of Damocles dangling above your head at all times."
Dr. Quach is a researcher, Professor of Microbiology, Infectious Diseases and Immunology and of Pediatrics at Université de Montréal and Canada Research Chair in Infection Prevention and Control. She is the medical lead for infection prevention and control at CHU Sainte-Justine. She is leading a new pan-Canadian pediatric research platform, funded by the Canadian Institutes of Health Research, which will provide Valérie and other parents with evidence-based answers.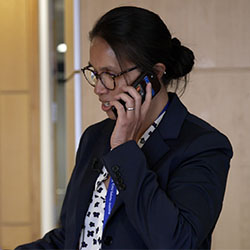 The platform team will generate much needed evidence on the health impact of COVID-19 on children and the unintended consequences of preventive public health measures on children and their families. It will also establish the infrastructure to answer future research questions related to pediatric infectious diseases and chronic health conditions in children.
The platform is called POPCORN, which stands for Pediatric Outcome Improvement through Coordination of Research Networks. It brings together researchers, clinicians, patient and family partners, existing pediatric research networks, and 16 pediatric hospitals across Canada.  By creating the infrastructure where pediatric researchers across Canada can collaborate, POPCORN will make great strides in improving child health in this country.
"With the support of this platform, pediatric research in Canada is ready to pop!" said Dr. Quach.
Engaging families
Patient engagement is an essential component of the platform. As members of the leadership team, two experienced patient partners will guide the platform's efforts to involve patients and families in planning and implementing research studies.
Francine Buchanan is the program manager for patient and family engagement in research at SickKids in Toronto. Ms. Buchanan first became involved in research following the birth of her son Cristiano, nine years ago. He was born prematurely and spent more than 500 days in the intensive care unit at SickKids before being strong enough to be cared for at home. She brings her experience as a caregiver to a child with complex medical needs to her patient engagement role with POPCORN.
Francine and Carrie Costello, a patient engagement coordinator at the Children's Hospital Research Institute of Manitoba in Winnipeg, were part of the team that developed the application submitted to CIHR. It meant that a patient and family voice was integral to the design of the platform from the very beginning.
"A lot of researchers don't know where to begin when looking for advisors to work with them," said Ms. Buchanan. "The beauty of working with Carrie and me right from the start is that we have our existing network of patient and family partners, who we already have strong relationships with." 
Carrie Costello is the mother of three children. Her middle child is a bright 11-year-old girl named Alejandra who loves music and hugs and lives with a seizure disorder and a profound intellectual disability. Ms. Costello became involved in research because someone asked her to participate in what was a great project and she wished the supports being researched had been around when her child was younger. Since then, she has participated as a patient partner in several research projects and networks.
Francine and Carrie have been working together to build the foundation for patient engagement in the platform. Along with patient and family partners, they have reviewed materials such as consent forms and surveys to ensure that they are user-friendly and understandable to the parents and children participating in POPCORN research.
"We're making sure that the information being presented is clear and that the questions being asked make sense so that parents understand the commitment they're making and can work through the material with their children." said Ms. Costello. "This is crucial."
First studies: Understanding the trajectory of COVID-19 in children and the unintended consequences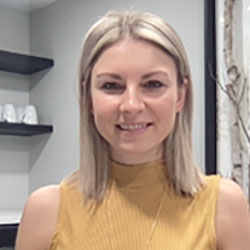 POPCORN has launched its first two studies. The first study aims to understand the acute and long-term effects of COVID-19, including vaccine safety and the impact on quality of life. It will involve children who are seen in the emergency department or admitted to hospital with severe acute SARS-CoV-2 infections, multi-system inflammatory syndrome, myocarditis, pericarditis, or the signs of other serious health effects.
"This study will address acute care, vaccine safety, and long-term outcomes, not just using administrative databases, but also through capturing the experiences of patients and their families," said Breanne Stewart, POPCORN's lead project manager.
"We're really trying to follow these patients through their whole health care trajectory. We will capture some of the long-term outcomes using inpatient data collection and then patient reported outcomes at various time points up to 12 months since their initial admittance to hospital," she added.
The second study aims to estimate the indirect impacts of the COVID-19 pandemic on the mental and physical health of children and youth in Canada. To carry out the study the research team will leverage existing administrative health data sources and partnerships with provinces and territories and health service organizations across the country.
For mental health, for example, they will compare hospital admissions and services provided for eating disorders, suicide, and other mental health conditions before and during the pandemic.
"Whether or not the impact that was seen during the pandemic continues over time is something that needs to be studied," said Dr. Quach.
Leveraging strengths, looking beyond COVID-19
POPCORN brings together the large pediatric Canadian networks that currently exist to study child health. By harmonizing definitions, outcomes, and process to create a uniform data structure, making logistics easier for starting a new study in children health, and enabling new collaborations, the platform will greatly advance pediatric research in Canada.
"Although we are new, the community we form is our biggest strength: it allows for creativity, efficiency, and the ability to follow a child across the continuum of care from the emergency department to the pediatric intensive care unit and beyond," said Dr. Quach.
While POPCORN is currently focused on COVID-19 research, it has the potential to become a platform that can be used for research on other infectious diseases and child health conditions.
"We hope to leverage the platform for investigator-initiated research ideas – this could be looking at an infectious disease or a chronic illness," added Dr. Quach. "POPCORN's agility and reach will allow that!"
Date modified: