Transforming Health with Integrated Care (THINC): Areas of Focus and Essential Elements
Areas of Focus
THINC supports research projects related to improving the implementation, evaluation and/or spread/scale (share) of evidence-informed integrated care policies and interventions that aim to advance the Quadruple Aim and improve health equity for one or more priority populations.
What are evidence-informed interventions?
In the context of THINC, evidence-informed health care interventions include policies, programs, services and models of funding or delivering care that have been piloted or tested in a given setting or population and show promise for spread and scale in diverse contexts.
What is the Quadruple Aim?
The Quadruple aim is centred on four overarching goals to redesign health care delivery systems: improving the patient experience of care; the health of populations; the health care provider experience; and value for money. IHSPR has placed health equity at the centre of these aims to encourage all health system improvement and transformation efforts to be done with the intention of improving health equity.
What are priority populations?
Priority populations include those for whom the evidence indicates integrated care interventions are most needed and have the greatest potential to benefit, including: people with complex health needs (e.g., individuals with multimorbidity, individuals with mental health needs and/or substance use); those currently or at risk of experiencing poor health outcomes based on social economic factors (e.g., ethnic background, gender, disability, age, rural and remote location, homelessness, immigration status, socioeconomic status) and/or those identifying with historically underrepresented populations (e.g. women, children and youth, racialized communities, people living with disabilities, members of LGBTQIA/2S communities, Indigenous Peoples).
Essential Elements
Evidence suggests a core suite of elements are essential to achieving transformative integrated care, which span micro-, meso- and macro-levelsFootnote 1 of the health care system.
Policy, societal and economic context


Alignment of political leadership, financial/economic incentives, and social norms and values, as well as system integration across geography/jurisdictions and sectors.

Organizational and structural support


Leadership, governance, organizational structure, and culture that enables integration of care.

Learning Health Systems


Embedded strategies for on-going monitoring and evaluation measuring specific outcomes (e.g. Quadruple Aim and health equity, implementation, spread and scale) based on established feedback loops and patient or community needs.

Priority driven and needs based solutions




Value-based, people-centred solutions based on user needs and in alignment with policy or decision-maker priorities.

Interoperable information communication technology




Ability to share patient information with transparency and accountability at all levels within organizations and across sectors.

Workforce




Interdisciplinary capacity across different care settings and sectors to effectively generate and bring evidence into routine practice.

Meaningful Engagement




Engagement across the care spectrum that includes patients, providers, administrators, policy and decision-makers and researchers to co-design solutions with mutual trust.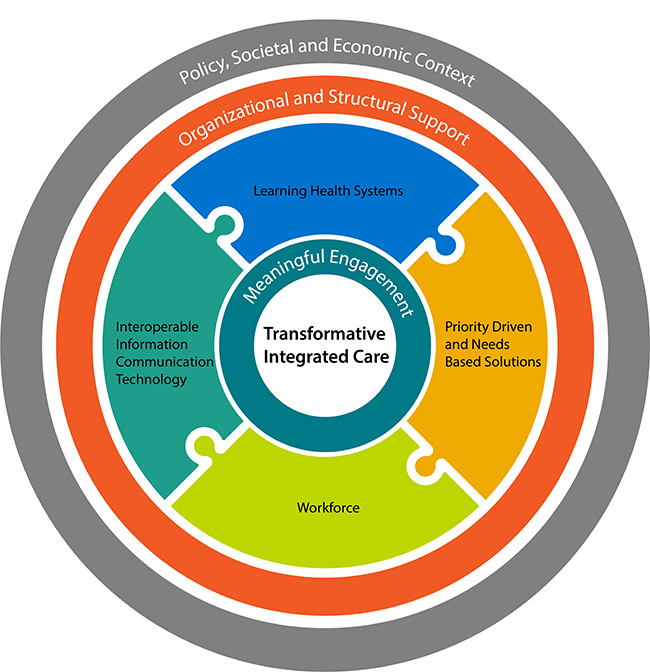 Commitment to Equity
The THINC initiative is focused on supporting research projects that will advance the Quadruple Aim and health equity for all. Without equity as our guidepost, truly transformative integrated care cannot be realized.
The THINC initiative is committed to supporting and promoting CIHR's Strategic Action Plan on Equity, as well as specifically incorporating Priority C of CIHR'S 2021-31 Strategic Plan: Building a healthier future for First Nations, Inuit and Métis Peoples and CIHR's Gender Equity Framework into THINC funding opportunities. Through these commitments, THINC aims to foster diverse and inclusive engagement throughout the research and implementation process, which is expected to lead to more creative, innovative, and meaningful outcomes.
Learn more about THINC components.
Date modified: