Dr. Michaela Hynie: Promising practices in helping refugees access virtual mental health services during COVID-19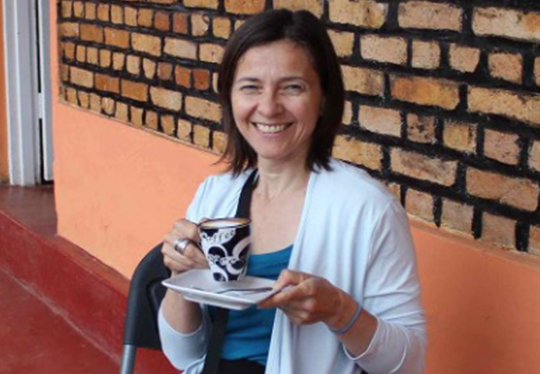 Dr. Michaela Hynie says navigating the Canadian mental health system is a challenge at the best of times — and it becomes even more difficult for newcomers fleeing from their home country during a pandemic, and having to utilize new technology in an unfamiliar country.
Concerned about the challenges refugees would have accessing and using virtual mental health care services during the pandemic, Dr. Hynie set out with funding from the Canadian Institutes of Health Research's (CIHR) COVID-19 and Mental Health (CMH) Initiative to understand Promising Practices in Accessing Virtual Mental Health: Supporting Refugees during COVID-19.
For over a decade, Dr. Hynie has worked on a series of related projects in Rwanda focused on maternal mental health  — an experience she says informs and inspires her COVID-19 mental health research.
"It sounds completely unrelated, but at its core, the question remains: how do you build community and how do you find ways of building support and resources in areas where there are limited resources?" Dr. Hynie says.
As Dr. Hynie began her research, community partners shared with her the challenges of delivering virtual mental health services. However, once she began interviews with service providers, community members, refugees and others, she discovered previously unrealized benefits of virtual care and the value of a hybrid model — like language and community connection.
"One of the things that many people talk about in terms of delivering and receiving mental health services is the desire to speak to someone who is from their community, who understands their background, who speaks their language."
One group who stood out during this research were refugees from Eritrea who speak Tigrinya — a population arriving in greater numbers in recent years, but for whom Dr. Hynie says it was near impossible to find resources. As part of the team's research and sharing of agency guides and strategies, mental health resource documents produced by the Centre for Addiction and Mental Health (CAMH) have been translated into Tigrayan, and service providers are now able to connect more Eritrean refugees with their communities.
Ultimately, Dr. Hynie says there's no perfect, catch-all solution for navigating access to mental health care for refugees.
"Depending on the nature of mental health issues, migration backgrounds, poverty and extreme exclusion that limit access to technology — virtual services are not a solution for some populations," she adds.
Dr. Hynie says Canadians with and without forced migration histories were initially forced into the virtual space without preparation. Now, further into the pandemic response, these systems and their users are adapting, and agencies have an opportunity to plan for how to best incorporate virtual services into their practices.
"For us, success is effectively sharing [mental health resource] documents with the communities we've been working with, and sharing them with service providers who can take our findings to develop hybrid mental health care models as well as facilitate a national referral system to connect refugees to culturally and linguistically appropriate services."
Learn more about Dr. Hynie's research
Date modified: