Centre for Research on Pandemic Preparedness and Health Emergencies - Investments
Research Centre's investments
As announced on January 14, 2022, the Research Centre is receiving an ongoing $18.5 million in funding per year, $15M of which will support grants and awards, by the Government of Canada. This investment will support research and knowledge mobilization efforts to help Canada better prevent, prepare for, respond to, and recover from existing and future pandemics and other health emergencies.
While the Research Centre contributes to the response to the current COVID-19 pandemic, the focus of its activities goes well beyond COVID-19. The Research Centre addresses all health emergencies and pandemics by supporting high-quality research and mobilizing solid research evidence into better plans, policies, and practices. Its efforts will ensure Canada has an emergency-ready health research system that will protect the health of all Canadians.
The Research Centre has already collaborated with partners to invest in:
Funding opportunity
Application deadline
Status
Funds provided
Joint Canada-Israel Health Research Program
February 16, 2023
Ongoing
-
Café Scientifique Program
January 11, 2023
Ongoing
-
Operating Grant: Canadian Post COVID-19 Condition Research Network
November 23, 2022
Ongoing
-
Catalyst Grant: Policy Research for Health System Transformation
October 4, 2022
Ongoing
-
Project Grant: Fall 2022 Priority Announcement
September 14, 2022
Ongoing
-
Team Grant: Monkeypox Rapid Research Response
September 7, 2022
Ongoing
-
Operating Grant: Clinical Trials Projects
July 5, 2022
Ongoing
-

Additional link:
Two-stage Call for Proposals for Research Teams for Women RISE: Research to support Women's health and economic empowerment for a COVID-19 Recovery that is Inclusive, Sustainable and Equitable | IDRC - International Development Research Centre


June 24, 2022

Ongoing

-
Catalyst Grant: CPHO's Report 2021: Future of Public Health / Transforming Public Health: 2021- Chief Public Health Officer of Canada report funding opportunity
May 5, 2022
Results
$ 494,194
Project Grant: Spring 2022 Priority Announcement (Specific Research Areas)
March 16, 2022

$3,116,582

$800,000

Planning and Dissemination Grants – ICS (Winter 2022)
February 2, 2022
Results
$ 149,625
COVID-19 Recommendations and Contextualization (eCOVID19RecMap) Extension
May 10, 2022
Results
$ 999,984
Operating Grant: Addressing the Wider Health Impacts of COVID-19
November 8, 2021
Results (Deferred/displaced care)
$ 1,570,800
Results (Social, economic and population issues)
$ 758,138
Results (Exacerbation of existing disparities among marginalized populations)
$ 1,699,228
Results (Indigenous Health Research)
$ 1,171,367
Operating Grant: COVID-19 Evidence Network to support Decision-making – EXTENSION
November 3, 2021
Results
$ 1,000,000
Operating Grant: Emerging COVID-19 Research Gaps & Priorities
September 14, 2021
Results (Dif. Impacts of COVID-19 on Hit. Excl Underserved Pops)
$ 227,923
Results (Urban Populations)
$ 199,000
Results (HIV and SARS-CoV-2)
$ 361,400
Results (Sup. Srv/Rehab, Strat for Hist.Excl/Underserved Populations)
$ 227,200
Results (Healthcare Resource Allocation)
$ 209,457
Results (Social/Behavioural Science Approaches)
$ 357,769
Results (Immune Responses)
$ 475,940
Results (Core Public Health and Control Measures)
$ 949,341
Results (Vaccine Distribution Models)
$ 962,952
Results (Indigenous Health Research)
$ 2,028,851
Operating Grant: COVID-19 Vaccine Confidence
August 10, 2021
Results (Vaccine Confidence)
$ 607,942
Results (Indigenous Health Research)
$ 389,830
Project Grant - PA: Pandemic and Health Emergencies Research
April 1, 2021
Results
$ 3,415,000
Investments breakdown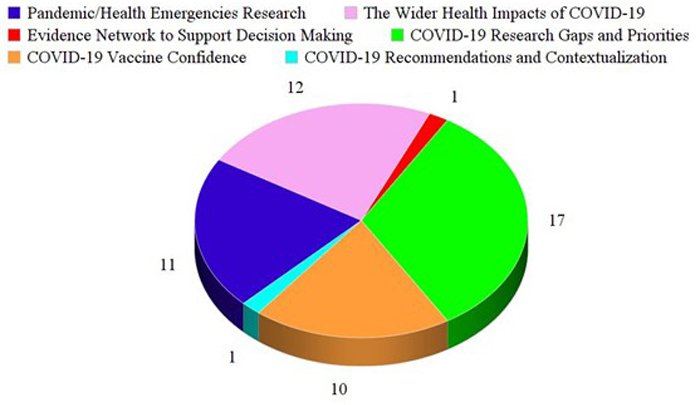 Total Investment: $ 17,812,022
Over the next several months, the Research Centre will launch or partner on additional funding opportunities.
Date modified: