Wellness Wheel offers effective treatments to residents of Saskatchewan's Indigenous communities through shared knowledge
CIHR-funded researchers listen to the needs of Indigenous residents through medical and emotional support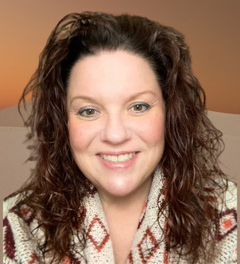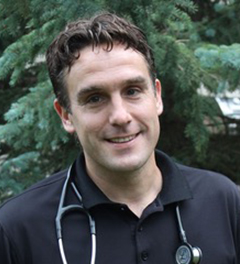 October 4, 2021
What if you needed treatment for a serious illness at an urban medical clinic, but you had no way of getting there? This was a harsh reality faced by Indigenous Peoples in Saskatchewan. Thanks to funding support from CIHR's Network Environments for Indigenous Health Research, this reality is moving towards a brighter future.
With approval from the Touchwood Agency Tribal Council, Dr. Stuart Skinner, an infectious disease doctor and assistant professor at the University of Saskatchewan is now providing onsite medical support as clinical director for the Wellness Wheel medical clinic located in 12 First Nation communities in Saskatchewan. This accessible and culturally responsive on-reserve care for First Nation partner communities represents a collaborative effort with Dr. JoLee Sasakamoose, Wellness Wheel Research Director so that Indigenous community interests and health priorities drive initiatives.
"From the clinical end, it's about equitable access to care," said Dr. Skinner. "It doesn't make sense to have community members try to find transportation to urban clinics for treatment when I can go to the community myself. As a white male, partnering with First Nation residents teaches me so much from their approach to health that it enriches our overall healthcare system."
"I think it's important to study what steps Indigenous Peoples have taken to survive, rather than what makes them sick," said Dr. Sasakamoose, who is also an associate professor and chair of the educational psychology and counselling program in the Faculty of Education at the University of Regina. "When my son was born, for instance, my grandmother called to see if I got a crib. When I said that we were going to use a traditional Cree swing made of ropes and a blanket, she thought that that was a great idea because the swing would provide inner ear care for our son against infection. This may not be in known in Western medicine, but if we were to collaborate on this and in other ways, we could heal together."
The Wellness Wheel has taken various steps to achieve this goal. Dr. Sasakamoose and Dr. Skinner wrote a grant that helps Indigenous residents in Saskatchewan communities who suffer from diabetes avoid possible amputations thanks to rapid medical assessment. During the COVID-19 pandemic, which prevented onsite visits from Dr. Skinner, virtual clinics became a way to alleviate this problem. Thanks to a generous donation from the University of Regina, they launched a Kanawêýihtâkosiwin (Cared for): Online Community Medical Centre.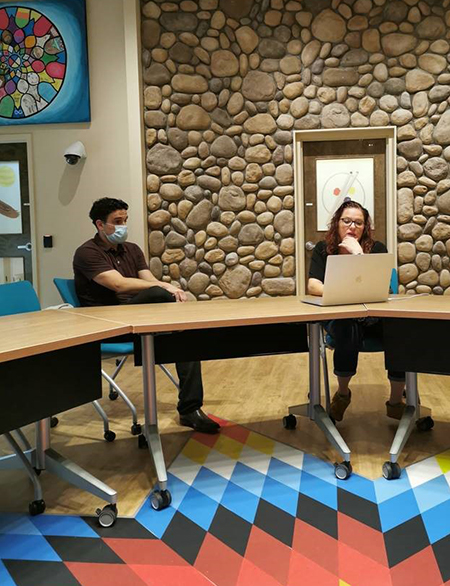 "Through use of iPads, Indigenous patients were able to receive treatment from doctors and nurses from a distance," said Dr. Sasakamoose. "We were also able to provide help to more vulnerable Indigenous patients who contemplated suicide thanks to regular consultations with psychiatrists via cellphones."
The Wellness Wheel has also fostered capacity building through the training of Indigenous peers with lived experience so that they can offer necessary emotional support to other Indigenous residents who may suffer from diabetes, HIV, drug addiction, or other illnesses. This support could involve everything from peers holding the patients' hands as they receive treatment to teaching patients how to use a diabetes monitor.
Through the Saskatchewan Indigenous Mentorship Network, funded by CIHR, the Wellness Wheel gives medical students the chance to do two-week rotations with Dr. Skinner. Dr. Sasakamoose also offers training for master's students who are pursuing degrees in practical counselling.
The Wellness Wheel is helping Indigenous community members take part as trainees for the grant.
"For instance, Indigenous community-based nurses present at some HIV conferences," said Dr. Sasakamoose. "We ensure that everybody on the grant has an opportunity to have their voices heard in the translation and dissemination of the research findings."
This also involves engaging Indigenous youth in Indigenous health research so that they can be motivated to follow a scientific pathway.
"These students need mental, emotional, physical, and spiritual vitality in their schooling (kindergarten-grade 8) and in their community," said Dr. Sasakamoose. "They need to know what lies beyond physical and emotional problems at home through a pathway that will take them there. By planting the seeds for masters and postdoctoral education, we're encouraging growth within our team and the Indigenous community as well. My goal is to leave my job to another Indigenous person who can lead it."
While the next generation of Indigenous researchers are learning thanks to the Wellness Wheel, so are Western general practitioners.
"As a Western medicine doctor, personalized medicine isn't just looking at genetics and using targeted medicine for patients," said Dr. Skinner. "It's also about knowing their families, and understanding how they're struggling. Thanks to the Wellness Wheel, whenever I'm treating Indigenous Peoples, I'm able to say 'I know that Chief' when they talk to me about one who leads an Indigenous community. All of the sudden a light goes on for the patients, because they know that I can relate to what's relevant to them. It also helps me further respect their traditional values."
Date modified: