2018 CIHR Barer-Flood Prize in Health Services and Policy Research Recipient
Recognizing an individual who has made an impact on the field of health services and policy research
The CIHR Institute of Health Services and Policy Research (CIHR-IHSPR) is pleased to announce that Dr. Jeremy Grimshaw of the Ottawa Hospital Research Institute and the University of Ottawa, is the recipient of the 2018 Barer-Flood Prize in Health Services and Policy Research. The award's review committee received nominations for many outstanding professionals and researchers from across the country.
The prize is named in honour of Morris Barer and Colleen Flood. In their roles as Scientific Directors, both Drs. Barer and Flood made tremendous contributions towards advancing the field of HSPR in Canada, building a community of world-class researchers, and designing innovative new programs that foster evidence-informed decision-making and improved health and health care for Canadians. It was in this spirit that the Barer-Flood Prize was created: to recognize an exceptional researcher who has created a seminal body of work that has had a substantial impact on health services and policy research, policy, and/or care delivery.
In addition to receiving a prize of $25,000, Dr. Grimshaw will be honoured at an upcoming award ceremony.
CIHR-IHSPR is grateful to the CIHR Barer-Flood Prize review committee, which is comprised of health system leaders from across Canada, for their time and contribution to this initiative.
About the recipient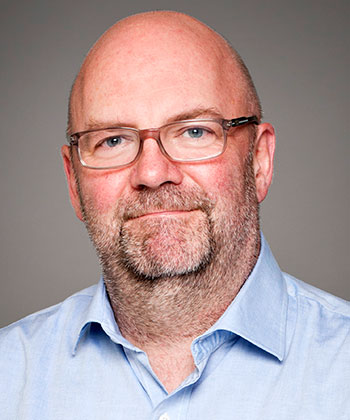 For the past two decades, Dr, Jeremy Grimshaw has dedicated his career to improving public health, public health care systems, and the policies that influence them.
Since coming to Canada in 2002 from Scotland, where he earned a PhD in health services research at the University of Aberdeen, Dr. Grimshaw has been at the vanguard of the emerging field of knowledge translation and implementation.
A disrupter, Dr. Grimshaw is unafraid to challenge the status quo and question current thinking as he combats the "All breakthrough, no follow-through" syndrome (a game-changing medication, technology, or procedure means nothing on its own unless there is a well-functioning health care system to deliver it.)
His goal is to develop efficient ways to support society's health care professionals and systems to better use existing knowledge to improve patient outcomes, maximize the return on massive public investments, and increase the sustainability of strained health care systems.
Dr. Grimshaw believes that by adopting a more active process to disseminating and implementing knowledge, researchers can influence and even change the behaviours of physicians, patients and other players in the health care system. He continues to develop practical ways to convert health research knowledge into front-line action, ensuring that stakeholders are aware of, and encouraged to make decisions, based on research evidence.
For instance, the times of simply publishing a paper in a learned journal expecting widespread adoption are over, if Dr. Grimshaw has his way. His research has clearly demonstrated that individual studies rarely provide sufficient evidence to convince policymakers and practitioners to influence a change in established thinking.  A more proactive, user-centred approach is required, as many members of the target audience of these learned journals are simply too busy to read the never-ending tsunami of articles published.
One of the most highly cited researchers for several years running, Thomson Reuters has selected him as one of the World's Most Influential Scientific Minds since 2015, cementing his international reputation as a leader in the global scientific community. Thanks to his visionary thinking, the clinical research community can convert new discoveries into tangible means to contribute to improved population health and more cost-effective and efficient health care delivery systems.
Dr. Jeremy M. Grimshaw is a Senior Scientist in the Clinical Epidemiology Program at the Ottawa Hospital Research Institute and a Full Professor, with the Department of Medicine, at the University of Ottawa. He is also a Tier 1 Canada Research Chair in Health Knowledge Transfer and Uptake, President of the Board of the Campbell Collaboration, a Fellow of the Canadian Academy of Health Sciences, a Corresponding Fellow of the Royal Society of Edinburgh. He has influenced a generation of graduate students in a variety of disciplines and has received numerous recognitions from his peers in Canada and internationally.
Date modified: