CIHR Health Research Training Investments
The Canadian Institutes of Health Research (CIHR) strives to ensure a strong foundation of future health research leaders, and is committed to offering programs that increase the supply of highly-qualified research personnel.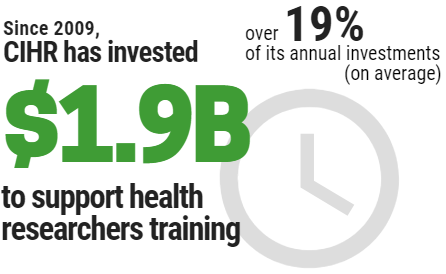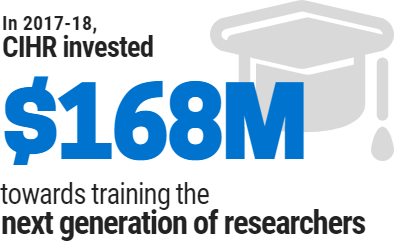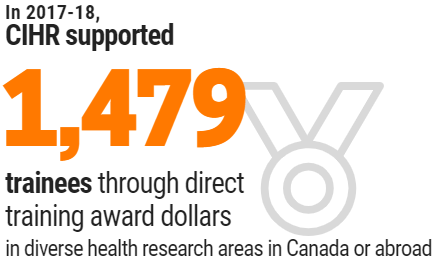 CIHR embraces a mutli-pronged approach to health research training.
Since 2009, CIHR has invested $1.9B in support of health research trainees (direct and indirect training) which represents an average of over 19% of CIHR's annual investments.
CIHR Institutes have been at the forefront of training innovation within their communities.
CIHR is committed to making important investments in health research training.
In 2017-18, CIHR invested approximately $55M/year through direct awards to trainees in diverse health research areas in Canada and abroad.
In 2017-18, CIHR invested an estimated $110M/year to indirectly support trainees through stipends paid off of operating grants.
Canada Graduate Scholarships (CGS) for Masters and Doctoral students (including the Vanier-CGS).
Fellowship programs for postdoctoral fellows (including Banting).
Awards in targeted areas (e.g., Fellowship in Epigenetics, Fellowships within the Clinical Trials Networks in the U.S.).
Date modified: