Dr. Andrea Wilkinson
Health System Impact Fellow Profile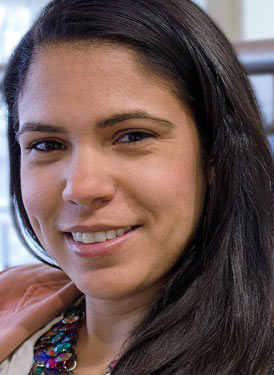 Name:

Andrea Wilkinson

Host Partner Organization:

Ontario Long Term Care Association

Name of Host Partner Organization Supervisor:

Vinita Haroun

Location (city, province):

Toronto, Ontario

Academic Institution:

University of Toronto

Name of Academic Supervisor:

Mark Chignell

Duration of Fellowship:

1 year
Title of Fellowship / Program of Work:

Assessing the Clinical, Operational and System Wide Impact of Long Term Care eConnect (CIHR-OLTCA HSI Fellowship)

Contact Information:

Website: www.oltca.com;
Social media page(s): Twitter: @oltcanews
Biography
Andrea Wilkinson holds a PhD in Psychology - with a specialization in cognitive aging - from Ryerson University. She is currently a CIHR-OLTCA HSI fellow assessing the clinical, operational and system wide impact of long-term care (LTC) e-connect. Here, Andrea will leverage her expertise working with healthcare providers, government, and academic researchers, and expand her knowledge of the LTC sector. Andrea is also as a postdoc in the Department of Mechanical & Industrial Engineering, University of Toronto (funded by AGE-WELL NCE, 2015-2017), where she is evaluating the impact of technology on well-being among LTC residents, families and staff. Andrea's previous postdoc was at the Bridgepoint Collaboratory for Research and Innovation assessing the impact of architectural design on psychosocial well-being and health. To-date, Andrea has published six papers and reports related to health systems improvement and impact, presented at numerous international and domestic conferences, and led multiple workshops and community events.
Fellowship Program of Work
Through the Health Systems Impact (HSI) Fellowship program, OLTCA - in partnership with the University of Toronto - aims to evaluate the impact of the long term care (LTC) eConnect project. There are two key objectives: 1) to assess the clinical, operational and system-value of the LTC eConnect project; 2) to identify limitations of the electronic health records and any gaps in the digital solution that need to be addressed to help to support quality resident care in LTC homes.
Working at the OLTCA will provide Andrea with a unique opportunity to learn about the LTC sector and participate in activities that influence the policy making process. She will gain valuable experience interacting with and understanding the needs of key stakeholders by participating in many stakeholder provincial committees and OLTCA's advocacy initiatives – e.g., pre-budget submission, This is Long Term Care sector report and Better Seniors Care Campaigns. Working with the OLTCA's 440+ LTC homes will provide Andrea with a better understanding of stakeholder requirements and their desired outcomes through leveraging the numerous channels through which the OLTCA interact with their stakeholders, including monthly e-newsletter to owners, and two conferences: Together We Care and This is Long Term Care. Furthermore, OLTCA's strong relationship with government (e.g., Ministry of Health and Long Term Care; MOHLTC) and long history of effectively influencing policy will also afford Andrea the unique opportunity to improve her understanding of health systems and the policy making process (as informed by research findings).
Date modified: