Dr. Cynthia Weijs
Health System Impact Fellow Profile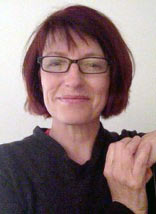 Name:

Cynthia Weijs

Host Partner Organization:

Alberta Health Services (AHS)

Name of Host Partner Organization Supervisor:

Deborah McNeil RN PhD

Location (city, province):

Calgary, Alberta

Academic Institution:

University of Calgary

Name of Academic Supervisor:

Lindsay McLaren PhD

Duration of Fellowship:

1 year
Title of Fellowship / Program of Work:

Community Assessment and Decay Prevention for Children Experiencing Domestic Violence
Biography
Before completing my PhD in Population Medicine, I practiced and taught clinical dental hygiene in Ontario. My doctoral research (CIHR funded), from the University of Guelph, explored personal Facebook use by health professionals, including public health professionals, and its impact on their credibility. In my current postdoctoral program at the University of Calgary, I research public health communication related to community water fluoridation and the linked issues of childhood tooth decay and access to care, with a focus on the social determinants of health.
Our group has been interested in the potential for community-based decay prevention service options to reach socially vulnerable groups. The opportunity to address this issue was my key motivation for applying to the Health System Impact Fellowship with Alberta Health Services. I am highly motivated to use theory and research to address a practical health services problem.
Fellowship Program of Work
Surgical treatment of childhood tooth decay is costly, and is the number one reason for day surgery among young children in Canada, even though it can be prevented. There is an urgent need in Canada for accessible, affordable, dental preventive care. Our publicly-funded health system ensures access to medical care, but oral healthcare is largely privately-funded. Many Canadians, especially those who are socially vulnerable, cannot access prevention or treatment services. Although some publicly-funded cavity prevention programs exist, and they work well, socially vulnerable groups may not be attending them.
My program of work aims to maximize use of publicly-funded dental programs by exploring a community setting to increase uptake of decay prevention services among a socially vulnerable, and hard to reach group—children in families living in domestic violence shelters. A second aim is to co-develop a sustainable cavity prevention program with shelter community clients, staff, and administrators that meets their needs.
This program responds to critical issues within Alberta Health Services around health spending and dental public health policy and programming. The proposal blends epidemiology (screening to identify cavities) with social theory (equity, power relations between mothers and healthcare providers) and a social determinants lens (factors beyond individual responsibility) in a practical approach to improving early uptake of preventive dental services. Success will mean having a solid plan developed with and supported by all stakeholders. This has considerable organizational impact itself and supports the value of interdisciplinary projects that challenge traditional policy and services, to better serve clients.
Date modified: