Dr. Ania Syrowatka
Health System Impact Fellow Profile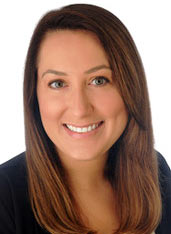 Name:

Ania Syrowatka

Host Partner Organization:

Canadian Foundation for Healthcare Improvement (CFHI)

Name of Host Partner Organization Supervisor:

Ms. Maria Judd, Vice President of Programs and Ms. Linda Piazza, Senior Director

Location (city, province):

Ottawa, Ontario

Academic Institution:

University of Toronto in the Institute of Health Policy, Management and Evaluation

Name of Academic Supervisor:

Dr. Ross Baker, Professor

Duration of Fellowship:

1 year
Title of Fellowship / Program of Work:

Improving quality of palliative care in Canada

Contact Information:

Website: www.cfhi-fcass.ca
Biography
Ania Syrowatka is a PhD candidate at McGill University in the Department of Epidemiology, Biostatistics and Occupational Health. Her research was conducted with the McGill Clinical and Health Informatics Research Group. Her interests include health services research, knowledge translation, medical decision making and patient engagement in healthcare. Ania's Doctoral work was supported by CIHR through the Frederick Banting and Charles Best Canada Graduate Scholarship Doctoral Research Award. She was awarded a Knowledge Translation Canada Fellowship through the CIHR Strategic Training Initiative in Health Research (STIHR) program. Ania has shared her research at national and international conferences, and through publications in peer-reviewed journals. She served as an editor for the McGill Journal of Medicine and was a lecturer for a graduate-level course at McGill University. Ania is looking forward to working with the Canadian Foundation for Healthcare Improvement (CFHI) to evaluate and accelerate the spread of healthcare innovations.
Fellowship Program of Work
The mission of the Canadian Foundation for Healthcare Improvement (CFHI) is to: "identify proven innovations and accelerate their spread across Canada by supporting healthcare organizations to adapt, implement and measure improvements in patient care, population health and value-for-money." CFHI has recognized improved access to and delivery of high-quality palliative care as a priority and launched an open call for innovations in palliative and end-of-life care. The focus of Ania's fellowship is to help advance the design and delivery of new palliative care programs at CFHI. She will conduct an analysis and synthesis of the emerging and demonstrated palliative care innovations that were identified through the open call. She will also be embedded within a multidisciplinary CFHI team that will support the pilot evaluation, spread and/or performance measurement of selected palliative care innovations. The successful implementation of effective innovations would address the 'triple aim' of healthcare improvement by providing higher-quality patient care, improving patient health outcomes and reducing overall costs to the healthcare system by enabling more appropriate use of health services. Under the supervision of Dr. Ross Baker at the University of Toronto, Ania will lead a scoping review and evidence synthesis to inform how the work done at CFHI and other health improvement organizations can be scaled up to accelerate improvement at all levels of the healthcare system. The work that will be completed through the Health System Impact Fellowship has the potential to improve both knowledge and healthcare practices related to the delivery of palliative care in Canada.
Date modified: