Dr. Duyen Thi Kim Nguyen
Health System Impact Fellow Profile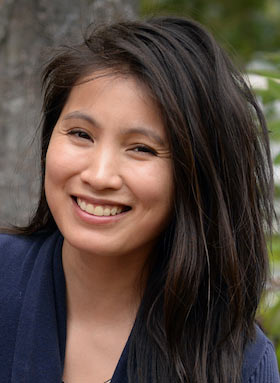 Name:

Duyen Thi Kim Nguyen

Host Partner Organization:

Saint John Human Development Council

Name of Host Partner Organization Supervisor:

Randy Hatfield

Location (city, province):

Saint John, NB

Academic Institution:

University of New Brunswick & University of Ottawa

Name of Academic Supervisor:

Rob Moir & Ronald Labonté

Duration of Fellowship:

2
Title of Fellowship / Program of Work:

Experiential learning at the Saint John Human Development Council
Biography
Duyen earned her PhD in Community Health Sciences from the University of Calgary, specializing in Population and Public Health, and has a MSc in Developmental Psychology from Memorial University and a BA (Hons) from Saint Mary's University. Duyen's training and research have been supported by many competitive awards, such as the Population Health Intervention Research Network Doctoral Traineeship, Queen Elizabeth II Award, Newfoundland and Labrador Council of Applied Health Research Scholarship, and several grants for travel and research. Duyen's work led to 19 conference presentations, five peer-reviewed publications, two invited talks, one book chapter, and two media articles. Duyen also earned a Population Health Intervention Research Centre Trainee Publication Prize in Population Health and Inequities for her research on the Integrated Management of Childhood Illness. Duyen applied for the HSI Fellowship to help elevate her role as a leader, and capitalize on opportunities for positive population and health system impact.
Fellowship Program of Work
Duyen's Fellowship Program of Work at the Saint John Human Development Council (HDC) includes the roles and responsibilities of a project manager for the Local Immigration Partnership (LIP). The HDC is a well-respected, nonprofit organization with strong ties to the community. As the only social program planning council in the province, the HDC has a deep understanding of many social issues in Saint John, and plays a vital role in the health system as an essential consulting partner in program planning and development.
The LIP aims to facilitate the development of local, comprehensive, intersectoral partnerships to: 1) integrate newcomer needs into the strategic planning process; 2) identify newcomer and community priorities; and 3) create and implement a holistic, evidence-based strategy and action plan to improve newcomer outcomes. The establishment of the LIP in Saint John has come at an opportune time. In the last two years, Saint John welcomed over 500 Syrian refugees, and New Brunswick had the 5th largest provincial sponsorship of Syrian refugees in Canada. The rise in newcomers presented new and unique challenges to many of Saint John's communities and service provider organizations. In partnership with the City and various service providers and community groups, the LIP will work tirelessly to establish and coordinate a comprehensive intersectoral partnership strategy that will not only improve newcomer outcomes, but benefit the City of Saint John as a whole.
Date modified: