Dr. Rebecca H. Liu
Health System Impact Fellow Profile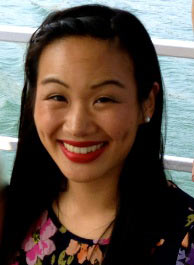 Name:

Rebecca H. Liu

Host Partner Organization:

Peel Public Health

Name of Host Partner Organization Supervisor:

Dawn Machado

Location (city, province):

Mississauga, Ontario

Academic Institution:

University of Ottawa

Name of Academic Supervisor:

Dr. Kristi B. Adamo

Duration of Fellowship:

2 years
Title of Fellowship / Program of Work:

Healthy Weights Before, During, and After Pregnancy

Contact Information:

Social media page(s): LinkedIn: Rebecca H. Liu
Biography
I completed my PhD degree in Health Promotion at Western University (2017), where my research focused on bariatric surgery support and services. I previously completed my B.Sc. (Honours) in Life Sciences from Queen's University (2009) and my M.Sc. in Kinesiology from York University, researching obesity and weight management.
Throughout my graduate career, I was involved with Canadian Obesity Network- Students & New Professionals (CON-SNP) and served as the 2015-2016 Chair of the CON-SNP National Executive Committee. I have also had rewarding experiences serving as the Vice-President of Academic Affairs for the Health and Rehabilitation Sciences Graduate Student Society at Western University, as part of the networking team for the International Society for Behavioural Nutrition and Physical Activity's Network of Early Career Researchers and Students, and as an Executive Editor on the Health Science Inquiry publication team.
My motivation to apply for the fellowship was for the experiential learning opportunity to directly apply my research skills in a health services and policy research setting. This unique fellowship allows PhD graduates to hone their professional development skills (through the CHSPR enriched core competencies), while also leveraging their expertise in a health system setting.
Fellowship Program of Work
To support Peel's strategic goal of Nurturing the Next Generation, Peel Public Health (PPH) aims to ensure women in Peel can achieve healthy weights before, during, and after pregnancy, to have optimal maternal and infant health outcomes.
In 2011, Peel recorded a birth cohort of approximately 15,800, the second largest in Ontario. In 2014 across all pre-pregnancy BMI categories in the region of Peel, only 26% of women gained the appropriate amount of weight during pregnancy, while 37% gained above and 16% gained below the recommended weight gain range. Therefore, early intervention and prevention of obesity in Peel are imperative before, during, and after pregnancy to reduce the likelihood of downstream metabolic complications for both mother and offspring.
This fellowship program of work will utilize an End-to-End Public Health Practice approach to address healthy weights throughout pregnancy, through the application of rigorous methods and tools. The expected direct impact from the healthy weights program of work will be the creation of a robust community assessment and practice-based recommendations, which will help PPH to understand the Peel community and add value to future pregnancy-related programs and services.
I am excited about the opportunity to work with both PPH (Dawn Machado) and the University Ottawa (Dr. Kristi Adamo) for my fellowship. PPH is one of Canada's most progressive public health units in the application of evidence-informed and data-driven methods to address public health problems at the population level while, Dr. Kristi Adamo is an expert academic researcher in early child development, with multidisciplinary training in physiological, anthropometric, metabolic, biochemical, and cellular outcomes. As an HSI fellow, I am well positioned for professional development opportunities, building relationships with academic and non-academic partners, interdisciplinary work, and providing research and analytical expertise within a health service organization.
Date modified: