Dr. Sameera Hussain
Health System Impact Fellow Profile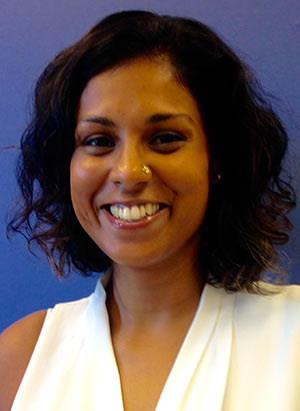 Name:

Sameera Hussain

Host Partner Organization:

Canadian Society for International Health (CSIH)

Name of Host Partner Organization Supervisor:

Eva Slawecki

Location (city, province):

Ottawa, Ontario

Academic Institution:

University of Ottawa (uOttawa)

Name of Academic Supervisor:

Ronald Labonté

Duration of Fellowship:

2 years
Title of Fellowship / Program of Work:

Canadian Communities of Practice in Global Health: meeting the SDG challenge

Contact Information:
Biography
My academic and professional accomplishments and abilities position me at the intersection of health policy and systems research (HPSR) and policy entrepreneurship – an actor in the policy process who advocates for specific policy proposals and builds coalitions for specific ends in effecting change. I bring with me 6 years of work experience in global public health bringing research evidence to the policy-making arena. In 2014 I received recognition as an Emerging Voice for Global Health, a young researcher with a promising career as an influential global health change maker.
I completed my BA in Political Studies at Queen's University (Canada), my MSc in Development Studies at North South University (Bangladesh), and received a full scholarship to pursue my PhD in Public Health at the University of Queensland (Australia). My topic was grounded in HPSR, examining global agenda setting and policy making in the context of the evolution of the Sustainable Development Goals (SDGs).
Fellowship Program of Work
CSIH's main challenge is a gap in sustained knowledge translation activities in an interdisciplinary and multi-stakeholder global health community in Canada that is otherwise not formally connected.
My theory of change is shaped by my international field experience and active engagement with a number of global health networks: that communities, when engaged in critical dialogue with shared long-term goals to solve problems, will act collectively and constructively to implement an agenda that works toward those goals. I see myself as a broker in this process, working with Canadian academics, practitioners, and policy makers in global health to come together in a community of practice, promoting collaboration and the synergies that will emerge from that community, and profiling that expertise internationally.
My Fellowship is aligned with CSIH's objectives and focuses on the building of Canadian capacity to meet its obligations in supporting SDG implementation. It is an exciting way to remain involved with academia while mobilizing collective action in the global health community to make a sustainable and meaningful impact on health systems as part of our international commitment for health and human rights.
My objectives are to:
Build HPSR communities within Canada that encompass practitioners, policymakers, researchers, NGOs, civil society, and funding agencies
Mobilize and support these Communities of Practice to engage in and advocate for health policy and systems research and practice for improved impact in the health SDGs
Support CSIH in positioning itself as a viable and effective leader in building and sustaining such Communities of Practice
Date modified: