Dr. El Kebir Ghandour
Health System Impact Fellow Profile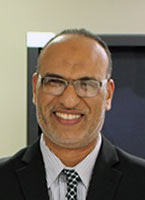 Name:

El Kebir Ghandour

Host Partner Organization:

Centre intégré en santé et services sociaux de Chaudière-Appalaches

Name of Host Partner Organization Supervisor:

Mme Josée Rivard

Location (city, province):

Lévis, Québec

Academic Institution:

Université Laval

Name of Academic Supervisor:

Dr. Patrick Archambault

Duration of Fellowship:

1 Year
Title of Fellowship / Program of Work:

Comparative analysis of implementing the strategy for improving the quality of Acute Care for Elders/Soins aigus aux personnes âgées (ACE) in two Francophone hospitals of two provinces in Canada: Lessons in sustainability and scaling up

Contact Information:

Website: El Kebir Ghandour;
Social media page(s): Twitter: 1_ghandour
Biography
I earned my medical degree in Morocco and redirected my career towards public health research in 2009. I completed a master's degree in community health with a major in evaluation and a Ph.D. in services organization from Université Laval. I received a scholarship from the Strategic Training Program in Transdisciplinary Research: Prevention, Promotion and Public Policies (4P Training Program) (2011–2014) and from the pan-Canadian program, Transdisciplinary Understanding and Training on Research – Primary Health Care (TUTOR-PHC) (2015–2016). Since 2010, I have been on two multidisciplinary research teams composed of researchers, clinicians, decision makers, patients and other partners, and I have contributed to the research and evaluation of major projects on a local and provincial scale. All of my experience has prepared me to address the concerns that decision makers and those in charge of health policy and services must face. This scholarship will allow me to develop enhanced skills so that I can help respond to the challenges of improving care for patients and setting the priorities of care organizations and the health care system.
Fellowship Program of Work
My research proposal focuses on improving the quality of elderly care transitioning for a high-quality, safe return to the community after staying in the hospital or in the emergency room for a short time. This fellowship will allow me to complete a comparative analysis of the implementation of the Acute Care for Elders (ACE) project in two Francophone hospitals of two provinces so as to better understand the facilitators and barriers that influenced implementation in each local context.
In addition to supporting the CSSS CA in Lévis and Hôpital Montfort in Ottawa in implementing provincial strategies related to improving care for the elderly, this analysis will inform both organizations about strategies to scale up the integration, sustainability, and promotion and will have a direct impact on health policies for the elderly at the local and provincial levels. It will also inform strategy on the large-scale promotion of the ACE guidelines in Canada.
More specifically, this fellowship will allow me to benefit from modernized training oriented toward the development of skills related to leadership, project management and practice and organizational change management and implementation. Additionally, in working in an integrated research team—one that encourages action research, the application of knowledge for change and access to a pan-Canadian research network—I will certainly benefit from added value that will help me achieve my short-, mid- and long-term professional goals.
Date modified: