Health Research Training at CIHR: Stakeholders and Collaborators
CIHR is not the only player in the health research training environment – and is not even the biggest player. Excellence in health research training requires a coherent and coordinated approach from all stakeholders, from trainees to employers and everyone in between, and is a shared responsibility of all stakeholders involved in the health research training environment (see Figure 1).
CIHR is grateful to all the groups that support health research training in Canada, and is committed to working with all members of Canada's health research training enterprise to create a dynamic workforce and sustainable future by better preparing research trainees for a diverse array of meaningful, socially productive, and personally rewarding science careers. In particular, we would like to recognize the members of CIHR's External Working Group on Training, who dedicated their time, talents, and efforts to help us develop and implement CIHR's new vision for training through its Strategic Action Plan on Training.
If you have any feedback regarding health research training at CIHR, or if you would like to partner with CIHR on an initiative to train the next generation of leaders within and beyond the health research enterprise, we would like to hear from you! Please contact support-soutien@cihr-irsc.gc.ca.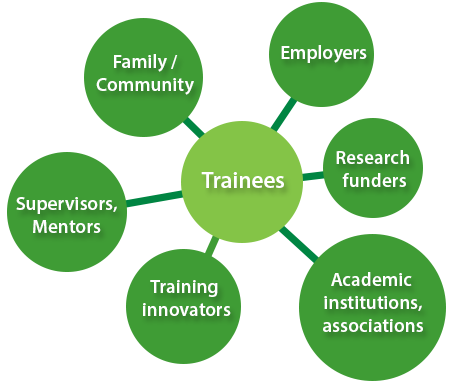 Date modified: