Discoveries for life
The faces of health research
Welcome to CIHR's health research storybook, where you can read about the life-changing research happening right here in Canada – presented by researchers and patients in their own words.
Hear from researchers about why they pursued a career in health research, and learn about the health problems they're tackling and the new scientific knowledge they're creating.
You can also read the stories of patients who have been involved in or touched by health research. Many of these profiles were submitted as part of CIHR's Canada150 storybook and are identified with the Canada150 logo.
Be sure to check back often, as we'll be adding new stories all the time.
---
Title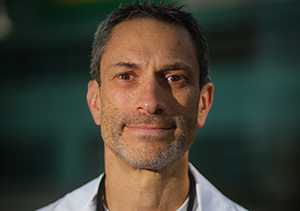 Probiotics not as beneficial as they are touted to be
Research into the use of a probiotic in children with acute gastroenteritis finds no associated benefits
Dr. Stephen Freedman MDCM, MSc
University of Calgary
Probiotics administration in children with acute gastroenteritis has been a controversial topic for nearly two decades. Although the evidence to support use has been limited and often contradictory, bolstered by strong marketing campaigns from industry, usage has increased significantly. With the support of CIHR, Dr. Freedman's team has conducted landmark studies assessing both the clinical benefits and potential mechanisms of action associated with the administration of a Lactobacillus rhamnosus/Lactobacillus helveticus combination product to Canadian children with acute gastroenteritis.
In an evaluation of 886 children who presented to one of six participating emergency department with gastroenteritis, they found that twice-daily administration of the probiotic did not prevent the development of moderate-to-severe gastroenteritis within 14 days after enrollment (NEJM 2018). This was followed by a sub-study that explored whether there were virus-specific benefits in terms of reducing clinical symptoms or viral nucleic acid clearance from stool specimens collected up to 28 days following enrollment. This study yielded similar findings – that there were no benefits, either clinical or microbiologic associated with the use of the probiotic product evaluated in children with acute gastroenteritis (Nature Communications 2020). Recently the team further analyzed stool specimens collected as part of this study and found no effect of the probiotic preparation, relative to placebo on stool secretory immunoglobulin A concentrations (American Journal of Clinical Nutrition 2021). Taken together, these findings highlight the need for a re-evaluation of probiotic use in children with acute gastroenteritis and until future research provides a convincing evidence of benefit, probiotics should not be provided to children with acute gastroenteritis.
Further reading:
Twitter: @UofCr4kids, @UCalgaryMed, @pert_calgary, @PERC_Network
Date modified: