Personalized Health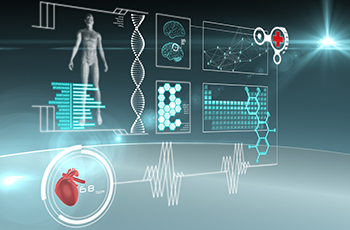 Every day, new technologies and medical discoveries add to the vast amounts of health-related data available. Creative new ways of managing this ever-increasing amount of data are in demand. This initiative will support the implementation of Personalized Health (PH) delivery through investments in tools and approaches that will contribute to more cost-effective, sustainable healthcare. This is expected to strengthen Canada's position as an international leader in the PH field.
Building on the progress of previous investments, the Personalized Health Initiative is a collaborative effort co-led by the CIHR Institute of Cancer Research; Institute of Genetics; Institute of Health Services and Policy Research; Institute of Aging; and the Institute of Gender and Health.
Nearly $41 million in CIHR funding, as well as additional partner funds, will be available to support the initiative's four major objectives:
Optimize patient empowerment in personalized health care approaches;
Develop data integration and analysis tools;
Assess the value of personalized health care for effective implementation and delivery.
Increase researcher awareness about the importance of integrating sex- and gender-based analysis in assessing relative costs and benefits.
Expected outcomes:
Improved health outcomes
Improved outcomes in the areas of prevention, diagnosis, treatment and palliation of chronic and non-chronic diseases, and expanded understanding of determinants of health should lead to improved health for Canadians. At times the improved health may stem directly from informing decision making or applying research findings for patients. At other times the improved outcomes will result from health system changes which have flowed from informed decision making. Transforming health care to assessing and treating patients based on personalized health approaches should lead to improved health for those treated via these approaches.
Economic and social benefits
Broad social and economic impacts can include, among others, economic opportunities, health system efficiencies, human capital gains, and well-being and social benefits. These benefits stem usually from informed decision making, strengthened capacity, or health system changes. By assessing the value of personalized health vs standard-of-care, this initiative should lead to the implementation of personalized health approaches where it is most valuable, and should lead to reduction of mis-prescriptions of certain drugs for those treated under this approach. Finally social benefits may arise through better understanding of sex-drug-gene interactions, further enhancing the appropriate use of drugs.
Health system impacts are realized
Health system impacts aim for advances in the way the health systems function. While some knowledge can be taken up by Canadians directly to improve their health, other knowledge will change the way our health system delivers care, which can lead to improved health. These benefits stem usually from informed decision making or strengthened capacity. Wide scale uptake and implementation that impact decision making will lead to changes in the health system's delivery of care and patient empowerment.
Date modified: