Pathways to Health Equity for Aboriginal Peoples
Oral health priority area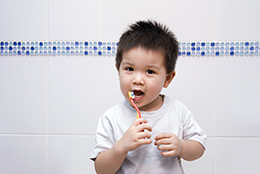 The most common oral conditions range from tooth decay, gum disease and injuries to chronic pain.Footnote 1
More than 85% of Inuit children aged 3 to 5 have tooth decay.Footnote 2
First Nations youth living on-reserve require more restorative (57% vs. 13%) and orthodontic treatment (14% vs. 6%) than youth in the general Canadian population.Footnote 3
Why is oral health a priority for Pathways?
Oral health is an important part of a person's overall health and well-being.
Good oral health allows people to speak, eat, and socialize without pain, discomfort or embarrassment.
Oral health disparities in First Nations, Métis and Inuit communities are well documented.
Many oral health conditions are preventable.
There are effective and affordable solutions, such as good oral hygiene habits and healthy dietary practices, but barriers to scale-up of these approaches need to be understood and overcome.
How will Pathways improve oral health?
Pathways will fund research to fill the gap between knowledge and action:
It will study the scale-up of promising interventions.
It will support research-community partnerships to generate evidence
on which interventions work, for whom, and under which conditions.
CIHR-funded oral health research
CIHR has a strong history of supporting oral health research. Here are two examples of previously-funded projects:
Protecting Young Teeth
Dr. Herenia Lawrence of the University of Toronto is leading a community-based study in Ontario and Manitoba that combines multiple strategies to prevent tooth decay in very young children.
Starting a Conversation about Oral Health
Dr. Debbie H. Martin at Dalhousie University is working with Inuit youth and their caregivers to discuss oral health issues in their communities.
Footnotes
Footnote 1

Milot M, Aubin JE. Seed Grant: Disparities in Oral Health. 2011 [cited 2013 Jul 3]. Available from: Canadian Institutes of Health Research, Institute of Musculoskeletal Health and Arthritis Web site.

Footnote 2

Health Canada, Nunavut Tunngavik Incorporated, Nunatsiavut Government, Inuvialuit Regional Corporation, Inuit Tapiriit Kanatami. Inuit Oral Health Survey Report 2008-2009. (2011).

Footnote 3

The First Nations Information Governance Centre, First Nations Regional Health Survey (RHS) Phase 2 (2008/10) National Report on Adults, Youth and Children Living in First Nations Communities. (Ottawa: The First Nations Information Governance Centre, June 2012), 299, 399
Date modified: