2014 CIHR Barer-Flood Prize in Health Services and Policy Research Recipient
[News Release]
Recognizing an exceptional health services and policy researcher
The CIHR Institute of Health Services and Policy Research (CIHR-IHSPR) is pleased to announce that Dr. Tom Noseworthy is the recipient of the 2014 CIHR Barer-Flood Prize in Health Services and Policy Research.
The competition attracted outstanding nominations from across the country. The Review Committee awarded the prize to Dr. Noseworthy in recognition of the contributions he has made over his career as a health services leader by changing how health policy is created and health services are delivered in Canada. CIHR-IHSPR is very pleased to congratulate Dr. Noseworthy on the receipt of this prize.
The prize is named in honour of Morris Barer and Colleen Flood. In their roles as Scientific Directors, both Drs. Barer and Flood made outstanding contributions towards advancing the field of health services and policy research in Canada, building a community of world-class researchers, and designing innovative new programs that foster evidence-informed decision-making and improved health and health care for Canadians. It was in this spirit that the Barer-Flood Prize was created; to recognize an exceptional researcher who has created a seminal body of work that has had a substantial impact on health services and policy research, policy and/or care delivery.
In addition to receiving a prize of $25,000, Dr. Noseworthy was honoured at the Federal, Provincial and Territorial Health Minister's Meeting held in Banff in September 2014.
CIHR-IHSPR is grateful to the CIHR Barer-Flood Prize review committee, which comprised health system leaders from across Canada, for their time and contribution to this initiative.
About the recipient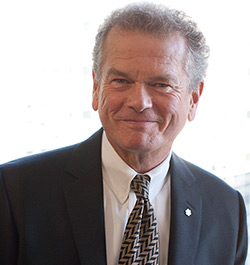 Dr. Noseworthy is a Professor of Health Policy and Management, Department of Community Health Sciences and Institute for Public Health, University of Calgary and a distinguished physician. Dr. Noseworthy joined Alberta Health Services in May 2011, as special advisor to the Executive Vice President of Strategy & Performance and is currently the Associate Chief Medical Officer, Strategic Clinical Networks.
He served as a member of the Prime Minister's National Forum on Health from 1994-1997, and chaired the Steering Committee; co-chaired the Advisory Council on Health Infostructure (Federal Health Minister) from 1997-1999; chaired the Senior Reference Committee for Alberta Wellnet from 1997-2002; and was Chair of the Western Canada Waiting List Project from 1999-2006. He leads a research collaboration studying wait times for total joint replacement funded by CIHR.
Dr. Noseworthy's research has been published in over 100 papers and book chapters and focuses on health care access and improving quality management of waiting times for scheduled services. He was a founding Director of Canadian Doctors for Medicare in 2007. He currently is a member of the Expert Panel on the Timely Access to Health and Social Data for Health Research and Health System Innovation of the Council of Canadian Academies.
In 2005, Dr Noseworthy was awarded the Alberta Centennial Medal for contributions to health care and was also named as one of Alberta's Top 100 Physicians of the Century. In 2007, Dr Noseworthy was appointed by the Governor General as Member of the Order of Canada for contributions to health policy and Medicare. In 2012, he received the Diamond Jubilee medal in recognition of contributions to health care.
Date modified: