2013–14 CIHR-IHSPR/CAHSPR Student Poster Competition Prize Winners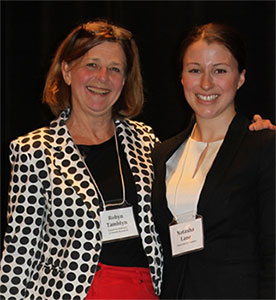 Photo: Dr. Robyn Tamblyn and Natasha Lane
Each year at the Canadian Association for Health Services and Policy Research (CAHSPR) conference IHSPR sponsors a Student Poster Competition. This competition is designed to encourage graduate students to attend and showcase their work at CAHSPR, Canada's pre-eminent health services and policy research conference, and to recognize the outstanding research efforts of up-and-coming health services and policy researchers.
Prizes are awarded to the three top-ranked posters in the amounts of $1,200, $800, and $600, for first, second and third prize respectively. Posters are reviewed by a team of expert reviewers who each devote their time and effort to conducting the reviews.
CAHSPR and IHSPR would like to congratulate the winners of the 2013-14 CIHR-IHSPR/CAHSPR Student Poster Competition:
First Prize : Natasha Lane from University of Toronto for her poster "Does socioeconomic status moderate the effect of increasing chronic disease burden on three-year survival in a population-based cohort?"
Second Prize : Jenna Evans and Agnieszka Grudniewicz from University of Toronto for their poster "Organizational Factors in Integrated Healthcare Delivery Models: A Review of Measurement Tools"
Third Prize : Saskia Sivananthan of University of British Columbia for her poster "What we want versus what we expect: examining variations in guideline-consistent dementia care, a population-based study"
Winners are encouraged to use their prize money to further their careers in health services and policy research. Congratulations to our winners and we look forward to seeing you at next year's CAHSPR conference!
IHSPR wishes to extend its sincere thanks and appreciation to the 2013-14 CIHR-IHSPR/CAHSPR Student Poster Competition Reviewers:
Christine Covell
Tewodros Eguale
Randy Fransoo
Alain Gauthier
Gillian Hanley
Jean Harvey
Jennifer Hensel
Jennifer Knopp-Sihota
Lisa Lix
Greg Marchildon
Elisabeth Martin
Maria Matthews
Aude Motulsky
Christian Rochefort
Drissa Sia
Mark Smith
Robin Urquhart
Date modified: