Section 3.6.2: Framework for Evaluating Complex Interventions
Sasha Shepperd
---
Overview of the chapter structure:
This chapter is divided into the following sections:
A framework for evaluating complex interventions
Knowledge translation, complex interventions and the iterative loop
Future research
Key Learning Points
The active ingredient(s) of complex interventions can be difficult to identify
Stakeholders can inform trialists on which element(s) of a complex intervention are essential to reproduce
Other types of evidence can improve the relevance of trials for policy makers
The MRC Framework for the Development and Evaluation of Randomised Controlled Trials for Complex Interventions to Improve Health1 provides a mechanism for formally integrating other types of evidence and may support the transfer of evidence based interventions
External validity can be strengthened through the involvement of key health care decision makers
A Framework for Evaluating Complex Interventions
The MRC Framework provides an iterative step wise approach to determine the state of knowledge about a complex intervention
MRC Framework for Evaluating Complex Interventions
Step 1 Defining the intervention

Identify the existing evidence and any theoretical basis for the intervention in order to describe the components of the intervention

Step 2 An exploratory phase

Assess the acceptability and feasibility of delivering the intervention, and the comparison intervention
Pilot the study design

Step 3 An explanatory phase

The final trial design is implemented in a relevant setting with appropriate eligibility criteria

Step 4 A pragmatic phase

Implementation and fidelity are examined
Key to KT
MRC Framework for Evaluating Complex Interventions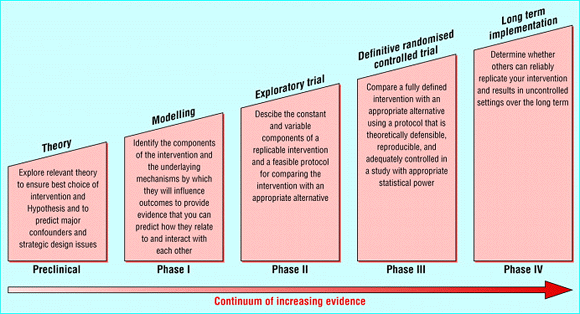 Campbell, M. et al. BMJ 2000;321:694-696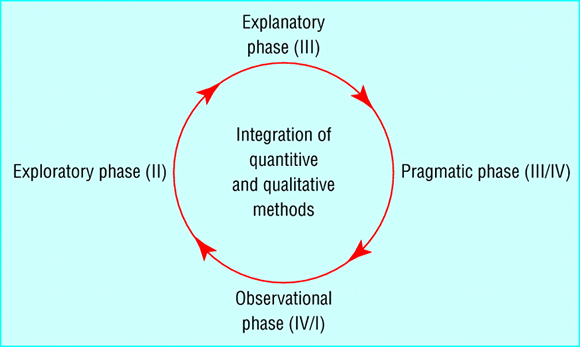 Campbell, M. et al. BMJ 2000;321:694-696
Knowledge Translation, Complex Interventions and the Iterative Loop
Involve decision makers in shaping the research question and defining the intervention
Systematically identify and integrate additional forms of evidence relevant to decision makers
Measure outcome and process variables relevant to KT
Measure degree the intervention has been sustained outside a research setting
Be aware of a changing political context
Areas for Future Research
Generate empirical evidence to assess the benefits of involving stakeholders, in the design phase of research, on subsequent implementation
Research describing the iterative process, how key decision makers are identified and contribute to decision making
---
1Campbell M, Fitzpatrick R, Haines A, Kinmouth A-L, Sandercock P,Spiegelhalter D. A framework for development and evaluation of RCTs for complex interventions to improve health. BMJ 2000;321:694-6.
Date modified: