CIHR's Framework for Citizen Engagement - Appendices
[ Return to Table of Contents ]
---
Appendix 1: Spectrum of Citizen Engagement Activities (Tables 1 and 2)
Table 1: Spectrum of Citizen Engagement Activities at CIHR
Levels 3 – 5 (Consult / Collaborate / Engage / Partner)
Objective
Activity
Level
Used by
Inform Strategic Priorities

Strategic Plans

broad-based consultations utilizing surveys and meetings with targeted audiences and communities that provided an environmental scan and perspectives for some of the Institute Strategic Plans

Consult/ Engage
IAPH, IA

ICR's Research Alliance

comprised of representatives from the National Cancer Institute of Canada (NCIC), the Canadian Association of Provincial Cancer Agencies (CAPCA), Health Canada and ICR. In May of 2001, this group sponsored a large working group meeting at which cancer researchers from all pillars, lay persons, survivors and potential partners, were convened to begin the process of defining research priorities for cancer research. As a result of this meeting, a web-based Delphi process was initiated to further refine the priorities and seek input from a broader population. Resulted in identification of 7-8 priorities for the Institute

Involve/ Consult
ICR

IMHA on the Move I January 31-February 1, 2003

a forum where stakeholders from across Canada (over 150) contributed to the fine tuning of IMHA's strategics plan

Collaborate/ Engage
IMHA

IMHA on the Move II October 2006

a forum where CRCs from across Canada and stakeholders from western Canada (over 80) contributed to the planning, development and implementation of a national IMHA strategy - 2007-2013

Collaborate/ Engage
IMHA

Institute sponsored NGO Meetings

2 NGO Roundtables have been held in 2001 and 2002
there are 100+ NGOs/VHOs who relate to INMHA
workshop discussions and feedback was used to create the first strategic plan
also used to address communications and partnering issues/opportunities
Stakeholder Meeting planned for 2008 to discuss creative partnering

Involve/ Collaborate
INMHA
Provide mechanisms for assessing relevance/ merits of applications in the peer review proces

Peer Review Committees for Aboriginal Health Research

all have an informed lay person

Engage
IAPH

CBR Merit Review committees

two categories: Aboriginal and general
equal representation between experts and community reps
4 people responsible for the review of an application (2 academics, 2 community)
* (In the CBR program, the Nominated Principal Investigator doesn't need to be an academic – but needs to pair up with an academic in the Operating and, at times, the Seed grant program – and the community organization can be the host institution and holder of the funds)

Engage
HIV/AIDS and STBBI Research Initiative

HIV Trials Network - 2007

the Network gets a grant of $4.5 million per year
the renewal application was very transparent
consultation was done regarding what the objectives/goals of the Network should be
3/30 participants were community representatives
all 3 reps were very strong; one could even be deemed the leading HIV research advocate in Canada
the community representatives have access to a wide range of stakeholders

Engage
HIV/AIDS and STBBI Research Initiative
Provide mechanisms for transparency, accountability on CIHR's peer review panels

Community Reviewers Program: enhancing public and stakeholder engagement on CIHR's Peer Review panels by:

reviewing lay abstracts to comment on the intent and importance of the research proposal & ensure the research is well explained;
communicating the merit of investment in health research;
individuals who are not currently academics or researchers, but who have a demonstrated interest in health and science. Spring (2008) the program will be increasing participation on panels from 15 to 25 community reviewers.

Engage
Research Portfolio
Inform Policy and Guidelines for Best Practices

CIHR Guidelines for Health Research involving Aboriginal People

involved Aboriginal Elders of First Nation, Inuit and Métis communities in a dialogue and consultation on traditional values and ethics with researchers and institutions built upon the ACADRE Network

Collaborate/Engage
IAPH, Ethics, Tri-Council Secret.

National Placebo Initiative (2002)

extensive consultations over 2 year span to inform Tri-Council policy decisions on the appropriate use of placebos in clinical trials.
Innovative strategy to engage citizens with series of workshops, telephone surveys, and focus groups held across Canada.

Involve/ Consult
Ethics Office

CIHR's Privacy Best Practices for Health Research

open and targeted consultations were conducted in 2004 on a draft document. The consultations were advertised widely and included in an opportunity for the general public to provide comments on an online survey and in small group dialogue sessions.

Involve/ Consult
Ethics Office

The international dialogue on trial registration

Participation in the work of the Scientific Advisory Group (SAG ) of the trial registration platform (ICRTP) of the World Health Organization (WHO)
Consumers are included in these dialogues; one consumer is a member of the SAG , while several consumers attend the Ottawa group meetings and signed the Ottawa statements

Engage
KSE

Advisory Group for Open Access Policy

informed the policy on access to the research outputs such as publications, questionnaires, surveys, "outputs" or outcomes of the research grants to promote accountability, promote dissemination of research from publicly funded organizations
Online survey targeted govt, research agencies, university decision-makers, librarians, charities, funders and general public.
Multiple phases which include posting of draft policy online for replies – was seen as forward thinking
Governing Council approved the policy March 2007
Beginning Jan. 2008 researchers are to adhere to new responsibilities

Involve/ Consult
KSE

Participation in NCEHR meeting to look at REBs for CBR (National Council on Ethics in Human Research)

will look at Research Ethics Boards for Community-Based Research (not specifically HIV-AIDS)
this meeting will involve a lot of community participants
effectively, they are doing an environmental scan of the capacity of CBR REBs
the results of this meeting and consultation will be reviewed to identify gaps

Consult/ Engage
HIV/AIDS and STBBI Research Initiative
Inform research priorities to ensure they are relevant to Canadians

Aboriginal Capacity and Development Research Environments

one of IAPH's first initiatives was to develop these centres of supportive research environments across Canada to facilitate and develop aboriginal capacity in health research.
each centre includes a volunteer advisory board with majority membership from the aboriginal community.

Engage/ Partner
IAPH

Community Based Research Grants

designed to collaborate and empower the targeted communities to work with researchers as full partners in the research process and to use the results to improve their quality of life.

Collaborate/ Engage
IAPH, III (HIV/AIDS)

HIV/AIDS Initiative Working Groups

CHARAC (CIHR HIV/AIDS Research Advisory Ctee) engage community reps to gain broader perspective
8-12 people per working group; 1-2 community reps per group
these groups develop RFAs (the perspectives feed into the type and focus of the opportunity)
- 2006 – establishment of working groups model
recruitment is fairly informal; generally, nominations/ recommendations come from researchers there were 2 face-to-face meetings/consultations (Prevention and HS/PH working groups) conducted in 2006. There was another face-to-face meeting conducted in 2007 for the HS/PH working group.

Collaborate/ Engage
HIV/AIDS and STBBI Research Initiative

IA's Regional Seniors' Workshops

involved five community consultations (Prairies, Yukon, BC, Ontario, Quebec and Maritimes) which involved over 250 senior citizens along with NGO representatives, practitioners, policy makers. Dialogue centred around current research in aging and how seniors could engage in identify their priorities

Involve/ Collaborate
IA

Mobility in Aging Strategic Research Initiative

Developed in consultation with broad base of stakeholders including users: health practitioners, health institution administrators, public policy decision makers, front line educators, the media, health charities, persons living with diseases/conditions, consumers, family members and caregivers, the private sector and general public

Involve/ Consult
IA

Boys and Men's Health Seed Grant

included consultations emanating from Canadian Conference on Men's Health at the University of Victoria. Multiple community members represented, both traditional and non-traditional advocacy groups

Involve/ Consult
IGH

Gender, Mental Health and Addictions Initiative

Current funding opportunity : Research user engagement early in the research cycle is critical to help identify policy/practice relevant research foci and potential interventions that will ultimately translate into mental health benefits. Evidence of input from, and commitment to, the proposed program of research by the relevant potential users such as policy makers, private (e.g. workplace), public and voluntary sector program administrators, clinical and public health practitioners, and/or community-based organizations.

Involve/ Consult
IGH, INMHA Health Canada; CIDA and IDRC

OA Consensus Conference 2002

a conference to set strategic research priorities in osteoarthritis for Canada. All stakeholder groups from across Canada (over 200) were involved in this activity including the Canadian public, decision/policy makers, healthcare providers, patients/patient groups, private sector, researchers.

Engage/ Collaborate
IMHA

Inflammatory Joint (IJD) Diseases Consensus conference 2003

a conference to set strategic research priorities in IJD for Canada. All stakeholder groups from across Canada (over 200) were involved in this activity including the Canadian public, decision/policy makers, healthcare providers, patients/patient groups, private sector, researchers.

Engage/ Collaborate
IMHA

Consensus Conference on skin research 2004

a conference to set strategic research priorities in skin research for Canada. All stakeholder groups from across Canada (over 60) were involved in this activity including the Canadian public, decision/policy makers, healthcare providers, patients/patient groups, private sector, researchers.

Engage/ Collaborate
IMHA

Bone and Joint Decade (BJD) International Consensus Conference 2005

a conference to set strategic research priorities in Bone & Joint research for Canada and internationally. All stakeholder groups were involved in this activity including the Canadian and foreign public, decision/policy makers, healthcare providers, patients/patient groups, private sector, researchers. Over 40 countries were represented along with WHO representatives (over 250)

Engage/ Collaborate
IMHA

Summit for the Canadian Arthritis Standards of Care 2005

a conference to set strategic research priorities in IJD for Canada. All stakeholder groups from across Canada (over 250) were involved in this activity including the Canadian public, decision/policy makers, healthcare providers, patients/patient groups, private sector, researchers.

Engage/ Collaborate
IMHA

Muscle: From Molecule to Mobility Consensus Conference 2006

a conference to set strategic research priorities in muscle and rehabilitation research for Canada. All stakeholder groups from across Canada (over 90) were involved in this activity including the Canadian public, decision/policy makers, healthcare providers, patients/patient groups, private sector, researchers.

Engage/ Collaborate
IMHA

III Pandemic Preparedness Strategic Research Priorities

Canadian Foundation for Infectious Disease had input in direction-setting workshop in 2005
Task Group often work with lay representatives and researchers working with task group to develop Funding Opportunities

Involve/ Consult
III

IG Symposium- Aboriginal cross-border collaborations

Planning meeting for May 2008 to develop a modified model of committees with Aboriginal Researchers, with Community- Based Research standards. Including representatives from different aboriginal groups (to involve input from the communities).
modified model of other Planning & Priorities committee

Involve/ Consult
IG

Funding to support Citizen Engagement (including patient involvement) IHSPR

Spans 24 grants and awards including July 2007 – Fellowship in CE, Dec 2007 – CE – Access to Drug Care Policy

Involve/ Consult
IHSPR

III Strategic Priority Setting

meetings with invited NGO's to involved the wider community in 'Research Symposium' on "Auto-Immune" diseases

Involve/ Consult
III

Lay Summaries (IMHA)

work with researchers to develop lay summaries of research (Cochrane-matched)

Engage
IMHA
Support a culture of science literacy in Canada

Synapse – Youth Connection

originated in Blueprint to collaborate with partners in the educational and science youth outreach non-profit organizations to create mentors for the next generation of health researchers by engaging children/youth in science discovery. Extensive environmental scan of best practices in Canada and abroad, focus group consultations informed the tools which were developed.

Involve/ Engage
Comm. Branch

IBRO Science Schools

This initiative involves research and education in developing countries. INMHA sponsors 2 schools per year (one in Africa, one in South America). The sponsorship is for 2-week intensive courses for PhD students or Post-Docs. Last year, the students were brought to Canada for a meeting; they gave presentations at the meeting and had a 1-week course afterwards

Involve
INMHA
Mechanisms for improved trust, transparency and accountability at governance level

CIHR Institute Advisory Boards

1 – 2 members per board represent voluntary sector, consumers, advocates

Engage/ Partner
Governance and Nominating Committee
T of R

Stem Cell Oversight Committee

public representative is full member of this committee

Engage/ Partner
Governance and Nominating Committee
T of R

HIV/AIDS Research Advisory Committee

subcommittee of CIHR-III's IAB, but essentially functions as an IAB itself
2/12 members are community representatives, who are appointed by a nomination process
strong push from the HIV/AIDS research community to create this initiative, so community interest (academic and otherwise) is very keen
their terms last 2 years (with the possibility of renewal for another 2 years)

Engage/ Partner
HIV/AIDS and STBBI Research Initiative

HIV/AIDS CBR Steering Committee (Standing committee)

community reps needed for depth of experience (CBR truly engages the community throughout the research process (from deciding what the focus of the research will be to the dissemination of the research results; has several CBR RFAs)
8-12 people; equal representation from experts/academics and community reps
2 funding streams: 1. General, and 2. Aboriginal (also equal representation between Aboriginal and non-Aboriginal people for that committee)
modeled after other countries recruitment, based on recommendations from the community (HIV Networks, etc.)

Engage/ Partner
HIV/AIDS and STBBI Research Initiative

IMHA IAB sub-committees

1-2 voluntary sector/lay representative on the IAB
each sub-committee of the IAB is represented by at least one patient representative

Engage/ Partner
IMHA

PROCTOR

Public reporting of Clinical Trials Outcomes and Results; the purpose PROCTOR is to identify issues and concerns regarding the public reporting of results; consumers are one of invited constituencies and a special analysis is done

Consult
KSE
Knowledge Translation

IMHA Knowledge Exchange Task Force (KETF)

Was spearheaded by former IAB member Flora Dell
innovative approach to creating a communication pathway linking researchers and key stakeholders, including clinicians and patients.
Members become Research Ambassadors for the program and expedite dissemination of findings to their respective organizations and communities.

Engage
IMHA

Strategic Training Initiatives in Health Research (STIHR)

3 of our annual meeting of STIHRs included KT on the agenda – first agenda item was on what is KT? Second was a day/breakout pilot conducted by Cochrane Collaborations and the 3rd meeting was a full-day pilot on 'train the trainer' in KT. KETF research ambassadors (patients) participated in this pilot. STIHR Directors and trainees from across Canada are main participants in these meeting (70-80 participants)

Consult
IMHA

Stakeholder Database IMHA

(IMHA) believes that establishing consistent, open, two-way communication with stakeholders is critical to its success. Stakeholder database enables the Institute to send pertinent information about current programs and activities, but will also enable two way communication.

Involve
IMHA

Canada on the Move

Kellogg's began putting pedometers in their Special K cereal, which led SD Diane Finegood to the idea that the Institute should try to link Kellogg's with research ("Donate your steps to research!");
People could log onto the website and register as a participant
the website informed/educated people re: the importance of walking;
discussion was done using electronic mechanisms;
researchers used the website as a starting point (data) to generate further research – integrated KT;
national perspective, high profile, innovation, crossing health promotion + research;
resources: outside source for website (about $100K per year)
other companies copied the idea ("America on the Move", etc.)

Involve
INMD

Ministerial Advisory Council of HIV/AIDS

Engage
HIV/AIDS and STBBI Research Initiative
Partnering for research and KT with Canada's Voluntary Health Organizations

KT National Roundtable with VHOs 2007

The focus for the day was to develop a common understanding between researchers who have received CIHR KT Funding and Voluntary Health Sector partners; this understanding allowed all the participants to discuss knowledge translation best practices and to explore common goals for potential collaborations.

Engage/ Collaborate
KSE jointly with PCE

Canadian Genetic Alliance Organization

modelled after the US based organization. Currently being developed as an information provider to multiple stakeholder groups including families/patients with genetic diseases. It will build capacity in advocacy organizations and educate policymakers by leveraging the voices of these groups. Web site is tailored to lay people. Creates a more powerful voice for advocacy to govt.

Collaborate/ Partner
Originally lead by IG

Priority-setting workshops co-organized with researchers and partner organizations.
These include:

2002 Tobacco Summit
2003 Workshop on Alcohol and Illicit Drugs
2003 Workshop on Problem Gambling
2004 Workshop on Early Life events
2007 Consultation on Research Priorities for Substance Abuse and Concurrent Disorders
2007 National Autism Research Symposium: an effort was made to include grassroots representation from the autism community (parents, advocates, treatment professionals) and to provide an opportunity to hear some of those whose voices may not yet have been heard publicly. Autism workshop communications materials created with Health Canada, PHAC, and CIHR Communications Branch

Consult/ Engage
INMHA

Institute sponsored NGO Meetings

2 NGO Roundtables have been held in 2001 and 2002
there are 100+ NGOs/VHOs who relate to INMHA
workshop discussions and feedback was used to create the first strategic plan
also used to address communications and partnering issues/opportunities
Stakeholder Meeting planned for 2008 to discuss creative partnering

Involve/ Collaborate
INMHA

Representation at Voluntary Sector and NGO Workshops/ AGMs/Forums

INMHA staff and IAB members participate in numerous in priority-setting meetings/exercises
INMHA gets involved to help set and implement the organization's priorities (not just vice-versa)

Collaborate
INMHA

INMHA Annual Meeting

NGOs are invited to annual meetings (INMHA originally paid for an attendee from each NGO who wanted to attend). The meetings included sessions specifically for the NGOs to network, discuss partnerships and mutual issues, etc., as well as to attend sessions that involved researchers, consumers, and policy makers.

Involve/ Collaborate
INMHA

IPPH Joint public forums with various organizations

such as CPHA conference
implement "Public Forum" style events with presentations (intended to attract public to learn about an issue re: public health)
David Suzuki Public Forum: 'Our Environment is Our Health' with the Ontario Public Health Association (involved an open question panel)

Involve/ Consult
IPPH

Institute of Genetics Voluntary Health Organizations (VHOs) Working Group

mandate is to cultivate a partnership between VHO's from genetic diseases community and IG. The working group will influence the development of the IG as an integrative health research Institute and promote public engagement among stakeholders.

Engage/ Partner
IG

Listening for Direction II (2004)
Listening for Direction III (2007)

Responding to public expectations for consultation in research priority setting by involving VHO's and decision makers.
consultation workshops were held across Canada: one national workshop, five regional workshops in the south, and three northern regional workshops in each of the territories. Overall, 1,230 individuals were invited and 202 people attended the workshops. Of these, 107 participants were decision makers (including senior hospital and health region managers, clinical leaders, and national and provincial government policy analysts and advisors); 40 were researchers (mid-career and senior academics and researchers in decision-maker settings); and 55 came from a variety of other settings (such as consultants, knowledge brokers, research administrators, healthcare associations, and professional associations).

Involve/ Consult
IHSPR

Reducing Health Disparities and promoting equity for Vulnerable Populations Strategic Initiative

Extensive consultation with voluntary health charities and NGO's (ie: HSFC, Alzheimer's Society, CBCRA, Lung Association, Tobacco Control) to develop RFA's
included conference presentations and networking events to reach out to smaller groups

Consult/ Involve
IGH

Participation as CIHR representative on stakeholder working groups

participating as a rep allows the staff to build a network and relationships with the HIV-AIDS community
staff also learns about the priorities of the community and other organizations (find out priorities of each side)
some groups are NGO-led; others are gov't-led
education + consultation: two way exchange

Involve/ Collaborate
HIVAIDS Initiative

III & JDRF Search for a Cure for Type 1 Diabetes

partnerships supporting the New Emerging Teams; III also partnered with JDRF in support of a Stem Cells and Diabetes Workshop in March 2002, convened to bring together diabetes and stem cell researchers for discussions on applying stem cell technologies to the treatment and management of diabetes

Collaborate/ Partner
III
Table 2: Spectrum of Activities at CIHR: Inform/Educate/Outreach/Listen
(Levels 1 – 2)
Objectives
(Overall)
Activity
Level
Used by

To provide the public with balanced and objective information to assist them in understanding the problems, alternatives, and/or solutions.

To give knowledge of something, to tell, and/or to acquaint the public with a fact.

Public Forums / Workshops (sponsorship)
Sponsor "Public Forum" style events with presentations intended to attract public to learn about an issue re: public health.
Re-Genesis (TV Program): Program is partnering with Jay Ingram of Let's Talk Science, which is committed to understanding the impact and outcomes of our work. IG is one of the sponsors of an upcoming public forum Dec. 2007, to engage with geneticists and increase understanding of what is really happening in gene science.
1
IPPH, IG
Informative Websites
"Canada on the Move" initiative: This initiative involved multiple levels of engagement. At Level 1, INMD used a website to inform/educate people about the importance of walking. While the website also included elements of interactivity (to be discussed below), it was a useful tool for health promotion and the dissemination of information.
"The Brain" website. INMHA has sponsored this website for 6 years. It provides the public with descriptions of the brain (from top to bottom) and is accessible for all ages.
Outcomes of KSE funded events are posted in lay language on our website for general public.
INMD, INMHA, KSE
Public Speaking
The SD gives talks on obesity, physical activity, and nutrition in layman's terms to inform/educate the public in varied settings. She discusses positive change/results/research.
INMD
Media Interviews / Media Outreach
Both Paul and Diane do lots of community-based radio and print interviews. They give practical tips on how Canadians can use the results of research in their everyday lives. Most interviews occur around holidays associated with sweets (Hallowe'en, Valentine's Day, Easter, etc.) and throughout the summer. These interviews become excellent tools for health promotion.
INMD
Public Outreach / Communication Initiatives
Once per year, 3 grants of $10K (based on a competition) are given to NGOs to reach the public. This activity is more of a Knowledge Translation exercise; the funds are used to create brochures, websites, etc. to translate validated research to the public (i.e. integrated KT).
NGOs apply for an annual award:
Communications Award: The NGO gets $10K to develop communications
INMHA
Town-Hall ("learning-style" format)
(Toronto and Quebec City): Stakeholders from the community were invited to come and learn about ICRH and its activities as well as to pose questions to the Scientific Director and advisory board members.
ICRH

To provide the public with balanced and objective information, but in a more engaging, dynamic, and/or interactive style than in Level 1.

More input / feedback from the public is incorporated than in Level 1 activities, but involves less input / feedback than Level 2 activities.

Educational Outreach
Lectureships: Via IAB meetings, the IG broadcasts events to various faculties to attend lectures. Anyone interested can attend; the invitations can include more than universities.
Food for Health: developed with the Canada Agriculture Museum, III and ICR, this initiative involves an online interactive site geared towards schools and children (includes games). It addresses a need for public education, taking the results of the research on food and water-borne illness and translating this research into action by applying it to public practice.
Mental Health in the Workplace workshop: INMHA brought in Insurance companies and other workplace organizations to help address the gap between the business world and the research world. An employer perspective has also been incorporated. The Task Force on mental health in the workplace involves lots of other organizations
"Brain Bee": This competition for high school students has been across Canada and the US in the past, but in May 2008, INMHA will host the first international Brain Bee competition. INMHA is also organizing the Canadian national competition. Lots of volunteers will be used to organize the events and to act as "patient actors" (the contestants will need to make a diagnosis). The competition involves knowledge of the brain, diseases of the brain, and mental health.
Electronic Health Records: This initiative involves engaging the public to brainstorm about ways in which consent can be obtained to make data available for secondary analysis. While the brainstorming involves consultation, education is involved, as well; the public needs to be informed about anonymization to deal with privacy issues/ concerns. (Sept. 2008 = a summit
planned for all stakeholders.)
1-2
IG, ICR, III, INMHA, IHSPR
Café Scientifiques
Café scientifiques started in the late-20th Century as an informal discussion about scientific subjects. They were never intended to be lectures. The same holds true for CIHR Café scientifiques. They provide insight into health-related issues of popular interest to the general public, and in turn provoke questions and provide answers.
For that reason, the CIHR Café scientifiques are all about accessibility. They involve interaction between the public and experts in a given field at a café, a pub or a restaurant. If you want to take part in a CIHR Café scientifique, there is no need for you to have a science degree. You just need to have a deep-rooted desire to talk about a particular health subject; you could learn how health research may provide answers to your questions.
Comm., All Institutes
Community / Town Hall Events / Open Forum
Wherever an INMHA-IAB meeting takes place, Rémi works with a local university to set up poster displays for an open forum for the university community.
For IMHA, every IAB meeting will host events intended to keep stakeholders informed of activities. Evaluation forms are used to receive feedback.
INMHA, IMHA
Synapse – Youth Connection (1 & 2)
Collaborative partnerships with non-profit organizations help mentors create the next generation of Canadian health researchers through use of accessible scientific info and hands-on experience. 4,000 CIHR-funded researchers have now officially registered to be Synapse mentors. To date they have reached over 20,670 students directly and another 26,600 indirectly.
Comm.
Public Affairs (1 & 2)
The objectives for these activities include communicating the benefits of Health Research to Canadians, and letting them know about CIHR and what we do. The intention here is to position CIHR to the media as a useful and reliable source of story ideas and commentary. To do this, Communications advertises our services to the media, offers workshops on various topics of interest to the media, etc. The media is also used to reach the general public.

Tools include: Journalist workshops (educate public through more informed media), MP kits, Web profiles, regular expert alerts to media using health or other issue calendar days as well as issues in the news, Communications plan for each institute, Monthly e-mail to media, monthly e-mail to researchers (by Research Portfolio w/help from Marketing and Communications), well developed media room that includes a database of experts for media use, Awards night advertising and media relations plan, Media promotion for cafés, joint events w/Research Canada and other tri-council agencies such as Health Researchers on the Hill and Media Science Forum, twice a year national funding announcements in concert w/the Universities, regular distribution of matte articles via media distribution networks and News Canada, support of the Canadian Science Writers Association and Association des communicateurs scientifiques du Quebec, recognition guidelines for CIHR-funded researchers and outreach to universities to promote them, and a pamphlet for media.

Comm.
Media Workshops
Used to give health reporters broad overviews of important areas of research.
All Institutes (Comm.)

To obtain public feedback on analysis, alternatives, and/or decisions.

To seek an opinion from, ask the advice of, or turn to the public for information.

To present the public with a solution, a draft, or an alternative and specifically ask for their reaction and/or comment.

Integrated KT in research design
Resource Allocation Decisions NET Grant 2004: The thematic focus of this RFA reflected the increasingly urgent need for new research and knowledge translation initiatives in the areas of financing, funding and resource allocation in health care - options, impacts and public expectations. New and emerging teams were funded in order to support the formation of sustained research and knowledge translation capacity in these important areas.
2
IHSPR
Workshops
KT Workshop: Timely Access to Quality Health Care: Knowledge exchange with Voluntary Health Organizations.
IHSPR
KT Handbook
Based on the IHSPR/IPPH call, this handbook was developed to be a resource/outreach for general public on different types of KT across all sectors of health research. It was purposely written in lay-language and included a public call for submissions.
KSE
Health Research Communications Award
Purpose: to build capacity in health journalism and communications across all sectors of health research. By increasing the number of Canadians engaged in communicating the results of health research, in a variety of formats, CIHR hopes to raise the level of understanding of health related issues and research among a variety of audiences, including the general public, health professionals and policy makers. The KSE branch refined tool in consultation with Journalists and Chair of review committee.
KSE
Audience-Based / Interactive Website
As part of the Web Strategy, CIHR's "monster" website will be changed into an audience-based website. 80% of the audience is made up of researchers, but the media, decision makers, and universities are also making use of the website. The website will be changed so that the user can click on "For Media",
"For Researchers", or "For Canadians", and the information relevant to each audience type will be grouped accordingly. The information will be regrouped so that themes, etc. are easily accessible. Feedback about the website was requested from users in order to inform the redesign.
"Canada on the Move" Initiative: As mentioned above, this website had some Level 1 components. In addition, people could log onto the website and register as a participant (and could "donate" their steps to research). Discussions were held electronically. Researchers used the website as a starting point for further research.

Comm., INMD
Parliamentary Outreach
This outreach is part of the mandate for Communications. Working with Policy & Planning, outreach is done via the Hill.
"Health Researcher's Day on the Hill" is a researcher reception that gives health researchers the chance to tell MPs about their work.
Awards Night is also aimed at MPs.
Three times per year, Communications writes an MP newsletter
Comm.
Appendix 2: Health Canada's "Policy Toolkit for Public Involvement in Decision Making" Prepared by the Corporate Consultation Secretariat, Health Policy and Communications Branch, 2000.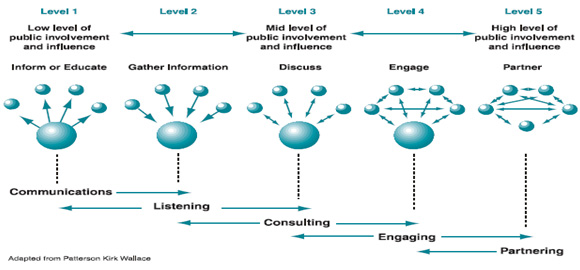 | Level | Description | When to Use | Examples |
| --- | --- | --- | --- |
| 1 | Inform or educate: Distribution of information to help the public understand the issues, the process, the options and the solutions. | A decision has already been made; there is no opportunity to influence the final outcome; the issue is relatively simple. | Conducting public awareness campaigns, web postings of public advisories or other information, etc. |
| 2 | Gather information: Collecting the public's concerns and perspectives. | Primarily to listen and gather information; policy decisions are still being shaped; no firm commitment to do anything with the views collected. | Surveys, focus groups, discussion documents for feedback (mail-out or web posting), etc. |
| 3 | Discuss: Two-way information exchange where the public discusses the policy or issue. Discussion among and with different stakeholders is encouraged. | Individuals or groups will likely be affected by the outcome; the final outcome can be influenced; input may shape policy/program decisions. | Public or town hall meetings, bilateral meetings, etc. |
| 4 | Engage: Thorough and in-depth deliberation about the policy or issues. Different perspectives are shared and parties can influence each other. Underlying values and principles are highlighted. | There is a need for citizen dialogue regarding complex, value-laden issues; there is a capacity for citizens to shape decisions that affect them. | Citizens' juries or panels, deliberative discourse, study circles, advisory committees, etc. |
| 5 | Partner: Parties share responsibility for implementing aspects of policy or program decisions. Often involves joint decision- making. | Citizens and groups agree to develop their own solutions; governing organizations assume the role of enabler; it is agreed that solutions generated by citizens will be adopted and implemented. | Public or patient representation on decision-making committees |
Appendix 3: Selecting & Implementing Effective Public Involvement Techniques
Do you have the right tools for the job? Effectively involving your stakeholders (the public), knowing what public involvement techniques exist, how to select the appropriate techniques for the situation and how to use those tools effectively may seem challenging. As a follow-up to its introductory public involvement training, Health Canada presents a new, one-day advanced course to equip you with the knowledge and skills to select and implement effective public involvement techniques.
Utilizing a different approach to traditional PowerPoint, the training will explore 10 public involvement techniques, spanning all levels of the public involvement continuum – from informing to partnering. Participants will gain answers to such questions as – Which technique is appropriate for which situation? What factors should I consider when choosing a technique? What are the strengths and weaknesses of various techniques? How do I implement the technique successfully?
Course Objectives
The training will help employees choose the most effective public involvement techniques/activities to enhance the success of their public involvement plans. Following completion of the training, participants will have the skills and tools to:
identify key considerations for selecting techniques/activities for meaningful public involvement;
determine the best techniques/activities for different public involvement circumstances; and,
describe and understand a range of techniques for public involvement.
Target Audience
This training session will be of interest to site managers from all custodial departments, communications officers and other interested parties, where space is available. Please note: ideally you have taken the Improving Stakeholder Relationships course or some introductory Public Involvement Planning training. The training will run from 8:30 a.m. – 4:30 p.m. There is no cost for this training. Participants are responsible for their own travel, accommodations and incidentals. Registration is limited, so please register early.
Appendix 4: The Toolbox for Citizen Engagement
(Source: Canada School of Public Service course "Managing the public consultation and citizen engagement process")
Method
Positives/Strengths
Negatives/Weaknesses

Advisory Committees and Boards

Selected members participate in ongoing discussions and/or decisions for a defined purpose

Good when information or technical expertise are essential to decision making processes

Can be taken over by vocal minority;
Advisors may want to become decision makers

Citizen Juries

Citizens' juries use a representative sample of voters from different constituencies. The participants are briefed in detail on a particular issue and asked to discuss possible solutions

allows participants to take a wider and more objective perspective, seeing issues from others' points of view

Conferences/Colloquiums

A large-scale meeting taking place over one or more days with a key issue or theme to be discussed through sub-topics

provide a useful forum to showcase programs, challenges and issues of the day (similar to workshops);
allows public to interact in a neutral setting with experts and opinion leaders

Some people are reluctant to speak in an open forum

Electronic democracy

Includes a variety of different Internet-based tools, including Web sites, E-mail lists, on-line chat rooms, web forums, etc.

A comparatively fast, inexpensive and logistically simple method to request and obtain information

Computers are still not accessible by all participants;
Concerns over the confidentiality, security;
Individuals may express themselves less courteously on-line than in person

Open House

A planned event that allows stakeholders to meet with staff to review and discuss specific issues

involves the entire staff of the organization;
informal discussions are normally more positive

some people will want to turn it into a public meeting;
off-track issues are brought up

Open space technology

participants offer topics and others participate according to interest

provides structure for giving people opportunity and responsibility to create valuable product or experience;
includes immediate summary of discussion

most important issues could get lost in the shuffle;
can be difficult to get accurate reporting of results

Polling

a process where trained interviewers ask a specific segment of the population a list of pre-tested questions

good for discovering perceptions;
can be cost-effective for reaching populations in wide-spread areas;
all respondents get equal weight

results can be skewed unless tracking mechanisms are firmly in place;
obtaining results can be time consumer;
participation rate can be highly dependent on interest in the subject

Public Dialogue

a structured process that allows citizens to discuss policy issues and to struggle with the inherent tensions and trade-offs

allows for interaction between government and citizens;
provides in-depth thinking from citizens;
helps to understand the range and intensity of views expressed on issues;
may provide more validity than traditional focus group.

Very expensive;
requires a facilitator trained in the public dialogue method; preparation of background discussion papers can be resource intensive

Public meeting

formal meetings with scheduled presentations offered

provides opportunity for public to speak without rebuttal;
meets legal requirements;
puts comments on record

does not foster dialogue;
creates us vs. them feeling;
may dislike public speaking

Task force

a group of experts or stakeholders formed to develop a specific product or policy recommendation

findings of a task force of independent or diverse interests will have greater credibility;
provides constructive opportunity for compromise

task force may not come to consensus or results may be too general to be meaningful;
time- and labour-intensive

Workshops

a combination of a meeting and an advisory group. Workshops attempt to achieve specific results/steps in a plan

effective when there is a tightly constrained time frame and a need for expert knowledge of a group of experts;
group work identifies areas of agreement and areas that require further work

problem needs to be carefully defined and participants well selected for their knowledge, credibility and representation;
can result in statement that stiffens other's opposition
Appendix 5:
1) Key informant meetings occurring between May 2007 and August 2008:
Mary Pat MacKinnon, former Director of Civic Engagement for the Canadian Policy Research Networks, Senior Fellow with the University of Ottawa's Graduate School of Public and International Affairs and now a Director with Ascentum Professional Services
Beth Allan, Facilitation Expert and Facilitator for May 2008 Consensus-Building Workshop with CIHR Staff
Amanda Sheedy, University of Toronto and Canadian Policy Research Networks
Sylvie Cantin, Former Director of Public Involvement at the Office of Consumer and Public Involvement, Health Products of Food Branch, Health Canada.
Natasha Manji, Senior Communications Advisor, Public Health Agency of Canada
Joseph Peters, President, Ascentum Professional Services
Wendy Atkin, Senior Risk Communications & Public Involvement Officer, Safe Environments Programme, Healthy Environments and Consumer Safety Branch, Health Canada
Kim Hannah, Consultation Policy Advisor, Health Canada, Policy Coordination
Connie Berry, Senior Policy Research Analyst, Office of the Voluntary Sector, PHAC
Stephanie Mehta, Senior Policy Analyst, Public Health Agency of Canada, HIV/AIDS Policy, Coordination and programs division
Cathy Clutton, Executive Director of the Health Evidence and Advice Branch, Australia's National Health and Medical Research Council
Hala Patel, Public Involvement & Consultation Officer, UK Medical Research Council
Francois-Pierre Gauvin, PhD, McMaster University in the Health Research Methodology
Roger Chafe, CHSRF-CIHR post-doctoral fellow in the Department of Health Policy, Management and Evaluation at the University of Toronto and the Cancer Services and Policy Research Unit at Cancer Care Ontario.
2) Consultations on the draft CE Framework:
Members of the CE Working Group: Andrea Wilson, Research Portfolio, Susan Crawford, AssistantDirector of the Institute of Aging, Michelle Gagnon, Acting Director of KSE Branch, Christian Riel and Andrew McColgan, Communications and Marketing Branch,
Ian Graham, VP, Knowledge Translation Portfolio
Partnerships and Citizen Engagement team
5 of CIHR`s community reviewers serving on Peer Review Panels
Meeting of the Knowledge Exchange Task Force (IMHA) – Sept 25, 2008
Meeting of the IAB members who represent the voluntary and NGO sectors - October 28, 2008
3) Survey participants for CIHR`s internal scan – December 2007 - April 2008:
| | |
| --- | --- |
| IA | Susan Crawford |
| IAPH | Cynthia Stirbys, Earl Nowesgic |
| ICR & III | Benoit Lussier, Judith Bray |
| ICRH | Ilana Gombos |
| IG | Ursula Danilczyk , Stephanie Robertson, |
| IGH | Louise Robert |
| IHDCYH | Anne-Cecile Desfaits |
| IHSPR | Ellen Melis |
| HIV/AIDS Initiative | Jennifer Gunning, Andrew Matejcic |
| IMHA | Elizabeth Robson , Louise Desjardins |
| INMD | Paul Bélanger |
| INMHA | Barb Beckett, Astrid Eberhart, Richard Briere |
| IPPH | Fiona Webster, Erica DiRuggiero |
| Marketing and Communications | Angela Prokopiak, Christian Riel, Andrew McColgan, Karen Spierkel |
| Ethics Office | Genevieve Dubois-Flynn |
| KSE | Michelle Gagnon |
| Research Portfolio | Andrea Wilson, Danika Goosney |
Appendix 6: Glossary of terms
Advisory Committee (or board, or group, etc.): Committee composed of representatives of stakeholder groups. May be charged with different responsibilities, ranging from overall governance of the project to feedback on critical issues referred to it.
Citizen: An individual Canadian who is neither a delegate nor a representative of any government, organization, association or interest group.
Citizen engagement: For CIHR, citizen engagement is the meaningful involvement of individual citizens in policy or program development, from agenda-setting and planning to decision-making, implementation and review. It requires two-way communication that is interactive and iterative with an aim to share decision-making power and responsibility for those decisions. This requires bringing together a diverse group of citizens that includes the broader public, not just the usual stakeholders for ongoing dialogue, deliberation and collaboration in informing CIHR`s work.
Community: The term community delineates a wide variety of human associations, with no single set of defining criteria appropriate to all types. Characteristics of particular importance or relevance to communities in biomedical research can be identified and used to delineate types of communities (see Table A). Communities may be arrayed along a spectrum of cohesiveness, from those that have all the characteristics to those that have only a few. In this tutorial, we broadly use the term community in this sense to encompass any identifiable or self-identifying group interested in or impacted by a particular research study.
Community Based Research: A particular flavour of Participatory Research (see below) where the principal study focus is within a given defined community.
Communications: The techniques that inform the public about policies, programs and services.
Consultations: The techniques involving a two-way flow of information that offers options for consideration and encourages feedback, such as additional ideas or options, from the public.
Continuum of public involvement: The full range of public involvement in issues of public concern. This document refers to five levels of public involvement and pinpoints an array of public involvement techniques along a continuum. Communications techniques are at the "low end", consultation is in the "mid range" and citizen engagement is at the "high end" of the public involvement continuum.
Dialogue: Dialogue is a process that allows people, usually in small groups, to share their perspectives and experiences with one another about difficult issues we tend to just debate about or avoid entirely. Dialogue is not about winning an argument or coming to an agreement, but about understanding and learning. Dialogue dispels stereotypes, builds trust and enables people to be open to perspectives that are very different from their own. Dialogue can, and often does, lead to both personal and collaborative action.
Deliberation: Deliberation is a closely related process with a different emphasis. Deliberation emphasizes the use of logic and reasoning to make better decisions. Decisions about important public issues like health care and immigration are too often made through the use of power or coercion rather than a sound decision-making process that involves all parties and explores all options.
Dialogue and deliberation processes tend to use skilled facilitators and carefully constructed ground rules or agreements to ensure that all participants are heard and are treated as equals.
Dialogue often lays the groundwork for deliberation. The trust, mutual understanding and relationships that are built during dialogue enable participants to deliberate more effectively, and to make better decisions. For groups that want to move from talk to a decision or action.
Dialogue and deliberation are used for a variety of reasons: to resolve conflicts and bridge divides; to build understanding about complex issues; to foster innovative solutions to problems and launch action; and to reach agreement on or recommendations about policy decisions.
Governance: The set of processes and traditions that determine how a society or organization steers itself, how citizens are accorded a voice on issues of public concern and how decisions are made on these issues.
Integrated knowledge translation: An approach to research that weaves knowledge translation activities throughout the research process and that involves knowledge users and others affected by the envisioned results at key stages of the project. Partnerships of researchers and integrated knowledge users actively engage in designing, conducting and disseminating research and assuring its translation to action.
Involvement: The level of participation by the public, or the extent to which the public is actively involved, in understanding, assessing or resolving issues of public concern.
Participatory Research: An approach to research using a partnership between researchers and those impacted by envisioned results, for the purpose of educating, taking action or building capacity to address current and future issues. PR is used as an umbrella term which includes action research, participatory action research, collaborative action research, community-based PR, community-partnered PR, cooperative action research, emancipatory research, participatory rural appraisal, and participatory evaluation.
Partner: An individual, group or organization who participates in, or is responsible for, sharing responsibility for the implementation of various aspects of policy or program decisions.
Partnerships: For CIHR, partnerships are formalized working relationships between two (or more) organizations with separate identities and independent accountabilities. They are based on mutual benefit and a clear understanding or agreement that sets out the shared goals, objectives, and terms of the arrangement.
Public: Individuals, consumers, citizens, special interest groups and/or stakeholders.
Public involvement techniques: A broad range of strategies and methods used to inform citizens and/or accord them a voice on issues of public concern and/or include citizens in decision-making processes related to these issues.
Stakeholder: An individual, group or organization having a "stake" in an issue and its outcome.
Date modified: