Pathways Annual Gathering 2016: Road to reconciliation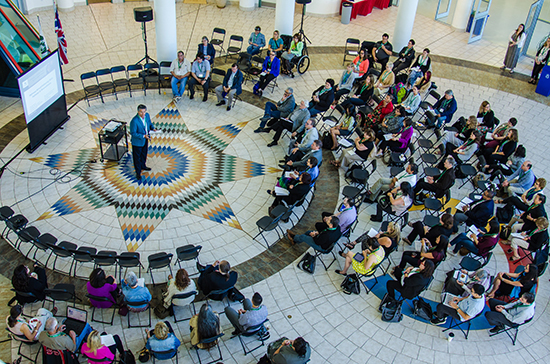 Dr. Mark Dockstater, President of First Nations University of Canada, welcomes all PAG participants.
In June 2016, the Canadian Institutes of Health Research (CIHR) and the National Association of Friendship Centres (NAFC) hosted the second Pathways Annual Gathering (PAG) at First Nations University in Regina. The goal of the event was to motivate participants, including Indigenous Peoples (First Nations, Inuit, Métis and Urban Indigenous), health researchers, students, and policy makers to begin reconciling their differences by sharing knowledge.
Numerous health inequities exist between Indigenous (First Nations, Inuit, Métis and Urban Indigenous) and non-Indigenous peoples in Canada and are an important focus for CIHR. Poor health arises from a variety of factors including poverty, lack of education, culture loss, inadequate living conditions, exposure to trauma and violence, and lack of social support and resources. Many of these factors and conditions are particularly pronounced among Indigenous peoples, and efforts must be made to address them effectively.
The Pathways to Health Equity for Aboriginal Peoples (or "Pathways") signature initiative aims to develop the evidence base in how to design, offer, and implement programs and policies that promote health and health equity in four priority areas: suicide prevention, tuberculosis, diabetes/obesity and oral health.
"Increasing our understanding of Indigenous health is all about social relationships," said Dr. Malcolm King, Scientific Director of the CIHR-Institute of Aboriginal Peoples' Health (CIHR-IAPH). "We need to reset these relationships. If researchers educate themselves about Indigenous historical trauma, as well as respect their traditions, it will help us realize what we need to do to improve things together."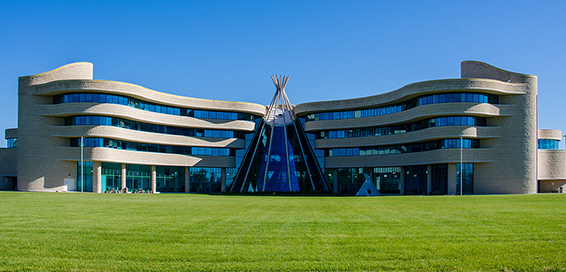 First Nations University of Canada, the primary location for 2016 Pathways Annual Gathering.
In 2008, the Government of Canada created the Truth and Reconciliation Commission of Canada. In 2015, the commission issued 94 calls to action that will help improve the lives of Indigenous peoples, including an analysis of the negative impact of the residential school system and the identification of current health and wellness gaps that must be closed.
Indigenous survivors of the residential school system explained to this year's PAG participants how this abuse caused some of their schoolmates to commit suicide and triggered their own post-traumatic stress disorders. To open a dialogue on these issues, Pathways' Partners for the Engagement of Knowledge Exchange (PEKEs) organizations moderated discussions between researchers and Indigenous Peoples.
Such conversations between researchers and Indigenous peoples can be stressful – but also rewarding.
"You have Indigenous community members who might feel like they're being used," said Christopher Sheppard, Vice-President of NAFC, "or researchers who feel like they're getting misunderstood. They don't tend to sit down and want to talk to each other because they have their own needs. When these conversations happen though, there are really cool partnerships that can be built out of sharing knowledge."
Of course, clear communication is vital when working on such sensitive issues.
"Usually, when Elders speak to researchers they use their native Indigenous tongue where the same words can have different meanings," said Cindy Piche, an Anishinaabe from Wauzhushk Onigum First Nations who works for Kenora Chiefs Advisory. "Because English is their second language, I feel that their Indigenous traditions and teachings can be misinterpreted by researchers. And the value of science conducted by the researchers can be misunderstood by Elders."
CIHR is taking steps to bridge this divide through the Indigenous Mentorship Network Program - an initiative that seeks to build capacity among emerging Indigenous health researchers. Through face-to-face meetings, events and Web-based tools, trainees and early-career investigators will exchange information and break down barriers that prevent First Nations, Inuit, Métis and Urban Indigenous trainees from establishing their respective careers in Indigenous health research.
The 2016 PAG also featured a presentation by a research team demonstrating how Indigenous Elders have helped 44 Indigenous community members seek treatment for various mental health problems (such as suicide, drug/alcohol abuse, depression, and anxiety) through their Vancouver Indigenous Elders Partnership Program (affiliated with University of British Columbia). One of the elders, Roberta Price helped an Indigenous cancer patient seek treatment at a Canadian hospital.
"I realized that she wouldn't go to the hospital for cancer treatments because she was scared of the staff," Elder Price noted.
Through the simple act of accompanying the patient and assisting her through the process, the Elder was able to help her receive the care she needed and reduce her anxiety.
CIHR Scientific Director Dr. Malcolm King, who is a member of the Mississaugas of New Credit First Nation, also noted that researchers and Indigenous Peoples must seek to understand themselves first, in order to achieve reconciliation.
"If you don't understand yourself or where you come from," said Dr. King, "it's going to be a lot more difficult to understand how other people feel. So I encourage everyone to think about that and bring that kind of practice to what they're doing."
Links:
Date modified: