ICR Scientific Director: Dr. Stephen Robbins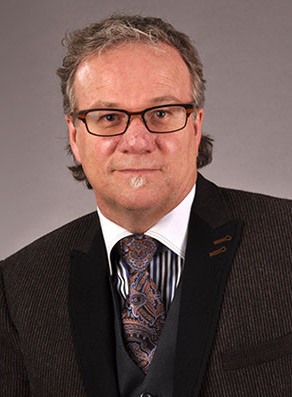 Dr. Stephen Robbins completed his undergraduate degree at York University in 1985 in Toronto and then completed his PhD in 1991 at the University of British Columbia in the Department of Microbiology and Immunology. He then obtained his love for cancer research while pursuing his postdoctoral studies (1991-1996) under Nobel laureate, Dr. J. Michael Bishop at the University of California at San Francisco. During this time he was involved in the biochemical characterization of the Src-family tyrosine kinases and was able to demonstrate their role in compartmentalized signaling, a feature that helps define specificity to a given extracellular cue. He joined the University of Calgary in 1996 where he is now a Professor in the Departments of Oncology and Biochemistry and Molecular Biology. He has just finished his final term as a Scientist of the Alberta Innovates Health Solutions (formerly know as the Alberta Heritage Foundation for Medical Research) and held a prestigious Canada Research Chair in Molecular Genetics of Cancer for 10 years. He also has just completed his term as the Director of the Southern Alberta Cancer Research Institute, one of seven Institutes within the Faculty of Medicine at the University of Calgary and was the Associate Director Research for Alberta Health Services Cancer Care.  In addition to serving as the Scientific Director of ICR he is the current Co-chair of the Canadian Cancer Research Alliance and serves on many advisory boards.
Dr. Robbins has had a long-standing interest in understanding the biochemical circuitry that controls cellular proliferation and differentiation and how this circuitry goes awry in cancer. During his research career he has taken a more translational approach including defining new therapies for malaria, has discovered a novel class of anti-inflammatory agents and identified new therapeutic targets for brain tumours. In addition to maintaining a productive research program he is also committed to teaching and has won several awards with respect to these activities at the University of Calgary. His expertise is recognized nationally as he serves and has chaired several national grant panels including the National Cancer Institute of Canada, Cancer Research Society and the Canadian Institutes of Health Research.
Date modified: