IYS-Net aims to build a healthy future for Canada's youth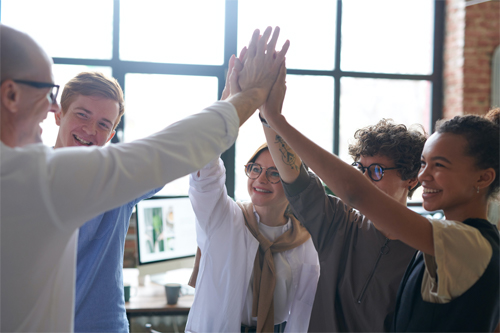 The evidence is growing: Canada's youth are best positioned for a healthy future when they're in the driver's seat. They want mental, physical and social care tailored to their specific needs in an approachable setting, but that's unfortunately not the reality for many. The effects are dire: mental health problems account for half of the disease burden in children and young adults. There's an urgent need to transform how mental, physical and social wellness services are delivered to youth in Canada, and they should be the ones leading the way.
In Canada, these types of services have historically been fragmented, inequitable and inaccessible. Significant barriers relate to age criteria, with little consideration for the impact on individuals as they transition between services designated for minors and those designated for adults. Varied funding sources lead to additional fragmentation, compounding the issue, and culturally appropriate care for diverse communities is often limited or nonexistent. As a result, many of Canada's youth – especially those from low socioeconomic backgrounds or marginalized communities – are not receiving the support they need.
This creates turbulence for youth and caregivers in navigating services when they need them the most. Adolescence is a period of significant physical, emotional, and social development, and the complications that arise from each are thoroughly intertwined. Services across these spheres should be seamless and holistic, and the barriers created by existing siloes must be dismantled.
Addressing gaps, breaking barriers
One solution is Integrated Youth Services (IYS), where mental health, substance use health, primary care, peer and family support, sexual health, social services, and culturally specific supports are made available to all youth behind a single door. The model has been implemented in jurisdictions across the globe, and over a decade of growing evidence is showing the approach can work.
Here in Canada, the Canadian Institutes of Health Research (CIHR) together with philanthropic partner the Graham Boeckh Foundation (GBF) have been investing in IYS for more than a decade. In 2012, through the Strategy for Patient-Oriented Research (SPOR), CIHR and GBF developed a pan-Canadian research-to-practice network to mobilize research innovation and catalyze youth mental health care. Four years later, ACCESS Open Minds (ACCESS OM) was up and running as Canada's first network of IYS hubs.
Within a few short years, ACCESS OM established itself as a clear proof of concept with locations throughout Canada. Critically, the network also found unprecedented success in establishing sites in Inuit and First Nations communities. Growing evidence reflected positively on ACCESS OM's IYS model: youth were receiving effective care in settings urban and rural, in-person and virtual. And youth from marginalized backgrounds were benefitting from urgently needed support as well – when, where and how they needed it.
Tailor-made for youth and communities
Building on the learnings from ACCESS OM, GBF embarked on a journey to co-develop and co-fund IYS initiatives with a number of Canada's provincial governments, often working collaboratively with local champions. This approach facilitated a whole-of-government and whole-of-community approach that has been instrumental in the development of the IYS model.
IYS initiatives have taken root across the country. Pioneered by British Columbia's Foundry and Youth Wellness Hubs Ontario (YWHO) (and closely followed by Quebec's Aire ouverte (AO) and Manitoba's Huddle), these established provincial networks are providing youth with holistic mental, physical and social wellness services in age-friendly settings. Services are culturally relevant, adapted to local contexts and are seamlessly available to individuals regardless of their initial reason for walking in the door. Youth are consulted through all stages; not just on what services are offered, but also how they're delivered to their peers.
"The needs of Canada's youth for high-quality mental health and substance use supports are enormous" said Ian Boeckh, President of the Graham Boeckh Foundation.
"And, with IYS spreading rapidly across the country, we are delighted to be working with CIHR and our partners in the IYS movement to ensure the best possible outcomes for our youth."
Knowledge to practice and back again: The learning health system
Evidence from ACCESS OM and provincial IYS initiatives is generated through a learning health system (LHS) approach that sits at the core of IYS networks. A LHS depends on a measurement-based care approach to service delivery where data and feedback are used to identify, evaluate and inform best practices. This cycle of data and evaluation helps build and test new services and provides direction for continuous improvement, so youth and families receive the best care possible.
To optimize the data-generating LHS approach of these networks, CIHR, GBF and other philanthropic partners have embarked on the next chapter of IYS in Canada: the 'Integrated Youth Services Network of Networks (IYS-Net)'. Canada has the research capacity to be a global leader in youth mental health research and learning health systems, and a talented, holistic youth care workforce. Ultimately, IYS-Net will position researchers and service providers to more effectively and continuously build on each other's successes.
IYS-Net: A phased approach
The preliminary phase of IYS-Net, funded in 2022, will help inform pan-Canadian IYS standards, or best and wise practices for delivering IYS. This initial phase involves research teams from Foundry, YWHO and Aire ouverte, in addition to an Indigenous network drawn from ACCESS OM sites in First Nations and Inuit communities where research and service delivery are guided by a well-established Indigenous Council.
The next phase that is set to be funded by the end of 2023 will expand IYS-Net to a grander scale. As of May 2023, over 100 IYS community sites exist or are in development across Canada and networks are emerging or established throughout the country. Phase 1 will create a pan-Canadian network of networks – aiming to link all provincial, territorial, and Indigenous IYS networks and facilitate insightful data sharing between them.
Fitting solidly within the framework of the Federal/Provincial/Territorial bilateral health agreements announced February 2023, the initiative is reflective of exceptional collaboration between the 14 governments and Indigenous communities involved. This collaborative effort will continue for years to come as provinces and territories measure, report and share on common indicators.
"To see thirteen provinces and territories and Indigenous communities agree to make IYS and the learning health system a priority and a partnership, is a glimmer of light that shows when individuals, families, decision makers, researchers and physicians all work collaboratively, healthcare can be transformed," said Dr. Samuel Weiss, Scientific Director of CIHR's Institute of Neurosciences, Mental Health and Addiction (INMHA).
"There is still tons of work to be done, but when completed not a single youth between the ages of twelve and twenty-five in this country will be left without access to the health and social services they need for a bright, successful and healthy future. When young people are well cared for, all of society reaps the benefits."
More information on the IYS-Net initiative is available via the CIHR website. For more on the history of the Integrated Youth Services concept, visit the GBF website.
Date modified: