Infographic: What is clinical research?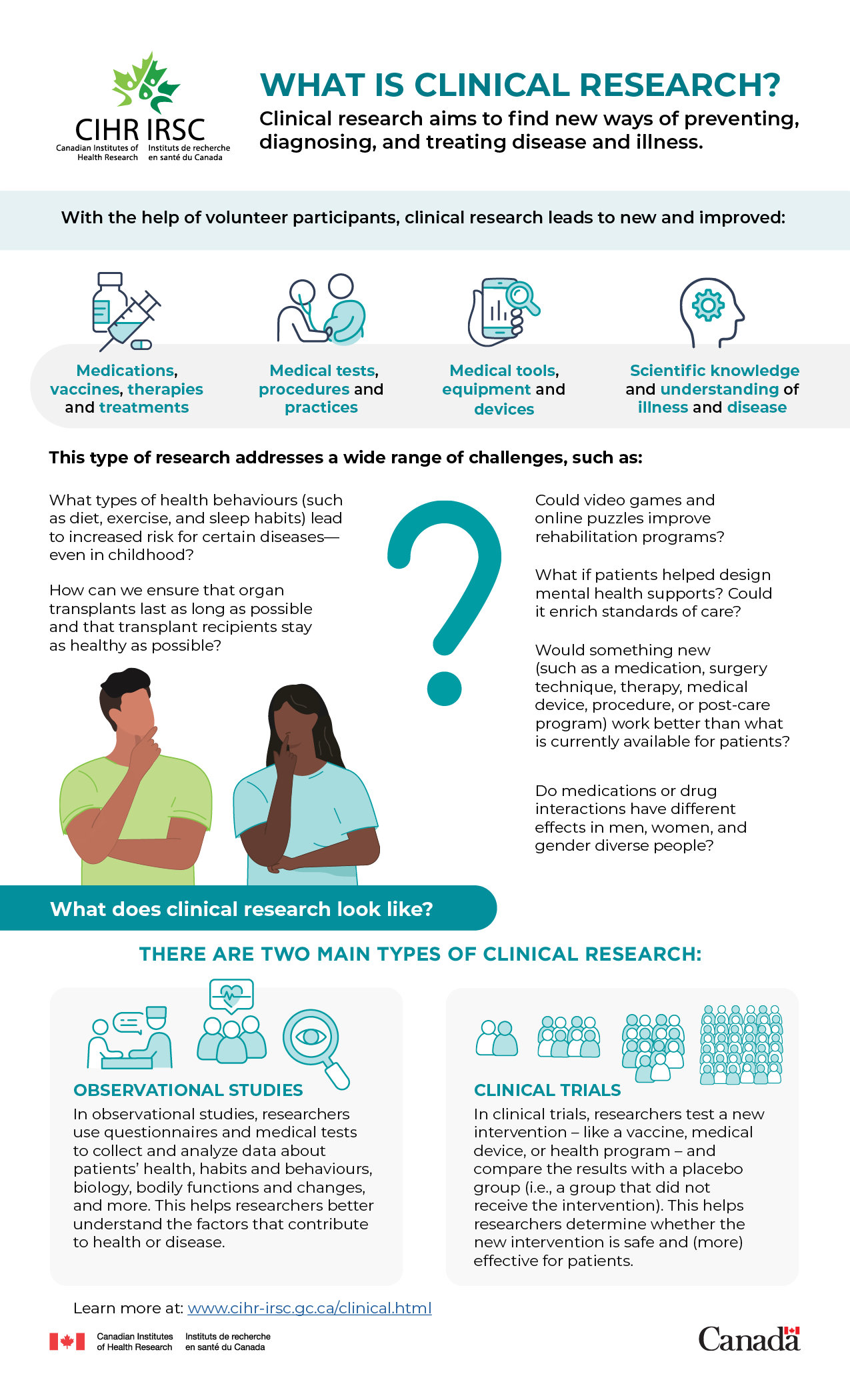 Long description

Clinical research aims to find new ways of preventing, diagnosing, and treating disease and illness.

With the help of volunteer participants, clinical research leads to new and improved:

Medications, vaccines, therapies and treatments
Medical tests, procedures and practices
Medical tools, equipment and devices
Scientific knowledge and understanding of illness and disease

This type of research addresses a wide range of challenges, such as:

What factors can lead to increased risk for certain diseases—even in childhood?
How can we ensure that organ transplants last as long as possible and that transplant recipients stay as healthy as possible?
Could video games and online puzzles improve rehabilitation programs?
What if patients helped design mental health supports? Could it enrich standards of care?
Would something new (such as a medication, surgery technique, therapy, medical device, procedure, or post-care program) work better than what is currently available for patients?
Do medications or drug interactions have different effects in men, women, and gender diverse people?

What does clinical research look like?

There are two main types of clinical research:

Observational Studies

In observational studies, researchers use questionnaires and medical tests to collect and analyze data about patients' health, habits and behaviours, biology, bodily functions and changes, and more. This helps researchers better understand the factors that contribute to health or disease.

Clinical Trials

In a clinical trial, researchers might compare a new drug to a placebo, or to a drug already used to treat a condition (a comparator) if one exists.

Learn more by visiting the Clinical research webpage.
Date modified: