Infographic: What is biomedical research?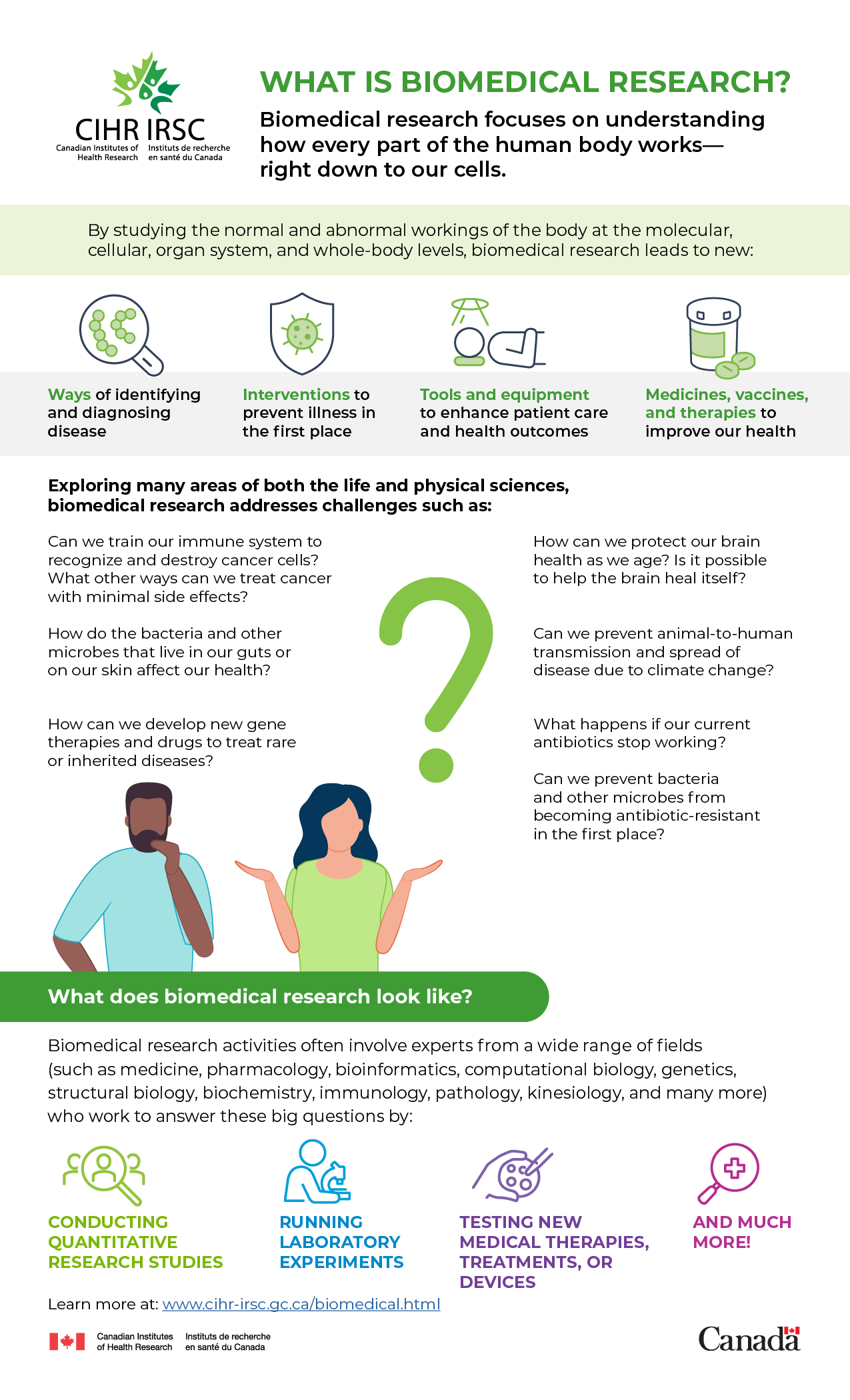 Long description

Biomedical research focuses on understanding how every part of the human body works—right down to our cells.

By studying the normal and abnormal workings of the body at the molecular, cellular, organ system, and whole-body levels, biomedical research leads to new:

Ways of identifying and diagnosing disease
Interventions to prevent illness in the first place
Tools and equipment to enhance patient care and health outcomes
Medicines, vaccines, and therapies to improve our health

Exploring many areas of both the life and physical sciences, biomedical research addresses challenges such as:

Can we train our immune system to recognize and destroy cancer cells? What other ways can we treat cancer with minimal side effects?
How do the bacteria and other microbes that live in our guts or on our skin affect our health?
How can we develop new gene therapies and drugs to treat rare or inherited diseases?
How can we protect our brain health as we age? Is it possible to help the brain heal itself?
Can we prevent animal-to-human transmission and spread of disease due to climate change?
What happens if our current antibiotics stop working? Can we prevent bacteria and other microbes from becoming antibiotic-resistant in the first place?

What does biomedical research look like?

Biomedical research activities often involve experts from a wide range of fields (such as medicine, pharmacology, bioinformatics, computational biology, genetics, structural biology, biochemistry, immunology, pathology, kinesiology, and many more) who work to answer these big questions by:

Conducting quantitative research studies
Running laboratory experiments
Testing new medical therapies, treatments, or devices
And much more!

Learn more by visiting the Biomedical research webpage.
Date modified: