Infographic: Research for a healthier Canada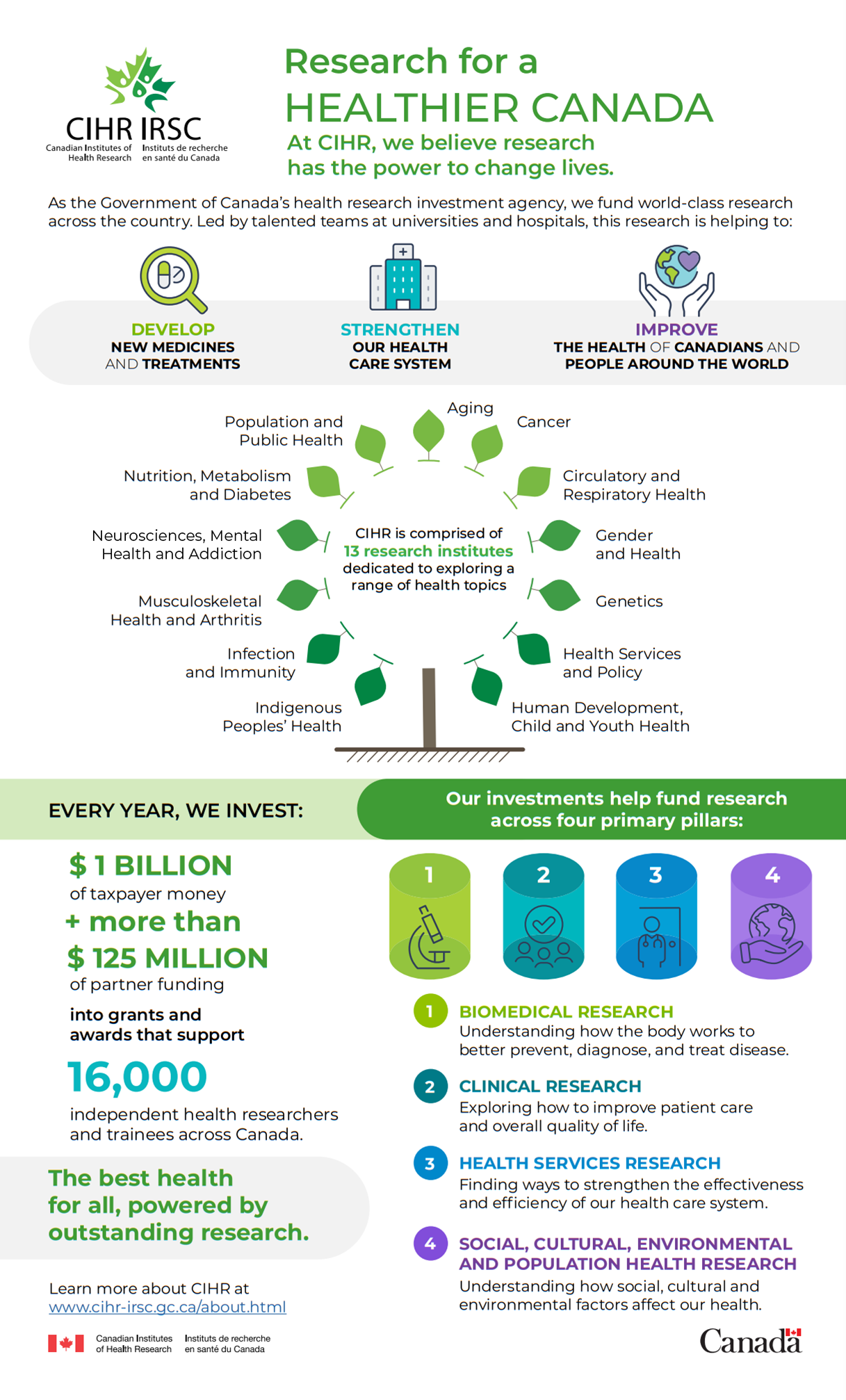 Long description

At the CIHR, we believe research has the power to change lives.

As the Government of Canada's health research investment agency, we fund world-class research across the country. Led by talented teams at universities and hospitals, this research is helping to:

develop new medicines and treatments
strengthen our health care system
improve the health of Canadians and people around the world

CIHR is comprised of 13 research institutes dedicated to exploring a range of health topics:

Aging
Cancer
Circulatory and Respiratory Health
Gender and Health
Genetics
Health Services and Policy
Human Development, Child and Youth Health
Indigenous Peoples' Health
Infection and Community
Musculoskeletal Health and Arthritis
Neuroscience, Mental Health and Addiction
Nutrition, Metabolism and Diabetes
Population and Public Health

Every year, we invest $1 billion of taxpayer money + $200 million of partner funding into grants and awards that support 15,000 independent health researchers and trainees across Canada.

Our investments help fund research across four primary pillars:

Biomedical Research

Understanding how the body works to better prevent, diagnose, and treat disease.

Clinical Research

Exploring how to improve patient care and overall quality of life.   

Health Services Research

Finding ways to strengthen the effectiveness and efficiency of our health care system.

Social, Cultural, Environmental and Population Health Research

Understanding how social, cultural and environmental factors affect our health.

The best health for all, powered by outstanding research.

Learn more by visiting the About us webpage.
Date modified: