Surging ahead: How an innovative digital platform is helping reduce emergency room wait times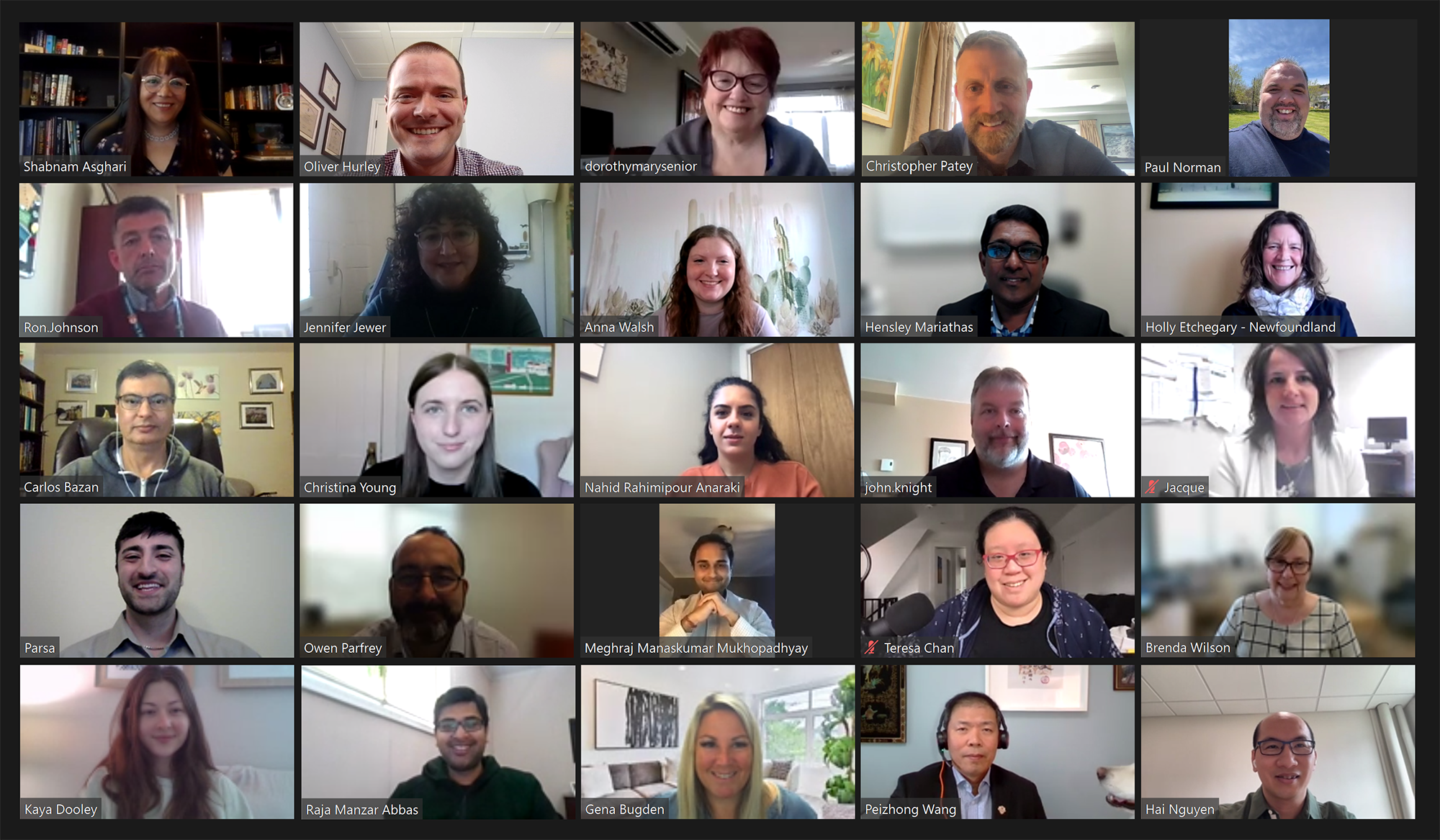 Lengthy wait times and overcrowding are challenges for hospital emergency departments (EDs) around the world, and Canada is no exception. However, this challenge is particularly felt in rural communities across the country by both patients and health care providers alike.
"When you're in pain, every minute is important," says Dr. Shabnam Asghari, a professor of family medicine and Research Director of the Centre for Rural Health Studies at Memorial University of Newfoundland (MUN). "But wait times are also a concern for health care providers. With every minute saved, we can provide better service to all patients and, hopefully, improve health outcomes. Ultimately, shorter wait times would be better for everyone."
It was partly with this goal in mind that Dr. Asghari teamed up with Dr. Chris Patey and Mr. Paul Norman, a dynamic duo working at Carbonear General Hospital, which serves Newfoundland and Labrador's southeastern coast. The pair have been working together for years to address ED wait times at Carbonear specifically, where patients have sometimes had to wait hours to see a doctor.
"Like a lot of other places, our volume of patients was increasing but our resources were not," says Mr. Norman, a registered nurse and patient flow coordinator for the ED at Carbonear. "We knew we needed to try something different."
Together, Mr. Norman and Dr. Patey focused on "surges" (when a sudden influx of patients arrives in the ED, sometimes exceeding the ED's capacity) and "patient flow" (how patients move through the system, from triage to treatment). Initially, the pair tracked these elements manually, sticking bits of paper onto a hallway glass window. They were surprised to find they could identify trends and, to a certain extent, predict small surges throughout the day. To take it a step further, they also identified specific factors that make the ED particularly busy and matched them with appropriate actions to address the issue. Overall, they wanted to see if they could effectively manage a surge before it became a problem – and even with this manual system, the results were promising.
"There is no immediate cure for ED backlogs and surges, but there are ways to align your resources to respond to a surge in the best way possible," explains Dr. Patey, site clinical chief for the ED at Carbonear General Hospital, professor of family medicine at MUN, and graduate of the Centre for Rural Health Studies' 6for6 program designed to train rural physicians in conducting community-based health research. "This system has always been about maximizing efficiency without sacrificing quality care."
The system, which grew to become a multi-component quality improvement intervention known as SurgeCon, became a labour of love. And now it might just have the potential to revolutionize ED management across the country.
SurgeCon in action
The research team began with a proof-of-concept study of SurgeCon to assess the impact of fully implementing it at Carbonear General Hospital between 2013 and 2017.
"A lot of research focuses on EDs in urban centres, which is important, but it might not be applicable to the needs and realities of smaller, rural EDs," explains Dr. Patey. "Rural EDs are also ideal places to try out innovative approaches to quality improvement. They're agile – and, sometimes, they're the only option people may have for care, so improvements in the ED can actually have an impact on the whole community."
For this study, SurgeCon was implemented as a large initiative with seven pieces that ranged from completing a comprehensive independent assessment of the ED (to formally quantify performance and identify improvement issues) to using the action-based surge capacity protocol designed by Mr. Norman and Dr. Patey. The results were extraordinary: average wait times in the ED dropped from 104 to 42 minutes, and the total time patients spent in the ED – from the time they arrived, to the time they were admitted or discharged – decreased from 199 to 134 minutes. These results were achieved despite an overall increase in patient volume of about 25%, and without any additional staff.
This success, along with additional grant funding in 2018, led Dr. Patey and Mr. Norman to upgrade the surge capacity protocol by turning it into a mobile app, appropriately named SurgeCon (software platform designed by MOBIA Technology Innovations). This development coincided with Eastern Health's innovation strategy and the relationship building with innovative partnerships to bring value to patients, clients, the health system and the provincial economy. These partnerships support Eastern Health as a Living Lab, building a culture of innovation, stimulating innovative thinking and fostering research to improve health services and products.
The app builds on the manual system and gives it the power of real-time surge protocol algorithms to better manage patient flow and ED capacity. As ED staff enter data throughout the day about patient numbers and available resources, the app identifies five different surge levels (from "not busy" to "overwhelmed"). When the threshold of each level is reached, the app notifies key staff, including administrators, and assigns tasks to ease pressure points.  
With the app ready to go, the research team launched a more comprehensive study across Newfoundland and Labrador in January 2021 to test SurgeCon as a quality improvement initiative in a mix of urban and rural EDs. By partnering with Eastern Health, the largest health authority in the province, the team has been able to enroll four sites that reflect the diversity of hospitals across Canada. For the purposes of the study, the SurgeCon initiative involves restructuring ED organization and workflow, establishing a patient-centred ED environment, and using the SurgeCon app for action-based ED management. The team will assess the impacts of implementation (on wait times, patient satisfaction, costs, etc.), as well as challenges that arise along the way.
"We want SurgeCon to work well in a wide variety of EDs, so we need to take these steps to see if the positive impacts from Carbonear are reproducible in other places," explains Dr. Asghari, underscoring the potential of such research to empower rural health care practitioners to address challenges unique to rural settings. "And that's the beauty of this project: we can prioritize rural and remote health care transformation while we also learn about urban health care needs. This study will help us identify additional factors that we may need to consider for hospitals in Montreal or Vancouver, for example, so this research will make us better prepared to expand."
Finding silver linings
As was the case for many people with the best laid plans, the COVID-19 pandemic forced the research team to adapt to a new challenge.
"The pandemic has profoundly impacted the study," explains Oliver Hurley, research coordinator for the Centre for Rural Health Studies and SurgeCon project manager. "As non-essential personnel, our team couldn't visit any of the selected hospitals, which delayed the coaching and training components we had planned to help the sites implement SurgeCon. Plus, many staff at the first hospital we enrolled in the study were facing burnout and resourcing issues. But, amazingly, everyone was still keen to make this work."
As the team worked through the pandemic, they were faced with yet another unexpected setback: the entire health care infrastructure in the province was brought to a standstill after a cyberattack in November 2021. It came in the midst of a key implementation period, disrupting all research operations.
"When you look at how stressful the first year of the pandemic and the cyberattack has been for this research and implementation, I have no doubt that Eastern Health and the participating clinicians could easily have given up on the project on multiple occasions," says Mr. Hurley. "But they stuck with us because I think they really believe in what we're doing."
And they aren't the only ones.
In September 2020, MOBIA received federal funding through an Innovative Solutions Canada grant, making the SurgeCon app available for other Canadian hospitals to pilot. A year later, Horizon Health Network took them up on the offer and began rolling out the app to seven hospitals across New Brunswick—a move that is also benefitting the study in Newfoundland and Labrador, as the research team can help ensure that lessons learned from either province will ultimately improve the app for both. To this end, the Atlantic Canada Opportunities Agency invested in MOBIA in July 2021 to support their continued collaboration with SurgeCon Innovations Inc. to develop "SurgeCon 2.0" as their next generation software.
"It's exciting, it's humbling, it's exhausting – it's a lot of things," says Mr. Norman, the registered nurse at Carbonear. "But I think this whole project really shows the incredible power of research and collaboration. The SurgeCon future looks bright."
The SurgeCon study in Newfoundland and Labrador is supported by the Strategy for Patient-Oriented Research (SPOR), Government of Newfoundland and Labrador, Eastern Health, Memorial University of Newfoundland, and Trinity Conception Placentia Health Foundation. Researchers in this study are also collaborating closely with patient partners, who are members of the public that volunteer their time to be part of the research team.
Date modified: