Aging in place: How an at-home rehabilitation program may increase mobility and extend the lives of hip fracture patients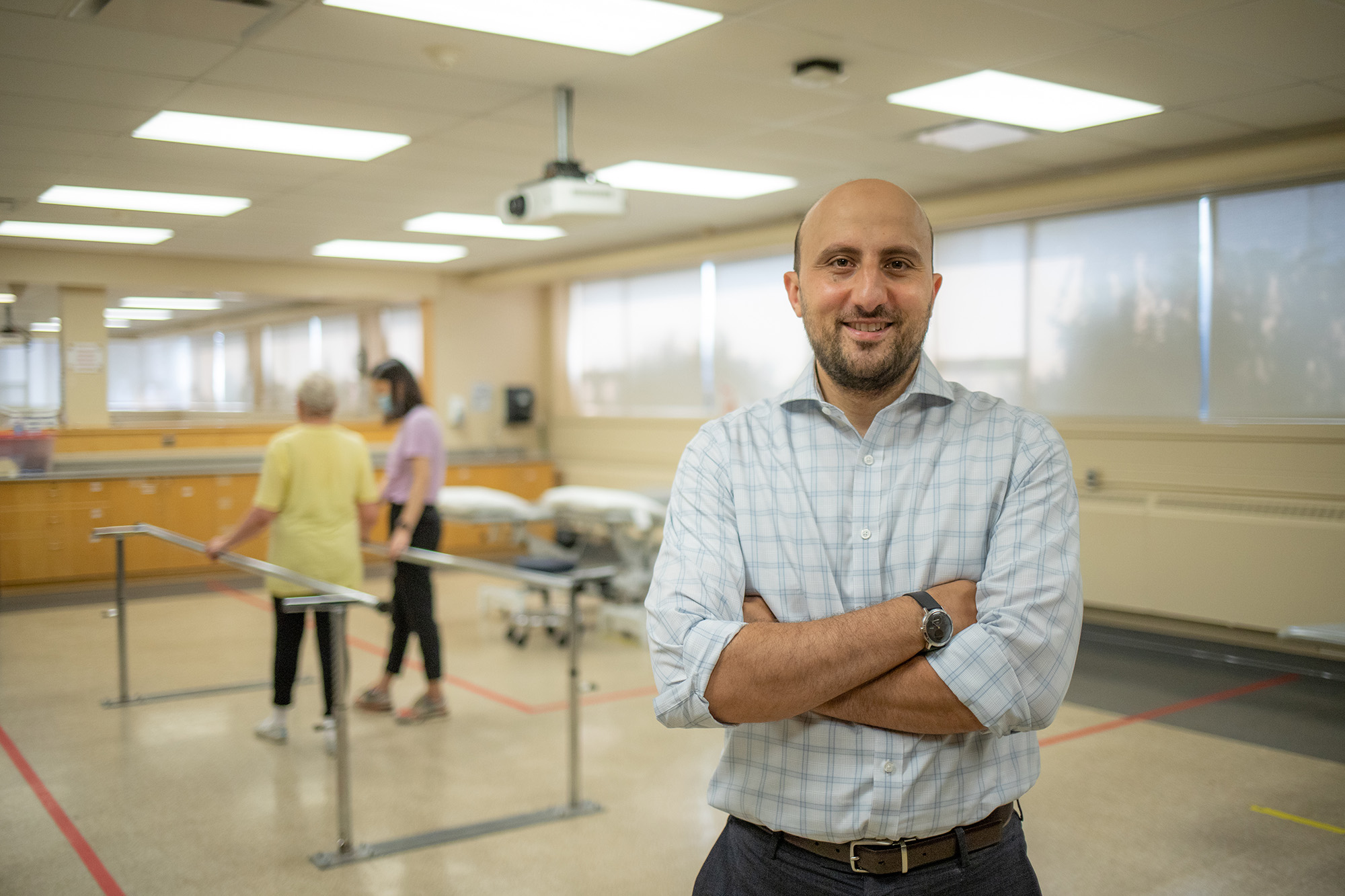 It can happen in a split second but can result in a lifetime of pain and debilitation. On average, one hip fracture occurs every 15 minutes in Canada. For the young and healthy, it may equate to nothing more than a broken bone – but for an aging population, slipping on the ice or falling out of bed can be devastating.
"A hip fracture for an older person can result in a permanent disability. It means they may never take care of themselves again, go for groceries, or live independently," explains Dr. Mohammad Auais, a physical therapist and researcher at Queen's University. "And for the frailest patients, a hip fracture can result in death due to complications, such as pulmonary embolism, infections, or heart failure."
With the world's population living longer, Dr. Auais predicts hip fractures will become a major global health problem in the coming decades. Typically, seniors who break a hip have surgery in hospital and then receive intensive physical therapy at a rehabilitation centre for weeks or even months. Most make significant improvements in their mobility in that time, and some even get close to moving like they did before the hip fracture. Dr. Auais says it's when those patients go home, oftentimes without enough support, that they begin to regress.
In 2008, Dr. Auais had an idea. "It really struck me that there was this gap in support for patients, especially because the stats tell us that up to 70% of them don't recover to their pre-facture level one year after their injury," he says. "That's seven out of 10 people who won't be able to do the same activities they could do pre-fracture. So, I wanted to create a new program that targets the aging population after a hip fracture and helps them recover in their homes."
Creating new ways to age at home safely
At that time, Dr. Auais first started with a small pilot study that gave older adults an at-home, personalized exercise program to encourage rehabilitation. By the time the study ended in 2019, the positive results were clear: the majority of participants were satisfied with the program and stayed on track to regaining their mobility and eventually reached their goals of becoming more independent at home. Dr. Auais knew he was onto something, but wanted to test his theory with a larger group of patients using a more intensive at-home program.
In 2020, with new funding and an expanded study plan, Dr. Auais and his team at Queen's University created the Stronger at Home program.
"It's an exciting opportunity because we get to build on that previous foundation of what I learned with the pilot study and then take it even farther over the next few years," he says.
"We've also been consulting with patients, older adults in the community, clinicians, researchers and policy makers for this new program, so that we will not only improve functionality for hip fracture patients but, over the long term, create the most cost-effective model for the healthcare system."
With Stronger at Home, the team has created two "at-home toolkit manuals" to guide and support patients on their road to recovery. The first manual was designed for educating hip fracture patients about what they can expect in their recovery journey after they get home, how to deal with the fear of falling, and pain management. The second toolkit manual is a home exercise program, specifically tailored to each patient, including extended at-home physiotherapy that will gradually intensify.
This is what makes the program a unique hybrid model, as each patient will have at-home visits from a physiotherapist to help them learn an individually tailored exercise program. The patient is then responsible to do the program, unsupervised, between visits.
"We ask patients 'What are your goals in the next two weeks?'," adds Dr. Auais. "If their goal is to walk around the house or do some cooking, then we develop a program that will meet those goals. It's not dependent on the physical therapist being there every step of the way – instead, it's focused on supporting the patient to recover safely while gaining that independence."
Giving hip fracture patients hope for a more independent future
Dr. Auais's team hopes to recruit 200 patients in the Kingston area for the Stronger at Homestudy, which will test the effectiveness and cost-effectiveness of the program. Half of the patients will be assigned to the newprogram toolkit model, while the other half will receive the usual current standard of care. The team will then compare the outcomes of both. The study is a non-pharmaceutical controlled trial, and the intervention includes a pain management component.
"Patients have a lot of pain after hip fractures, so we want to introduce them to non-pharmaceutical pain management – that is, techniques that don't require medication," Dr. Auais explains. "Instead, we will educate them on pain and show them how pain can be managed through exercise and by improving muscle strength and balance."
To make these exercise plans as user-friendly as possible, patients won't require any special equipment, Dr. Auais stresses. Instead, they will be able to use everyday items they already have in their home. "We want this trial to mimic real life so we know the results can be applied to broader groups of hip fracture patients in the future," he says.
While similar ideas have been tested around the world, the Stronger at Homeprogram is a first of its kind in Canada, with the at-home toolkit and model of care considered a new innovation. Dr. Auais emphasizes that this kind of research not only addresses an urgent need, but will have a direct impact on the lives of Canadians and on their communities. Although the study is in the early stages, he predicts the outcome may change the way hip fractures are treated in Canada and possibly around the world.
"Hospitals are discharging patients earlier because of cost restraints and hospital beds availability, and there is a push to get people back to their homes earlier to age in place," he says. "There has been a shift over the last 10 years to have more support available to seniors in the community, but there is still a gap between acute care and living independently at home. We want to address that gap – and we also want to save lives. We want to see more older adults survive and thrive after a hip fracture, and we believe the Stronger at Home program will lead to that."
Date modified: