Healthy and Productive Work – a Joint CIHR and SSHRC Initiative
Why Healthy and Productive Work?
Canada's population is aging and the number of people with disabilities, chronic conditions, and work-related health issues is growing. For some Canadians, these health issues are a barrier to entering the workforce, while for employers, they represent important economic losses each year. That is why the Canadian Institutes of Health Research (CIHR) and the Social Sciences and Humanities Research Council (SSHRC) are investing in the Healthy and Productive Work initiative.
The initiative aims to bring together a wide range of researchers and stakeholders across sectors. Together they will develop, implement, evaluate and scale up evidence-informed and gender responsive solutions to improve the health and productivity of Canada's diverse workforce.
CIHR, SSHRC and their partners will work to create conditions for healthy and productive work that take into consideration unique needs of men and women. The focus will be on developing and improving accommodations, tools, and policies for all workers, including older workers; those with caregiving responsibilities outside paid work; people with disabilities, illness and injury; and people with mental health challenges.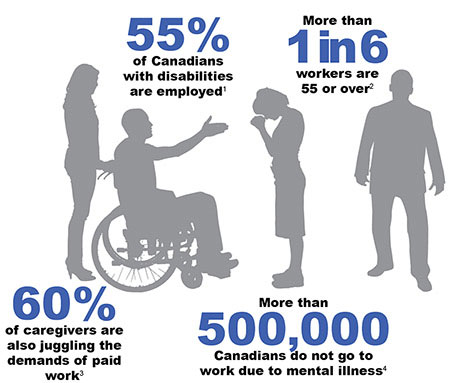 55% of Canadians with disabilities are employed.Footnote 1
More than 1 in 6 workers are 55 or over.Footnote 2
60% of caregivers are also juggling the demands of paid work.Footnote 3
More than 500,000 Canadians do not go to work due to mental illness.Footnote 4
Benefits for Partners
Access evidence-informed and gender-responsive solutions to today's work and labour market health challenges.
Collaborate with researchers and various stakeholders including employers, workers, policymakers, insurance companies, and workplace service providers.
Co-develop and evaluate interventions to accommodate workers.
Increase understanding of best practices.
Improve productivity and labour force participation.
Reduce economic losses.
Get Involved
Join or mobilize research teams to develop solutions that address integration and retention of workers.
Support and facilitate information exchange among stakeholders through knowledge sharing events.
Leverage investments with CIHR, SSHRC and other organizations for greater impact.
For more information about the Healthy and Productive Work initiative, or contact us at: hpw-spt@cihr-irsc.gc.ca
Date modified: