CIHR reaffirms commitment to Indigenous health research
January 26, 2016 – Ottawa, Ontario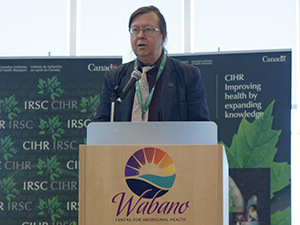 Canadian Institutes of Health Research (CIHR) President Alain Beaudet, along with Vice Presidents Dr. Jane E. Aubin and Michel Perron as well as Dr. Malcolm King, Scientific Director of the Institute of Aboriginal Peoples' Health, participated in a meeting of the Aboriginal Health Research Steering Committee (AHSRC) held January 25, 2016, in Ottawa at the Wabano Centre for Aboriginal Health.
Dr. Beaudet delivered remarks to members of the AHRSC and guests, which included representatives of the National Aboriginal Organizations in addition to several other national associations and partners in health research. He underscored the importance of Indigenous health research for CIHR and for all Canadians to address the systemic health inequities faced by Canada's urban and rural First Nations, Inuit and Métis Peoples.
"I want to thank the Aboriginal Health Research Steering Committee for its ongoing dialogue with CIHR," said Dr. Beaudet, "We want to work with them and other members of the Indigenous health research community to channel our collective efforts to create a healthier future for Canada's Indigenous Peoples."
CIHR has made the health and wellness of Canada's Indigenous Peoples one of its four strategic research priorities. This research priority focuses on supporting the health and wellness goals of Indigenous peoples through shared research leadership and the establishment of culturally sensitive policies and interventions. While acknowledging the challenges, Dr. Beaudet stressed that the changes initiated by CIHR will allow it to better and more efficiently fulfill its mandate including a broader support for Indigenous health research by all of its institutes.
CIHR has been engaged in a 14 month dialogue with the AHRSC and it was noted that this is an auspicious moment in time for Canada and its relations with Canada's First Nations, Inuit and Métis Peoples. In this regard, CIHR has committed to continuing to work with the AHRSC and its partners to inform next steps in the area of Indigenous health research.
These steps include developing a common understanding and definition of Indigenous health research to ensure clear dialogue with a wide variety of partners and inform investment decisions going forward. They also include the development and adoption of principles of Indigenous health research that build on the Tri-Council Policy Statement: Ethical Conduct of Research Involving Humans, the work of the Truth and Reconciliation Commission of Canada, and the United Nations Declaration on the Rights of Indigenous Peoples, and that clearly articulate the why, what and how CIHR will continue to invest in this area of research.
CIHR representatives and members of the community underscored the importance of addressing capacity development so as to ensure a strong, vibrant and competitive research community among our First Nations, Inuit and Métis Peoples. Finally, CIHR representatives acknowledged the importance of relevant and informed peer review to ensuring Indigenous health research applications are evaluated appropriately.
"I appreciate the participation and thoughtful comments from our partners, Indigenous Elders and community members," said Dr. King. "We are committed to supporting research that is driven by Indigenous communities. Together we can move beyond health equity to focus on the wellness, strength and resilience of our First Nations, Inuit and Métis Peoples."
CIHR representatives also encouraged Indigenous health researchers and community members to apply to become members of the new Institutes Advisory Board on Indigenous Peoples' Health and to the forthcoming College of Reviewers. Finally, Dr. Beaudet committed to bring forward the call for Indigenous health research to be discussed in depth at a future meeting of CIHR's Governing Council.
In closing, all CIHR representatives urged the continued development and strengthening of the relationship initiated with and through its Institute of Aboriginal Peoples' Health, AHRSC and all relevant partners.
Associated Links
Date modified: