Improving Care in the Emergency Department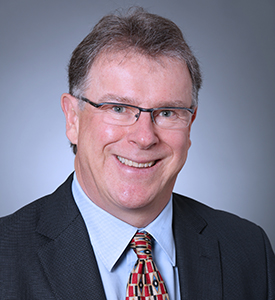 CIHR Foundation Grant Recipient
Dr. Ian Stiell
The Ottawa Hospital and the University of Ottawa
Dr. Stiell's Research
Millions of Canadians seek care in emergency departments every year. But are they receiving the most effective care possible?
According to Dr. Ian Stiell, the answer, in many cases, is no. Emergency medicine is still a relatively young discipline, and emergency medicine research is even younger. In his own experience as an emergency department (ED) doctor, Dr. Stiell often saw physicians making clinical decisions, such as whether or not to send a patient for various tests, without any research-based rules to guide them.
"We were mostly taught to do what the doctors before us did. There was limited research available on which practices were actually most effective," says Dr. Stiell.
Each year, Canadians make close to 16 million visits to emergency departments. (Source: Canadian Institute for Health Information)
He wanted to change that. One of the first questions he tackled was how ED doctors should decide when to send patients for x-rays to determine if they have a broken ankle. He developed and evaluated the Ottawa Ankle Rules, which are now in use around the world, helping doctors make efficient and effective use of medical imaging. He also developed similar clinical decision rules for knee, spine and head injuries.
But he didn't stop there. Most recently, Dr. Stiell and his team developed a tool to help ED physicians identify which patients with chronic obstructive pulmonary disease (COPD) should be admitted to the hospital when they show up in the emergency room. These patients pose a challenge to ED physicians, as their symptoms—including shortness of breath, cough and sputum production—often respond well to treatment in the ED. After being discharged from the hospital, however, some patients experience worsening symptoms or even die. Through a key study, Dr. Stiell discovered that it is possible to determine a patient's risk level for such events, so he and his team created the Ottawa COPD Risk Scale to guide ED doctors in their decisions about admitting COPD patients. This innovative tool helps to ensure that COPD patients who need hospital admission are better identified, thereby improving patient safety and also reducing unnecessary hospitalizations.
In addition, Dr. Stiell encourages ED doctors to do more research to help advance their field. For example, he established the Emergency Medicine Research Fellowship, which brings ED physicians from around the world to the University of Ottawa to conduct research projects under the supervision of the Emergency Research Group (which includes Dr. Stiell and his colleagues).
Supporting Advances in Emergency Medicine
With his Foundation grant, Dr. Stiell will be able to continue his efforts to improve emergency and pre-hospital care for patients – particularly patients with common conditions, such as heart disease. He will develop and evaluate clinical decision rules to help doctors determine when ED patients should be admitted to the hospital for more extensive care. He'll also be leading studies to answer crucial questions about cardiac arrest interventions, such as how CPR compression depth affects patient survival rates. And, to continue improving Canada's ED research capacity, he will be expanding his Research Fellowship program for ED doctors. He will also be working to establish a nation-wide network of emergency care workers to support research that will help improve ED outcomes for Canadian patients.
"As a researcher, having good findings doesn't mean you'll create change. You also need to find a way to get your findings into the hands of doctors." – Dr. Ian Stiell
About Dr. Stiell
Dr. Stiell is a University Health Research Chair at the University of Ottawa and a leader in the field of emergency medicine research. When the University of Ottawa established its Department of Emergency Medicine in 2002, Dr. Stiell served as its first Chair, and has helped develop the Department into one of the most productive in Canada. He is also a senior scientist at the Ottawa Hospital Research Institute, where he established the Emergency Research Group to develop evidence-based decision rules and risk guidelines. He has established two emergency medicine research networks, and led many multicentre clinical studies to improve emergency care. In recognition of his efforts, he has been elected to the U.S. Institute of Medicine and been named a University of Ottawa Distinguished Professor. Dr. Stiell also continues to provide care for patients in The Ottawa Hospital's Emergency Department.
Date modified: