Patient engagement
What is patient engagement and why do it?
Patient engagement occurs when patients meaningfully and actively collaborate in the governance, priority setting, and conduct of research, as well as in summarizing, distributing, sharing, and applying its resulting knowledge (i.e., the process referred to as "knowledge translation"). It is of vital importance as "engaging patients in health care research makes [investments in] research more accountable and transparent, provides new insights that could lead to innovative discoveries, and ensures that research is relevant to patients' concerns. The international experience with engaging citizens and patients in research has shown that involving them early in the design of studies, ideally as early as at the planning stage, leads to better results."Footnote 1
Patient engagement in SPOR
An important goal of Canada's Strategy for Patient-Oriented Research (SPOR) is for patients (an overarching term inclusive of individuals with personal experience of a health issue and informal caregivers, including family and friends), researchers, health care providers and decision-makers to actively collaborate to build a sustainable, accessible and equitable health care system and bring about positive changes in the health of people living in Canada. Engaging patients is thus an integral component in the development and implementation of all elements of SPOR such as SUPPORT Units and Networks.
Figure 1: Visual Value Model for Patient Engagement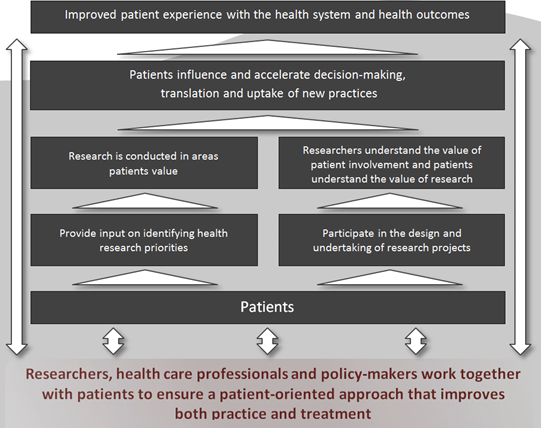 Researchers, health care professionals and policy-makers work together with patients to ensure a patient-oriented approach that improves both practice and treatment. Patients provide input on identifying health research priorities and participate in the design and undertaking of research projects. As a result, research is conducted in areas patients value; researchers understand the value of patient involvement and patients understand the value of research. Ultimately, patients influence and accelerate decision making, translation and uptake of new practices, leading to improvements in patient experience with the health system and health outcomes.
Patient engagement means fostering a climate in which researchers, health care professionals, decision-makers and policy-makers understand the value of patient involvement and patients see the value of these interactions (Figure 1). The patient perspective is integrated into every step of the research process including developing research questions, defining research objectives, collecting data, and evaluating results. Some patients have the readiness to contribute as full members of research teams, while others may bring expertise in a certain area (e.g., ethics) or serve as knowledge brokers. Other patients bring the collective voice of a specific community. Their knowledge and expertise offers insights about people who are unable to communicate on their own behalf. Patients' roles will vary according to the contributions a patient is prepared to offer. However, it is important for Canada to raise the bar and push boundaries in order to build our capacity to engage patients in truly innovative roles and ways.
Patient engagement framework
SPOR's National Steering Committee requested the development of a Patient Engagement Framework to set the stage for the involvement of patients in identifying health research priorities and designing and conducting research projects. The Framework is designed to establish key concepts, principles, and areas for patient engagement to be adopted by all SPOR partners. You can learn more about the consultative process for this Framework on the SPOR Patient Engagement Workshop page.
Footnotes
Footnote 1

Methods for Involving Patients in Topic Generation for Patient-Centered Comparative Effectiveness Research, An International Perspective (2012), p.8
Date modified: